THE COST OF LIVING
HOUSEHOLD BURDEN SKYROCKETS
The monthly cost of living index heads north in December to an all-time high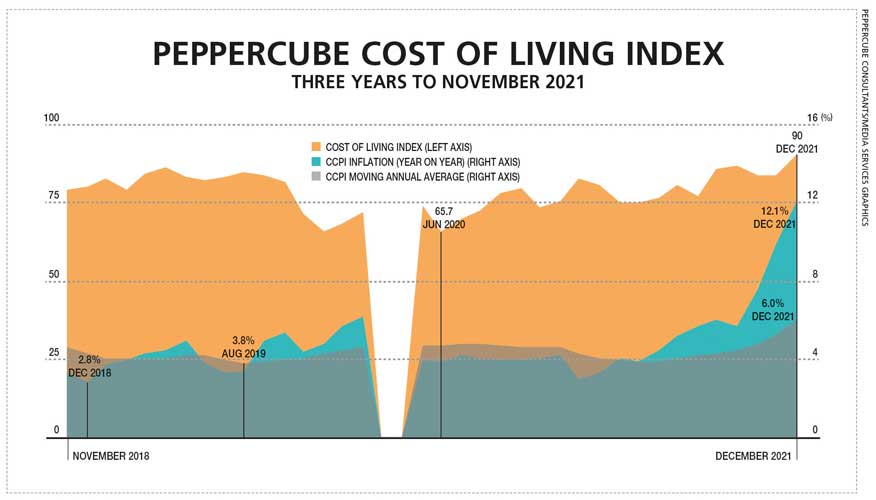 Not surprisingly, the PepperCube Cost of Living Index (CLI) for December shot up – from 84.1 to 90.5 a month later, which is the highest it has been since the index was launched back in the third quarter of 2011.
This follows four months of relative stability although the CLI was nearly 15 points lower a year ago.
Of those consulted by the pollsters, 97 percent (up from 93% in November) say the cost of living of their families has increased – moderately or otherwise – over the last 12 months.
Only one percent (vs. 2% in the prior month) of those surveyed state that the household burden has eased during this time whereas two percent (vs. 5%) view the cost of living to have remained the 'same as before.'
As for their expectations vis-à-vis the cost of living in the next 12 months, a massive majority (93%) of those surveyed point to an escalation of the household burden in terms of expenditure compared to the 85 percent that said so in the preceding month.
Meanwhile, only four percent (10% in November) of respondents anticipate that there will be no change in the cost of living going forward while a mere two percent feel there could be a reduction and the remainder (1%) 'don't know' or 'can't say.'
Moreover, 77 percent (vs. 72%) of the survey sample allude to the likelihood of hardships ahead in terms of the ability to purchase non-food goods and services by considering their cost of living, economic status and ability to save in the coming 12 months.
And only 14 percent of the survey sample say that the above will 'stay the same' compared to nearly a fifth in November.
FOOTNOTE An index based on a monthly survey, the CLI aims to measure and understand perceptions regarding the cost of living as opposed to reported or official inflation.
– LMD