COLOMBO BOURSE
SHORT TAKES
Compiled by Savithri Rodrigo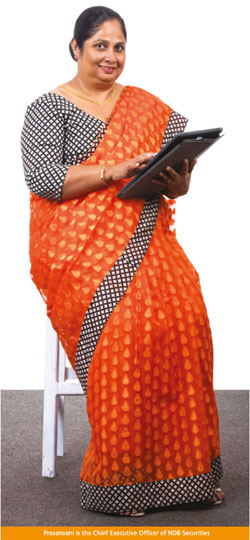 Q: How is the Colombo bourse faring against the backdrop of regional and global trends?
Prasansani Mendis (PM): The All Share Price Index (ASPI) has gained 7.4 percent year-to-date (YTD) in 2017, which is on a par with the MSCI Frontier Markets Asia Index and S&P SL20 recording 9.3 percent exceeding index gains. However, our performance lags behind the MSCI World Index and MSCI Emerging Market Index.
Ajith Fernando (AF): Our market is not overly correlated with the performance of other markets, so a comparison is futile. What impacts our markets is the flow of funds into frontier market hedge funds.
Q: And where is the local stock market heading in the medium term?
PM: With indices heralding positive gains this year and year-to-date foreign inflows recording nearly Rs. 18 billion, we expect fiscal consolidation complementing recent consistency in policies to drive stocks in the medium term.
AF: I'm optimistic primarily because our corporate performance is very strong, the value of which should begin to reflect in the markets at some point.
Q: What more must be done to revive the bourse?
 PM: With the recent policy measures to drive sustainable economic growth and current prices having declined from the overpriced levels of the immediate postwar era, we expect the bourse to improve.
AF: If we want the stock market to take a quantum leap and be completely re-rated, a few large companies must be listed – this would include state-owned enterprises I believe.
Q: In your view, what are the three main challenges facing the Colombo Stock Exchange (CSE)?
PM: In terms of attracting foreign fund flows, the CSE is comparatively small in market capitalisation. Secondly, liquidity in the market is low because only a few active participants are able to contribute to supply and demand dynamics. And finally, the lack of stability keeps many overseas investors away.
AF: A lack of adequate liquid stocks is the greatest challenge facing the CSE. All other issues are minor in comparison.
Q: How is the government's fiscal policy affecting the Colombo bourse?
PM: Tax revenue improvement methods seem detrimental to capital markets in the short run although this is one of the pillars of fiscal consolidation… The broadening and simplification of the tax system is at a very initial stage and the uncertainty in implementation negatively impacts the CSE.
AF: There's volatility in interest rates and taxes, and instability in the continuity of policies.
Q: What is your take on perceptions that there are artificial market movements from time to time?
PM: We have not witnessed any major artificial market movements in the recent past. And in the last couple of years, both the Securities and Exchange Commission (SEC) and CSE have taken reactive measures to bring transparency and strict adherence to securities and financial law to eradicate such situations.
AF: If there's an element of price manipulation, then it is clearly wrong and will lead to a loss of confidence in the market in time. However, we must be aware that share prices move for various reasons.
Q: How much reliance is placed by retail investors on stockbrokers' recommendations?
PM: With constant investor education through the media and other channels, some retail investors believe that a stockbroker's recommendation is well-researched and must be weighed in when making decisions.
AF: While my knowledge on the retail segment of the market is limited, I do believe that most retailers don't rely on the recommendations of stock-broking firms and instead rely on other factors.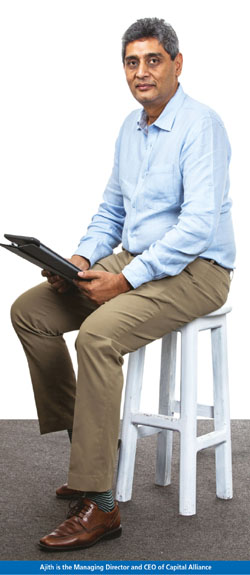 Q: To what extent do investors assess corporate ethics and governance when making investment decisions?
PM: Over time, domestic funds have gained a higher weightage on corporate ethics and governance in investment-related decisions. This has increased with the Sri Lankan equity market evolving over time and funds gradually adhering to global financial guidelines.
AF: This is clearly reflected in the value of a company's shares in the market. Medium-term investors assess this information.
Q: And to what extent do stockbrokers assess corporate ethics and governance in recommending stocks to their clients?
PM: Stockbrokers are regulated by the SEC, which provides guidance on corporate ethics and governance. Individual stockbroking houses also encourage entities to align with the global standards outlined by the CFA.
AF: These elements are critical. In fact, if we have doubts about the integrity of the management of a company, we don't cover it.
Q: From an investor's point of view, what factors come into play when selecting a stockbroker?
PM: Given the risks related to asset class, high net worth clients must make informed investments. So investment advisers with a sound track record coupled with the ability to execute trades are core factors.
AF: That depends on their investment horizon. If an investment is for long-term wealth creation, then fundamental research is critical. If they're speculating, then a more technical analysis while watching flows would matter.
Q: How much influence do stockbrokers have over the regulatory framework?
PM: The Colombo Stock Brokers Association is the apex industry body representing stockbrokers. It actively discusses policy and related issues with regulatory authorities and other stakeholders.
AF: Stockbrokers should always be consulted before regulatory changes are made. But they're only one facet of the market. Regulators must consider other market participants in a holistic sense.