THE BRITISH MONARCHY
BEYOND THE REIGN OF
ELIZABETH REGINA
Saro Thiruppathy ponders the future of the monarchy if and when Charles is crowned King of the United Kingdom of Great Britain and Northern Ireland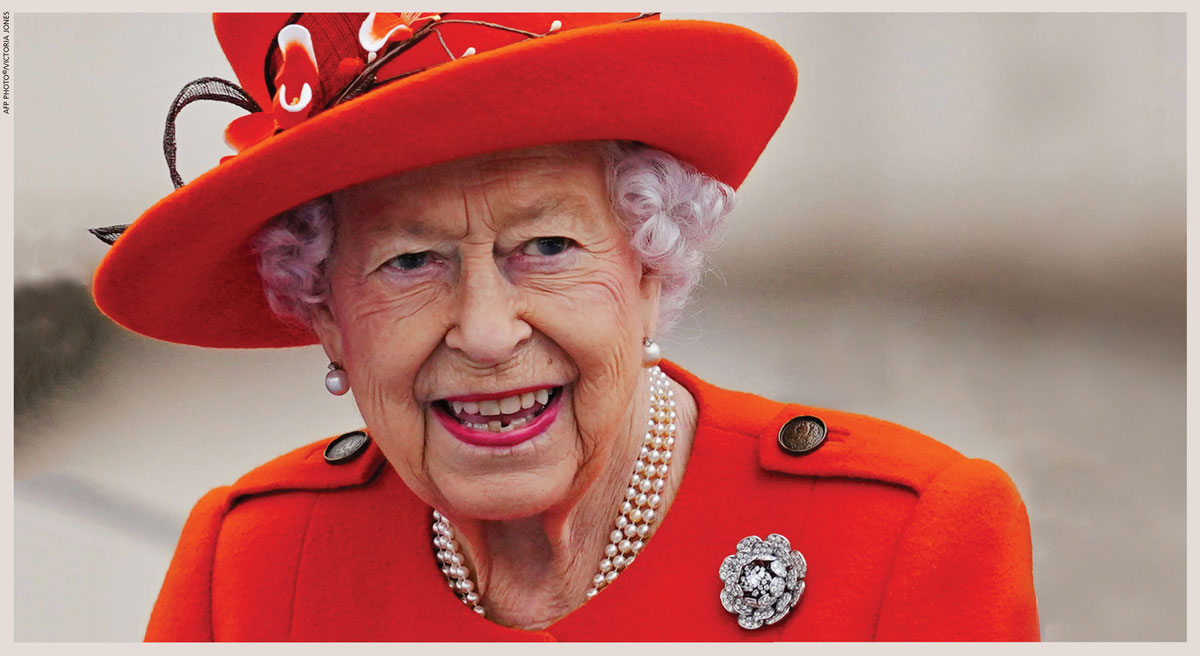 The Brits adore their Queen! She represents Britain's history as a power to be reckoned with when it was still 'an empire on which the sun never sets.' And her grace and beauty continue to hold the public in awe, and the majority will never utter a bad word about Elizabeth Regina.
Her recent Platinum Jubilee was celebrated with gusto and though the monarch didn't attend all the festivities, the party continued and the public cheered. Even Paddington Bear met the Queen for a spot of tea and a marmalade sandwich – one of the sweetest cameos by a ruling monarch.
As the head of the Church of England, Queen Elizabeth II has displayed exemplary behaviour throughout her reign and not even once had any scandals associated with herself or her marriage. She married Prince Phillip of Greece and Denmark in 1947, and stayed married to him until his death last year.
Yet, the same can't be said of her children and their spouses. Their lives have been riddled with scandals and they've brought shame to the House of Windsor.
The Queen is 96; and even though she sports a cane, the monarch appears to be quite sprightly for her age. Longevity is on her side as her mother lived until she was 101. So while Elizabeth II is the longest reigning monarch after being crowned in 1953 at the age of 25, Prince Charles will most probably be an old man by the time he ascends the throne.
MONARCH IN WAITING Charles has been waiting to rule Great Britain and Northern Ireland as a constitutional monarch ever since he learnt of his birthright. He is now 73 and heaven only knows how long more he will have to shuffle around waiting for his turn.
The Queen doesn't seem to have any plans to step down and allow her son to ascend the throne. It seems that she may never abdicate because that's not consistent with the doctrine of the Church of England. After all, one of her official roles is titled 'Defender of the Faith.'
But if she needed to relinquish her duties as Queen because she's incapacitated, the Regency Acts would be invoked and a regent will be named by parliament. And under such circumstances, the Prince of Wales would be named Regent and allowed to act on her behalf.
While Queen Elizabeth has won the hearts and minds of the British public, Charles' behaviour towards his former wife Princess Diana and his long-term friendship with Camilla Parker Bowles who had been 'the other woman' for years, hasn't won him many brownie points at home.
SCANDALS ABOUND In addition to his affair with Camilla, the leaked Camillagate tape revealed a racy telephone conversation between the two lovers at a time when the heir to the British throne was still married to Diana.
Another embarrassing incident occurred in 2021 when his charity known as The Prince's Foundation was embroiled in a 'cash for honours' scandal with a Saudi donor. Billionaire and charity donor Dr. Mahfouz Marei Mubarak bin Mahfouz had been offered help in securing a knighthood and British citizenship by Charles' closest aide Michael Fawcett.
An investigation revealed that Fawcett had supported Mahfouz's bid to secure the knighthood. In 2016, the latter had also received an honorary CBE from Prince Charles at a private ceremony.
THE FUTURE Meanwhile, a poll conducted last year revealed that many young people didn't favour the monarchy anymore.
While overall support continues for the royals, market research company YouGov claims that a growing number of youth aged between 18 and 24 years prefer an elected head of state. In May 2020, this figure stood at 41 percent versus 31 percent who wanted to see the monarchy continue.
Previously in 2019, data gathered showed that only 26 percent wanted an elected head of state while 46 percent favoured the continuation of the monarchy. Apparently, the interview that Oprah Winfrey conducted with Prince Harry and Meghan Markle may have contributed to this drastic alteration of attitudes.
However, this trend is likely to change again as the respondents get older.
YouGov polls show that Prince William is consistently more popular than his father and a majority prefer that he – rather than Charles – becomes king.
So will the monarchy continue to be a driving force in British lives in the post-Elizabethan era or will it fizzle out under Charles' possibly lacklustre reign? Or would it be too costly to maintain the royals despite claims that they rake in a pretty penny as a tourist attraction.
Ultimately, the British public will have to decide whether they need an expensive tourist gimmick, which cost UK£ 87.5 million in 2020/21, or a less stressed economy as they begin tightening their belts and bracing for a difficult future.