TEA INDUSTRY
TEA TALK
Compiled by  Yamini Sequeira
GOLDEN BREW TURNED BITTER
Sunil Poholiyadde appeals for unshackling the chains that bind tea plantations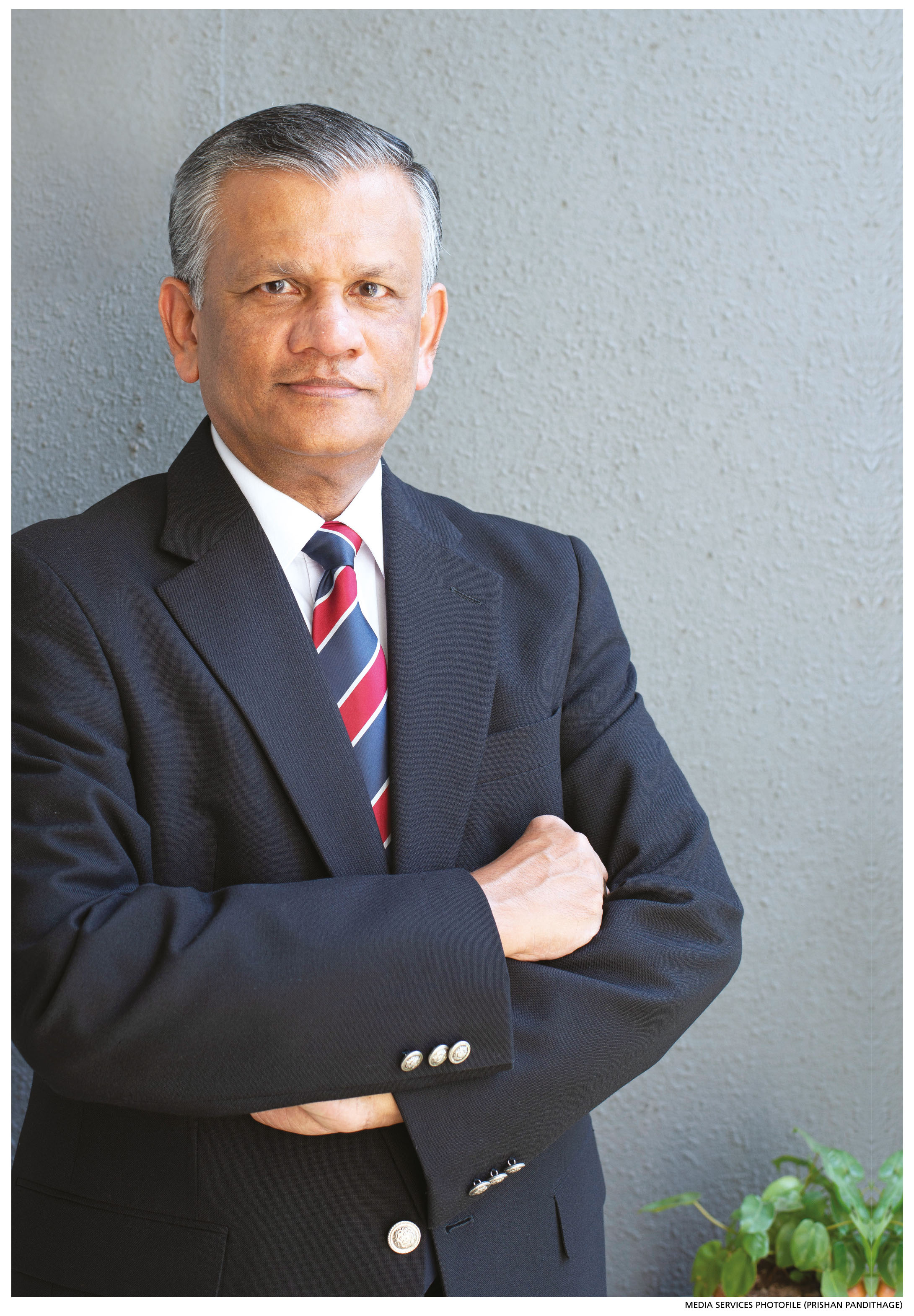 Industry experts say economic sustainability remains the main threat to the tea industry. When it comes to Sri Lanka in particular, unfavourable weather in tea growing areas and wage related trade union action in the plantations sector have affected production.
Sri Lanka's tea production between January and December last year totalled 300 million kilogrammes (kg) compared to almost 304 million kg in the corresponding period of 2018, reflecting a decrease of some 3.8 million kg.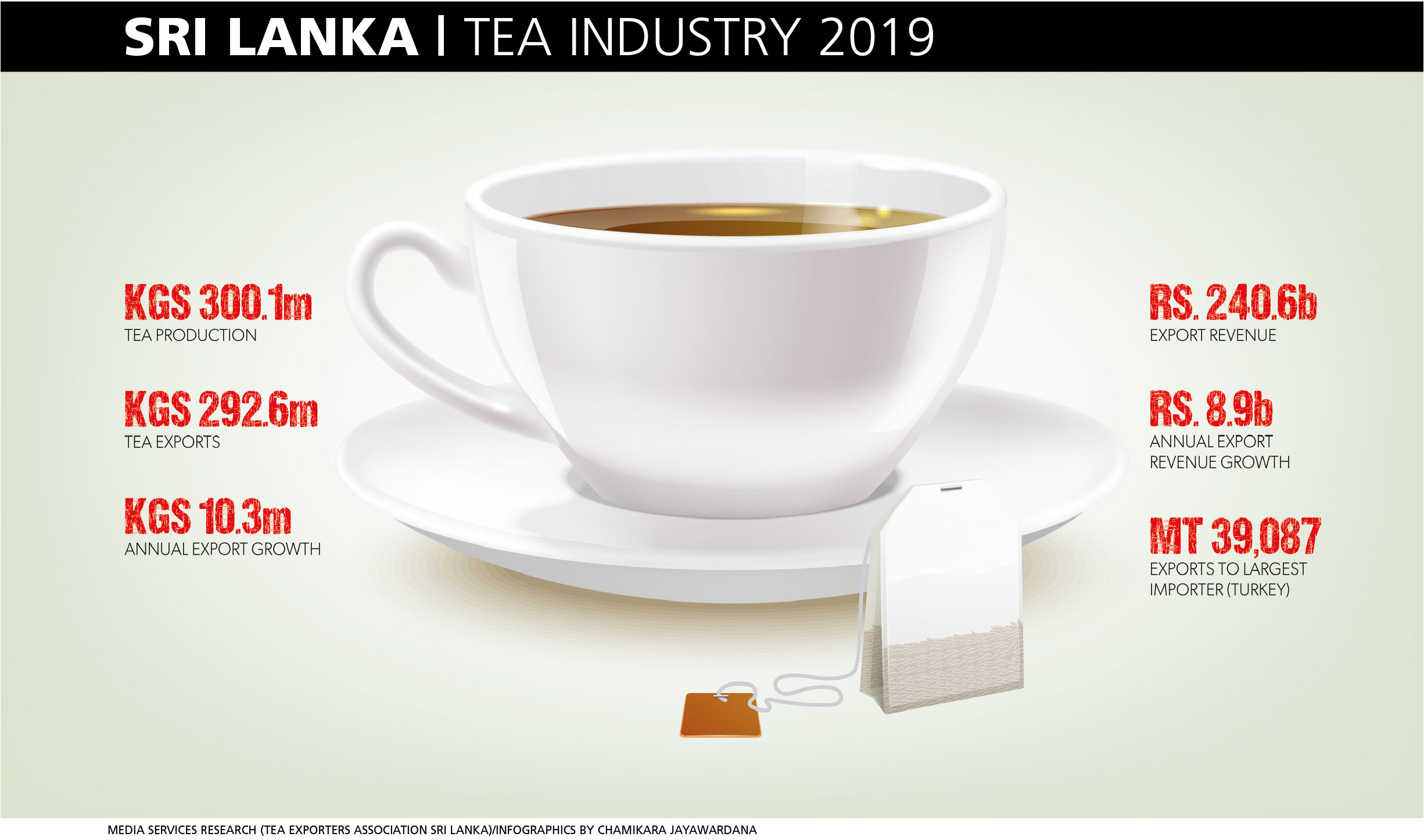 Nevertheless, Sri Lanka benefitted from disruptions caused by the US-China tariff war in 2019. Imports from Sri Lanka spiked by 24 percent to 5.5 million kg in the first 10 months of last year – imports of organic green tea in bags were up by 88 percent in value compared to the same period in 2018.
Tea imports from Sri Lanka were valued at US$ 39 million through October, which was 14 percent higher than a year back, according to the USDA's Foreign Agricultural Service. However, the tea industry has not performed well and this is due to price fluctuations at auctions.
LOW PRODUCTIVITY Throwing further light on the industry, Sunil Poholiyadde explains: "Agriculture in Sri Lanka remains the most vital sector and provides the maximum opportunity for employment, which includes the plantations sector as well."
"The sector is once again experiencing an extremely difficult period with all commodities suffering from low prices. In the last five years, we've been through two worker wage negotiations with increases of almost 17 percent granted. This has had a major impact on the cost of production since almost 70 percent is incurred on wages. Coupled with the fall in auction prices, this has created a crisis in the sector," he adds.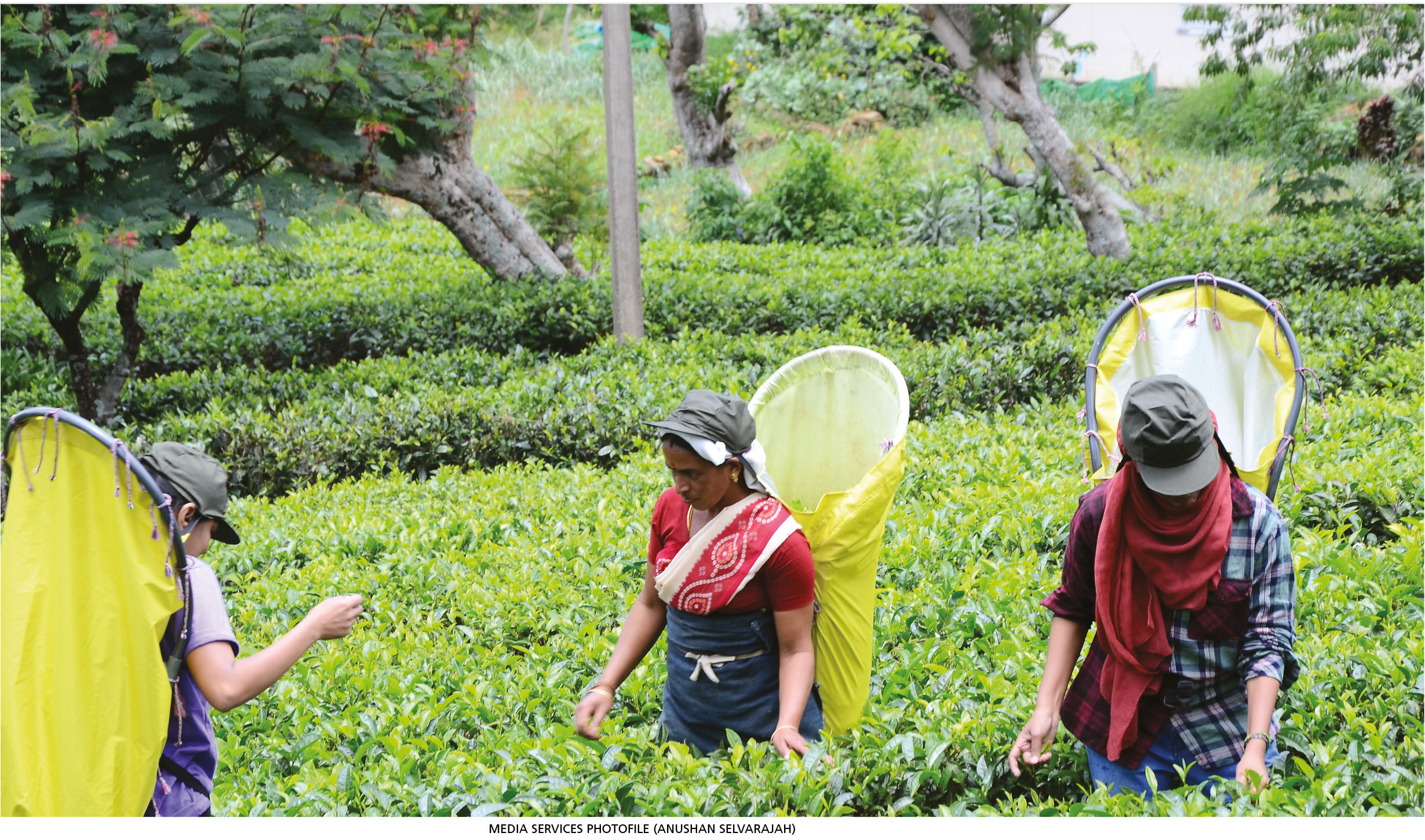 In recent weeks, plantation workers' wage increases have been in the news while Poholiyadde notes that "the agreement we reached three years ago introduced a productivity based wage along with an attendance incentive."
However, in January 2019, both the productivity and attendance incentives were removed due to severe agitation by trade unions with the sector eventually granting a 40 percent increase on basic wages," he adds, noting also that "this had a major impact on gratuity provisions as well. Therefore, it is time we change the model to either a revenue sharing or productivity based system."
AD HOC POLICIES The tea industry continues to face the consequences of a government ban on glyphosate despite the absence of a substitute.
Following this ban, tea growers and large plantations in particular were forced to use alternative products in order to control weed growth. This resulted in residue levels that were considered higher than permitted for exports to certain countries, mainly Japan.

Poholiyadde observes: "Japan is no longer among our top 10 export destinations as a result of this issue. Sri Lanka suffered from the trade sanctions imposed on certain countries that were importing Ceylon Tea. This impacted the volumes traded and price reductions. Russia – another major destination for Ceylon Tea – has increased its purchases from India, leading to a decline in tea exported to that destination as well."
He remarks that an ageing and diminishing workforce is another industry constraint, and feels that the only viable remedy for these challenges is mechanisation especially in harvesting, which would also reduce the cost of production.
Poholiyadde points out that mechanisation is already in place in the rest of the tea producing world, and that Sri Lanka too should change its mindset and embark on a similar route without citing excuses for not doing so.
VALUING INVESTORS Another deterrent to investments in plantations is ad hoc policy making when it comes to land acquisition.
Poholiyadde elaborates: "Once companies plant a particular crop, the government suddenly announces that the land is being acquired for some other use even before investors can earn a ROI. This sad state of affairs needs to be stopped and more confidence afforded to investors that these lands will not be acquired at least until their investments are recovered."
He calls for a land policy for all crops, not only tea, where there's an assurance that land will not be acquired for any purpose once developed.
INDUSTRY OUTLOOK Looking ahead, Poholiyadde says there's been an uptick in prices so far this year. However, he is concerned by what would happen if prices drop at auctions but wages continue to increase every two years.
He cites the case of the smallholder sector, which supplies 70 percent of tea to private sector factories: "Smallholder tea growers' income is linked to the volume they pluck – and if quality is not maintained, factories will refuse to purchase their tea leaves. This model has proved to be highly successful unlike large tea plantations that have fixed wages for 300 days of work being guaranteed, notwithstanding a drop in auction prices or the impact of climate change."
While a long awaited promotional campaign was launched in major markets for Ceylon Tea, Poholiyadde regrets that soon after the launch, the glyphosate issue put our tea in the spotlight for all the wrong reasons.
He stresses that as a supplier, Sri Lanka cannot change the requirements of buyers and instead, must fulfil requirements and comply with their standards. Although the ban on glyphosate was lifted by the government, the interim fallout resulted in the loss of key buyers and high value markets, which will take time to reinstate.
And Poholiyadde notes: "Those who were involved in the privatisation process since 1992 may recall that the original understanding was for a 99 year lease but subsequently, this fell to 53 years of which the balance is less than 30 years. This is less than one lifespan of each crop."
"Since privatisation up to 2016, companies have invested over Rs. 60 billion in capex, indicating confidence in the industry. We appeal to the state to seriously consider extending the lease as this would instil confidence in tea manufacturers to continue their investment programmes," he urges, in conclusion.

The interviewee is the Managing Director  of Lankem Tea & Rubber Plantations