A&K
Taste the Local Flavour once again
The A&K (Annasi & Kadalagotu) Literary Festival will take to the stage for the 5th year, on 20th (Sunday) October at the Mount Lavinia Hotel. Bringing an exciting line up of local literature every year, the festival is set to continue its streak in creating a platform that sheds the spotlight on everything that is 'Simply Local, Simply Literature'.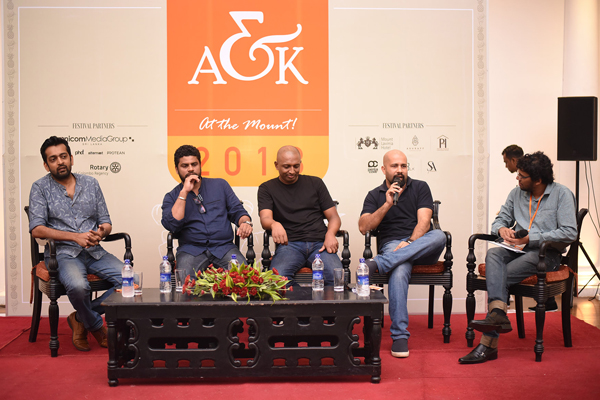 This year's programme opens up with Shakthika Sathkumara, no better person than to discuss if literature should be censored. Two book launches will brighten up the morning, followed by an interesting panel on Sports and Literature.  Kingsley Rathnayake, Prof. Neluka de Silva and Prof. Arjuna Parakrama will speak about 'The flavor of Sri Lankan Literature' while 2 workshops for children and a creative workshop for adults are on the pages as well.
One impressive panel would be 'Anduru Lowin Eliyata', a discussion with visually impaired writers, talking about their journey towards writing and publishing. The first time published writers will be included this year as well and an award winning panel consisting of writers who have won national level literary awards sharing their tips on what went right for them. Towards the afternoon would be 'The Dot Com Games' bringing together two aspects, women and digital in literature.
The man who owns one of the world's largest Barbie doll collections, Jian Yang will be present at A&K, and one might wonder why. Few years ago, this Singaporean was in Sri Lanka on a business visit and stayed at the Mount Lavinia Hotel, the venue for A&K for the past three years. It was here that he began his #havetissuewilltravel project where he designed dresses for his dolls out of toilet paper. His Instagram posts became so popular that since then Jian has been doing this in every part of the world he travelled to, and been featured in international publications. He will be back, at the place where it all started, to launch his book based on this project #flushablefashion.
Going back to the roots, there will be a performance discussion on Hitiwana Kavi, a socio-cultural literary aspect that usually is not given the due limelight. The evening will wrap up with 'Lankawe Hina' looking at humour in popular local literary mediums, along with the local folk rock band Bambaroo, adding musical entertainment.
A&K Literary Festival has had a Love Letter writing competition running parallel to the festival this year and the winners will be announced at the closing ceremony on Sunday evening.
All this was a simple Rs. 100/- entrance ticket is chance not to be missed.