SUWANDA INDUSTRIES PRIVATE LIMITED
The Sri Lankan women's cricket team on a tour of victory – Supported by leading Incense sticks and fragrance brand Cycle Pure Incense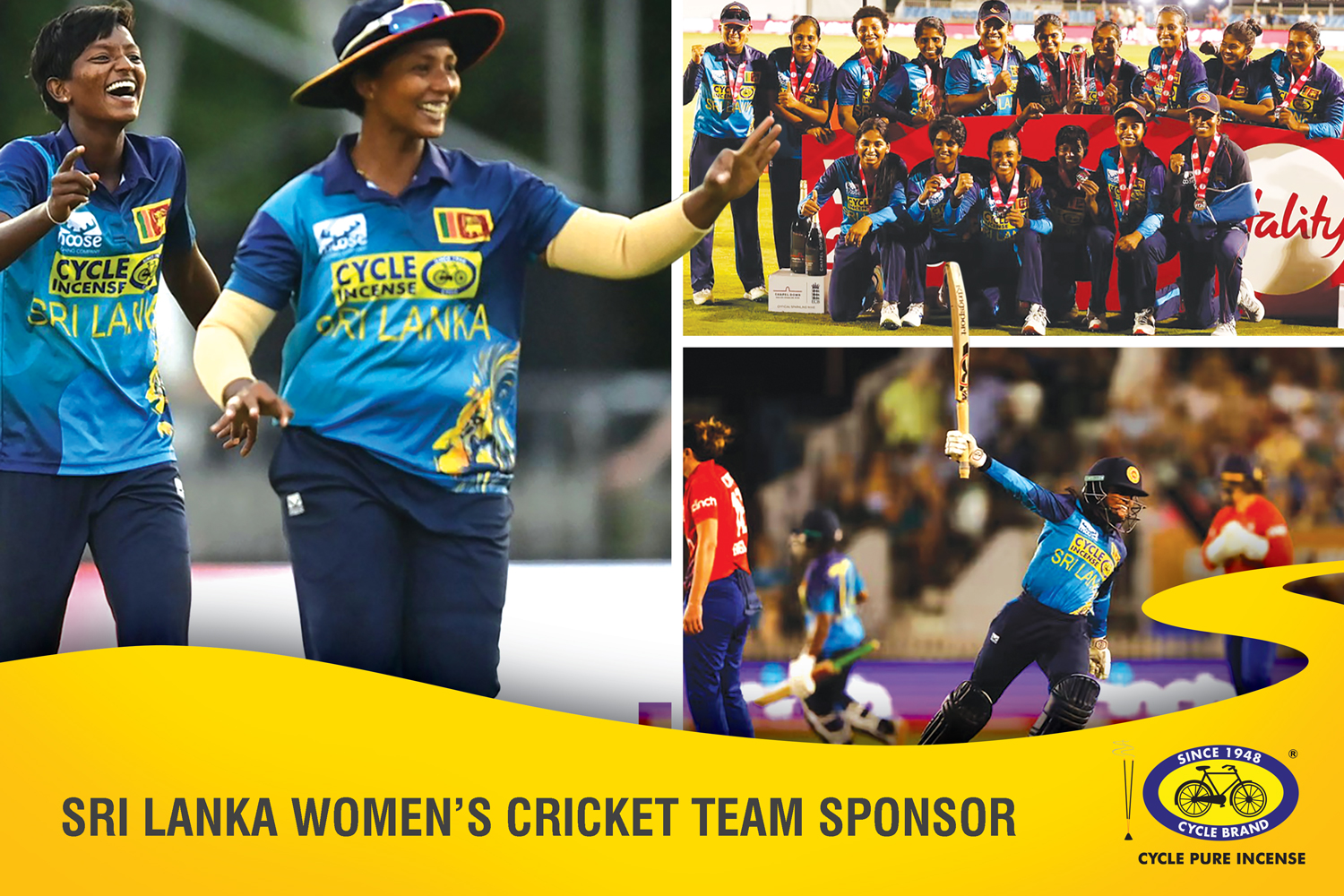 The Sri Lankan women's cricket team under the astute leadership of Chamari Athapaththu has concluded a historic tour of England which yielded victory and success.
The Sri Lankan women's team was sponsored by Cycle Pure Incense, manufactured and marketed by Suwanda Industries, a joint venture of Cycle Agarabathie, India and Eswaran Brothers, Sri Lanka on the tour, enhancing the fragrance of victory for the determined female cricketers of Sri Lanka, says Anuradha Ekanayake, CEO of Suwanda Industries in Sri Lanka.
As a global brand with a dynamic presence in fragrances and home care, Cycle Pure Incense  is proud of the exceptional achievement of the Sri Lankan female cricketers, he adds.
The tour has turned out to be historic for the team – having achieved their T20I victory against England, registering a first ever in the cricket world.  The immutable Captain, Chamari Athapaththu led from the front with a brilliant all-round display.
As sponsors, Suwanda Industries believe that Sri Lanka's triumph in the T20I series strengthens the team's resolve and determination towards success. Bowling quartet of Kavisha Dilhari, Udeshika Prabodhani, Inoshi Priyadharshani, and Inoka Ranaweera has delivered brilliant results throughout the series.
This thrilling series is part of England's return to international cricket following their impressive performance in the Women's Ashes Series against Australia. The Sri Lankan side, led by the inspirational Chamari Athapaththu, is equally confident after defeating New Zealand in their last one-day series. Athapaththu's exceptional form, including two centuries in three ODI games, has made her a force to be reckoned with.
"In keeping with our slogan of fragrance of hope, Cycle Pure Incense is inspired by the extraordinary performance of Chamari as the Captain and her team – giving a true fragrance of exceptional results that make all Sri Lankans proud" adds Ekanayake.
Having announced their squads for the T20I and ODI series, with star players such as Danni Wyatt, Chamari Athapaththu, and Harshitha Samarawickrama ready to showcase their skills on the international stage, both teams have scored significant milestones in their cricketing careers.
Sri Lankan Captain Chamari Athapaththu has secured an impressive 2,598 T20I runs, strengthening her performance as a world class female cricketer. Sri Lankan top-order batswoman Harshitha Samarawickrama is poised to cross the 500-run mark in ODI cricket, needing just 20 more runs.
About Suwanda Industries Private Limited  
Suwanda Industries is powered by Eswaran Brothers, one of the leading tea companies in the region with master tea tasters and marketeers in many countries around the world and N. Ranga Rao Private Limited, India. Cycle Pure Incense is available over 75 countries and is a leading incense brand in India driven by a belief that everyone has a reason to pray.