FIRE SAFETY
STOP THE TOWERING INFERNO  
Janaka Perera makes a clarion call to safeguard our cities from fire hazards
Over the past 150 years, fire hazards in urban areas have increased in parallel to the expansion of towns and cities worldwide. Even developed countries with the latest firefighting equipment have not been able to prevent fire disasters in high-rise buildings.
The most recent example was the huge fire that engulfed the 24 storey Grenfell Tower – a West London tower block – in the early hours of 14 June last year, which led to 72 deaths. This was despite more than 200 firefighters and 40 fire engines responding to the emergency after it was reported.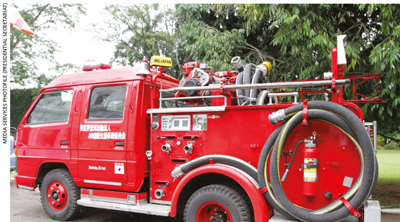 Indeed, the movie The Towering Inferno highlighted the possibility of such a calamity 43 years before the Grenfell disaster.
In an era when urban fire hazards were not so much a threat as they are today, people here in Sri Lanka were first made aware of it when World War II broke out. The Civil Defence Administration ordered business establishments in Colombo to create 'fire gaps' to prevent the spread of fires in the event of enemy aerial bombing. Fire gaps were empty spaces between rows of shops or houses. For this purpose, it was necessary to demolish some sections of buildings.
Around 70 years ago, there was less danger of such fires breaking out and spreading during peacetime, since not every house and shop had electricity even in towns and urban centres. Moreover, around 60 percent of the island at the time was largely rural unlike today.
Nowadays, many townships such as Homagama, Beruwela and Weligama have increasingly acquired urban characteristics. This implies the rapid electrification of both residential and commercial buildings in such areas.
Electrical short circuits and gas leaks have been a major cause of urban fires in recent times. CMC Fire Service Department Chief Fire Officer P. N. R. Fernando confirmed this in an interview with the Sunday Times back in 2014.
Around a year ago, a fire caused by a short circuit in a shop gutted an entire row of adjoining buildings in a Colombo suburb. Faulty electrical causes have been responsible for most of these incidents except where arson is the culprit. And the question remains as to how many high-rise buildings in Sri Lanka have been constructed with adherence to environmental and safety regulations including the prevention of fire.
Sufficient space around high-rise buildings is also needed for fire engines to move around in an emergency. The amount of time each firefighter can spend in combatting a blaze is limited by the available volume of air.
Unfortunately, neither the Fire Service Department nor any other authority has the power to enforce fire safety regulations in Colombo where a number of old buildings pose a major fire hazard. Although the Colombo Fire Brigade has been in operation since the 1890s, the department doesn't come under empowering legislation such as the Fire Brigade Services Act as in other countries including Britain. The Fire Service Department can only inspect and advise.
Over seven years ago, the department warned the Colombo District Secretariat to set fire safety measures but the warning went unheeded. The result was that in 2012, a major blaze broke out destroying the planning, accounts and administration division holding hundreds of thousands of vital tax related documents, land deeds, and birth and death certificates.
At present, the Colombo Fire Brigade (the country's largest fire department) has only a limited number of fire engines and water hydrants, and around 200 fire officers to serve a city of over 700,000 inhabitants in addition to some one million workers who commute into the commercial capital every day.
The department needs more fully equipped fire stations given the rapid pace of development including high-rise buildings, restaurants, hotels and residences – some with wooden architecture.
Whenever possible, the Colombo Fire Brigade runs programmes to improve public awareness on the need for fire safety. Fire prevention drills have been held in Pettah, Fort and Colpetty to ensure speedy evacuation procedures.
Companies that own high-rise buildings should instruct occupants including staff not to ignore fire alarms, and evacuation procedures and other directives – during a fire emergency, every second counts.
It is necessary to ensure that occupants can escape quickly so that firefighters have easy access to the building by removing obstacles in hallways, stairwells, outdoor walkways and driveways. Rules should be strictly enforced to prevent occupants from leaving items in public areas or parking in fire lanes. Lifts should never be used as a means of escape if a fire breaks out. And it is essential for occupants to know a building's layout, and the location of its fire alarms, stairwells and exits.
The increasing possibility of major fires breaking out isn't confined to Colombo and its suburbs but also covers other developing towns and cities.