IT INDUSTRY
STARTUP CULTURE
Compiled by Yamini Sequeira
SRI LANKA'S IT BAROMETER
Jayantha De Silva knows what it will take to transform the IT industry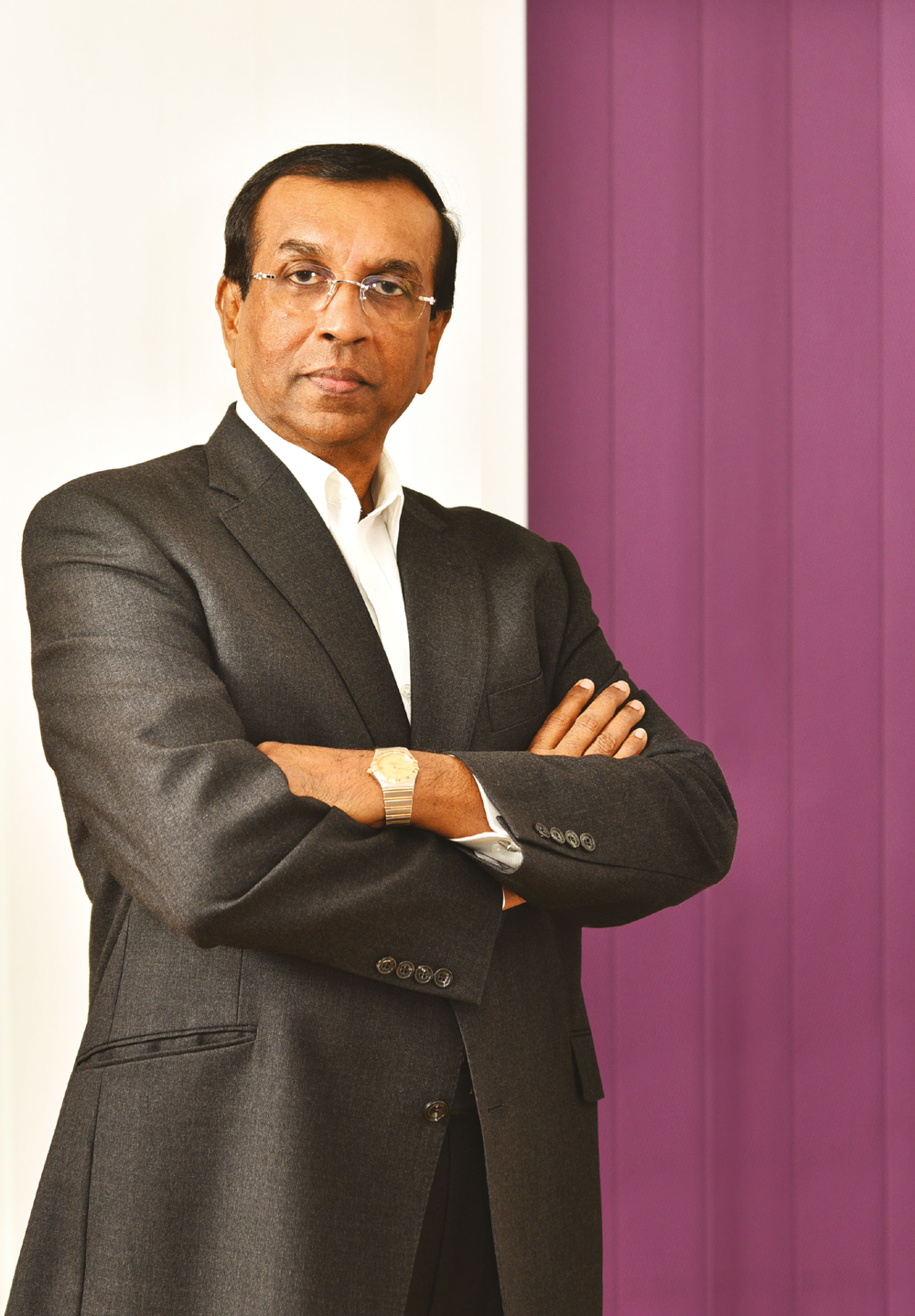 "While we marvel at the forward march of technology, many futuristic predictions made decades ago haven't quite come true. All the talk of disruptive innovation is well and good but we need to examine its impact on our lives as users of that technology. Does the technology actually help us as individuals and the country?" asks Jayantha De Silva.
He declares: "We need to examine these aspects without getting carried away." In his view, the most important aspect is how knowledge workers, approximately 350 IT companies in Sri Lanka and other corporates can optimise the benefits of these innovations.
TECH DECONSTRUCTION De Silva doubts the preparedness of the country to adopt certain technologies. He explains that "we should only adopt technologies that will bring us benefits."
"The Sri Lanka Association of Software and Service Companies (SLASSCOM) has an aspiration of achieving US$ 5 billion in export revenue, and creating 200,000 direct employment opportunities in the IT industry and business process management (BPM) sector by 2022. Achieving this should be our sole focus," De Silva stresses.

While cloud computing, AI and robotics are bandied about as concepts, Sri Lanka is light years away from adopting many technological advances in the field of medicine for cancer therapy, DNA manipulation etc.
"Sri Lanka has a huge advantage in conceptual designing and we should exploit this in volumes. The knowledge based industry offers a realistic future for the nation because the size of the country or population is not a consideration in this field – it's the expertise. This is an ideal niche for us. Moreover, value addition in this area is 90 percent in Sri Lanka unlike in apparel, tea and other industries," he explains.
He asserts that if every village in Sri Lanka produces a few of these knowledge workers, it could stimulate the community's economy and create a movement of sorts.
EMPOWERING YOUTH De Silva believes that SLASSCOM has been instrumental in driving IT knowledge in school curriculums, adding that this helps bridge the gap between what is taught and the skills needed in the workforce.
There is a growing trend of youth rejecting conventional streams of study such as medicine and engineering in favour of a career in IT. Remuneration levels in IT have improved and the industry is attracting some of the brightest talent graduating from universities.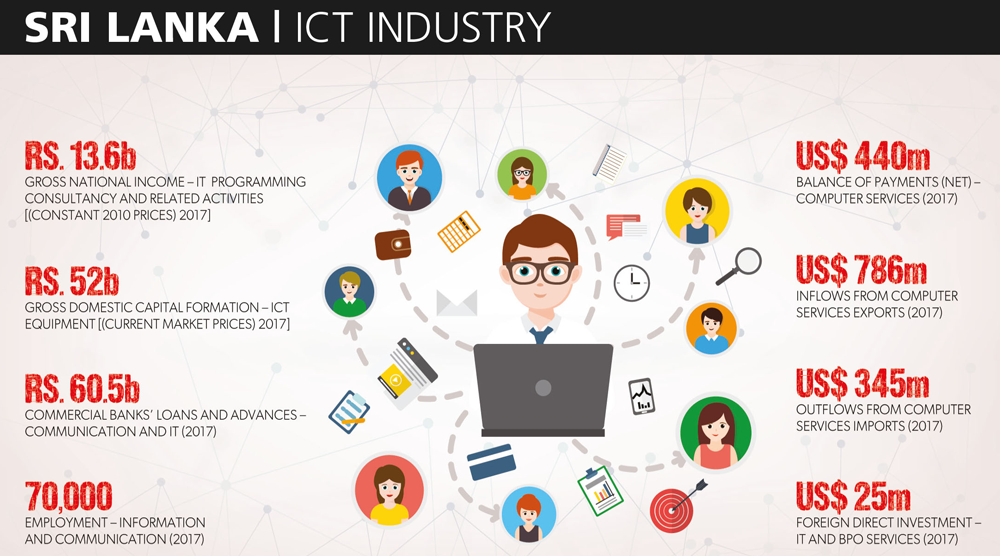 Every industry will have a link with IT to survive especially medicine, which is in its infancy in Sri Lanka. This year, 321,000 students will sit the A-Levels of which only 30,000 or so will enter university. De Silva opines that if IT companies hire A-Level graduates and offer them a career path to earn a degree, Sri Lanka could change the face of the industry.
He remarks: "It is a misconception that the IT industry hires only people with related backgrounds. Our industry hires doctors, engineers and other diverse professionals as they add value to our solutions, which are then interpreted by IT experts."
"Therefore, the IT industry has become attractive to graduates from all streams. In the development cycle, you may not even need graduates if they are trained well on the job," he maintains.

DISRUPT OR BE DISRUPTED Despite all the hype about Sri Lanka being an IT hub, there's much more to do. De Silva is happy with the direction that new IT startups are taking and feels that the greatest value can be earned by focussing on product designing.
Apple Founder Steve Jobs designed a product and then created the need amongst users for it. "We need to have that kind of courage of conviction," says De Silva.
He posits that "the important element of disruptive technology is to drive the change from within Sri Lanka and not react to it when it transpires elsewhere. In conceptual design, Sri Lankans are on a par with the best in the world. We should build on this inherent strength."
"Telecom and financial services have leveraged on the power of technology to deliver convenience. The mobile internet is a useful disruptive innovation. Any technology that is easy to integrate with others will survive. On its own, technology will not survive unless it is woven into useful services. We need to devise localised technologies as well, as this is most relevant to us and can be sustained," De Silva explains.
However, the cost of doing business in Sri Lanka remains a challenge – whether it is securing approvals or combating problems. However, De Silva avers that "Sri Lanka is a much better location to set up a business than neighbouring countries."
He believes that political leaders can relay the efficacy of good business ideas and communicate their benefits to the people so that new technologies aren't viewed with suspicion. Sri Lanka has been against the entry of IT professionals to work in the country but this might be essential to train local talent and should be facilitated.
"It's important to understand that Sri Lanka is at a critical stage in the IT-BPM industry and needs a lift rather than a ladder to grow," De Silva asserts.
KEY POLICY DIRECTIVES Recently, the Information Communication and Technology Agency (ICTA) directed IT companies to move out of Colombo, which is viewed as a positive development. That said, better infrastructure is needed to support this initiative.
De Silva points out that "the Mattala Rajapaksa International Airport could have been used in meaningful ways instead of lying unused. For example, it would have made an ideal location for a maintenance, repair and overhaul (MRO) facility for aircraft. Many foreign carriers expressed a willingness to participate if an MRO facility materialised but the idea never gained currency."
The IT industry has the potential to add value to as high as 90 percent, and De Silva says that "automatic and conceptual designing are the most valuable aspects."
"We have the people, and this industry will help uplift living standards and update our knowledge. Studies have indicated that three indirect jobs are created by one IT professional due to their spending patterns," he concludes.
Before any of this transpires however, it's important to project Sri Lanka's image as a country that is open for business.
The interviewee is the President and CEO of IFS Sri Lanka