STANDARD CHARTERED
RANK 25
NUMBER OF AWARDS 13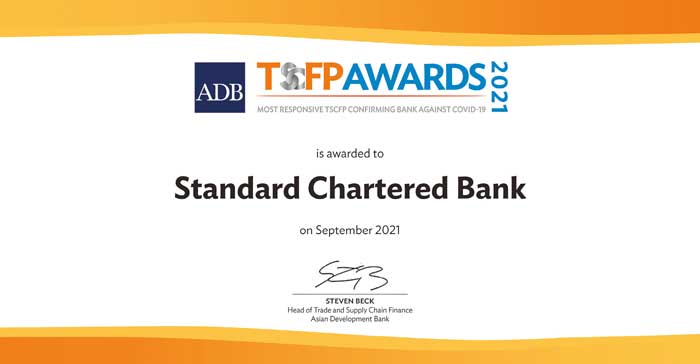 Q: In your assessment, do awards and accolades solidify a corporate's reputation as a trustworthy brand?
A: Awards and accolades are indeed one measure of success that confirms and recognises an organisation's work, performance and contribution towards the growth of the economy. Therefore, I believe that the brand presence of an organisation might be a key factor in terms of it being nominated for rewards and honours.
A company should understand the importance of building an emotional connection with its stakeholders through open communication and maintaining transparency of its processes.
The bank's efforts in building a trustworthy brand over the years by being a reliable and dependable service provider were recently acknowledged at the Asset Triple A Awards 2021 – being recognised as the Best Service Provider for Cash Management and Best Service Provider for Trade Finance in Sri Lanka, under the Treasury, Trade, Sustainable Supply Chain and Risk Management category. These accolades serve as prime examples of the brand's trustworthiness.
Standard Chartered also won the award for the Best Sub-custodian in South Asia under the Sustainable Investing for Institutional Investors, ETF and Asset Servicing Providers category.
These recognitions go a long way in solidifying one's reputation within the banking sector as well as with clients.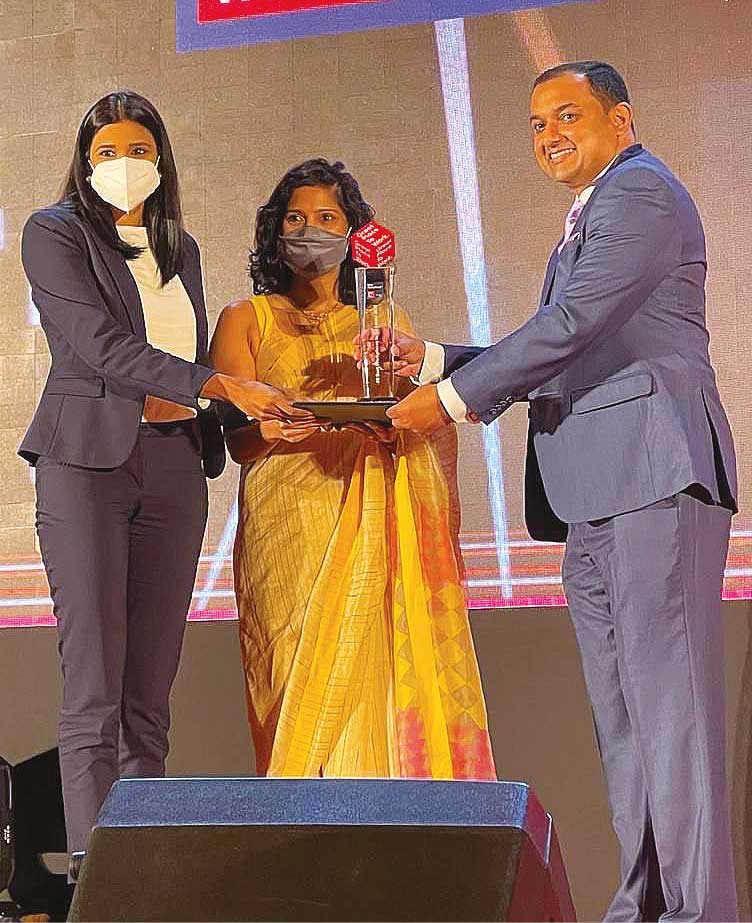 Q: How can award schemes impact companies in terms of recognition and brand awareness?
A: While a company's brand plays a pivotal role in terms of being nominated for awards and accolades, receiving such recognition acts as a contributing factor to improving the brand equity of the company – confirming its capability of delivering the expectations of its stakeholders while leaving a lasting impression in the minds of the community.
At Standard Chartered Sri Lanka, employees are considered as our greatest asset; and the bank continues to ensure the well-being of employees through various initiatives to support them to maintain a healthy work-life balance.
These efforts were recognised with our organisation being certified as a Great Place to Work® for a third consecutive year. The bank was also recognised as one of the 40 Best Workplaces in Sri Lanka for 2021 and it made the list of 10 Best WorkplacesTM for Women in Sri Lanka in 2021 by Great Place to Work Sri Lanka®.
Standard Chartered Sri Lanka also won the award for Best Private Sector Organisation for Promoting Women in Workplace at the Top 50 Professional & Career Women Awards 2020. The annual awards were presented by Women in Management (WIM) in partnership with IFC.
Moreover, the bank's commitment to honour gender equality among our workforce led us to reach a significant milestone by becoming the first organisation in Sri Lanka to secure the second highest level of EDGE (Economic Dividends for Gender Equality) Certification – EDGE Move.
Such tributes, which contribute towards improving the brand equity of the bank, will in return help secure the best talent during our hiring processes and in retaining the existing talent pool.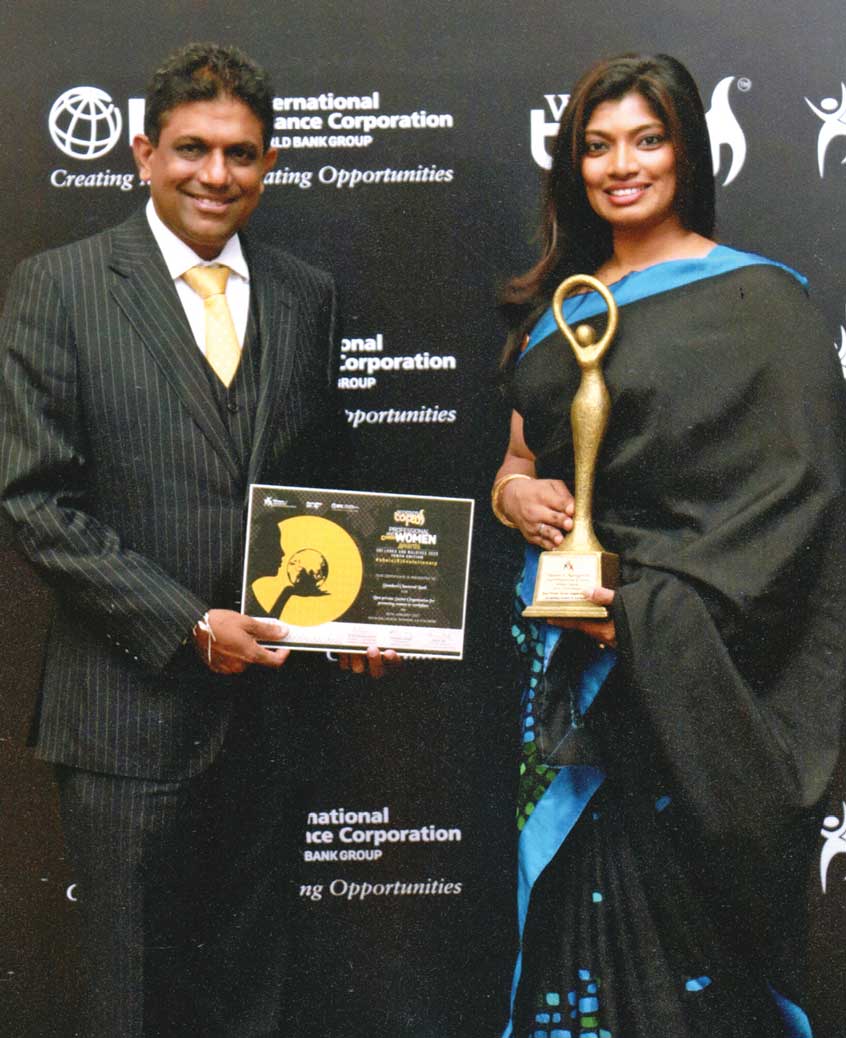 Q: How do you view the credibility gained being duly recognised in the banking and finance marketplace?
A: Being recognised as one of the most awarded entities in Sri Lanka affirms the bank's efforts to uphold our brand promise of being 'here for good,' compelling us to always consider the needs and wants of our stakeholders as a matter of priority.
Our efforts were recently affirmed by Fitch Ratings – it bestowed us a credit rating of 'AAA (lka)' with a stable outlook.
Meanwhile, Standard Chartered also won the award for Credit Card Initiative of the Year for the 2By20 Asset Campaign at the ABF Retail Banking Awards 2021. The bank also received the 'Highly Acclaimed' accolade for the Best Savings Account at the Global Retail Banking Innovation Awards 2021 organised by The Digital Banker.
We are grateful to all awarding bodies for acting as independent third parties in asserting the credibility of our bank through the awards and recognition presented to us.
Q: In your opinion, how can awards and honours serve to improve overall performance in the business arena?
A: Awards and accolades are conferred to organisations in recognition of the quality of their services or products on offer – a company's workforce plays a direct role in ensuring such achievements.
Therefore, we believe that appreciation of their hard work – internally as well as by external parties – acts as a motivational factor that pushes our personnel to consistently provide the best service standards to all stakeholders.
We remain committed to provide the best working environment and culture for our employees where they can continue to thrive in their respective fields, contributing towards the bank's success.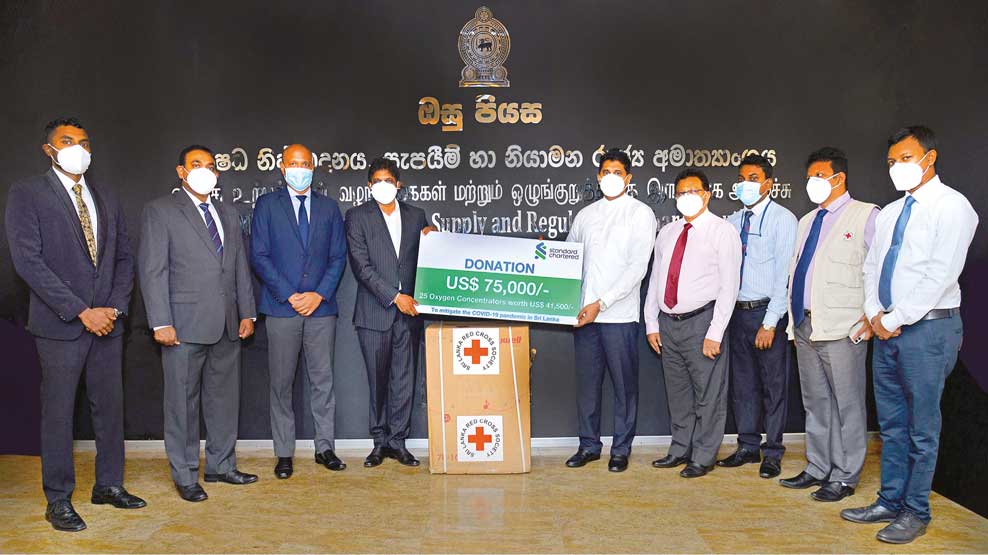 Q: How important is it for organisations to give back to communities within which they operate?
A: In the spirit of our brand promise to be 'here for good' and through the Standard Chartered Foundation along with Futuremakers, the bank has ventured into many CSR projects that aim to empower various groups within our communities.
In addition, we have understood the level of support that should be extended towards society and the government to ensure continuity of economic activities since the onset of COVID-19.
The efforts of Standard Chartered Sri Lanka to mitigate the impact of the pandemic – especially through financing the import of 15.4 million vaccine doses in partnership with the Asian Development Bank (ADB) – earned us the prestige of being recognised as the Most Responsive Bank against COVID-19, awarded by the ADB at the Trade and Supply Chain Finance Program (TSCFP) Awards 2021.
We're humbled that we played a vital role in supporting an initiative that has placed Sri Lanka as a leading country in the worldwide vaccination drive.
The bank also donated US$ 500,000 to the Sri Lanka Red Cross Society (SLRC) to support the fight against COVID-19 in the local community while contributing essential medical equipment – i.e. three ICU ventilators, 25 Oxygen Concentrators, Pulse Oximeters and Nebulisers – worth over 116,500 dollars to SLRC as a continuation of its commitment to support the country's fight against COVID-19.
Additionally, we have enabled local companies to produce essential equipment that will help in the fight against the pandemic by way of drawdowns totalling over US$ 45 million.
These loan beneficiaries include personal protective equipment (PPE) manufacturers who were able to expand their PPE – such as medical and protective gloves, and face masks – manufacturing capacities, as well as pandemic hit apparel and textile manufacturers who made the switch to produce and export these essential supplies of protective gear.
The bank is also currently working with a number of welfare organisations such as SOS Children's Villages, the Red Cross Society, Foundation of Goodness, UNDP and Women Win with the non-profit organisation SERVE, to empower the lives of thousands of deserving individuals in Sri Lanka.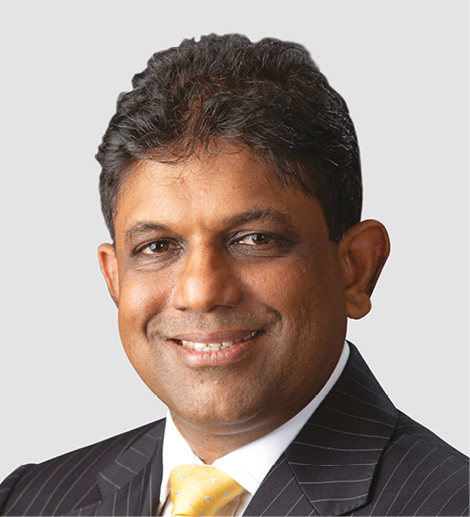 Bingumal Thewarathanthri
Chief Executive Officer – Sri Lanka
SECTOR WINNER
MULTINATIONAL (2)
Telephone 2480480 | Website www.sc.com/lk/