YOUTH FORUM
Compiled by Savithri Rodrigo
SRI LANKA'S FLOCK OF SHEEP
Jazoolee Ahamed urges Sri Lankans not to blindly follow fake politicians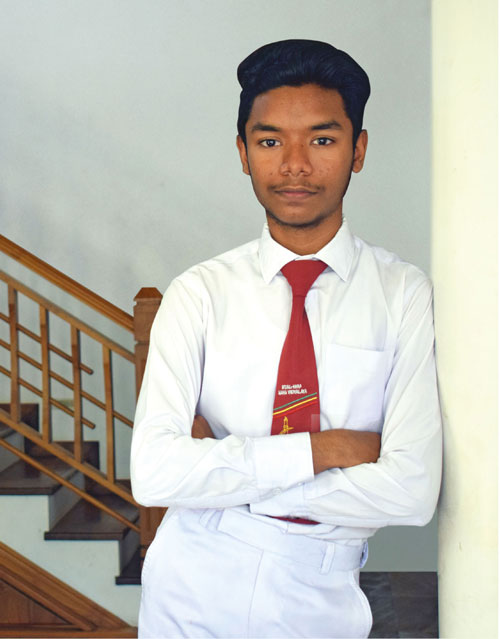 Q: What's the good, the bad and the ugly here in Sri Lanka?
A: The 'good' refers to Sri Lanka's natural beauty, friendly and helpful people, strategic geographical location, traditions, a culture that exists from historic times and an environment conducive to economic growth.
At the same time, racism, religious fundamentalism, malice, jealousy and enmity in the guise of patriotism with communities trying to destroy each other are what's 'bad.' Corrupt individuals and organisations must not be allowed to infiltrate the hearts and minds of the people.
The 'ugly' is the political leadership and status quo that have led to endemic corruption, and a fake and pompous political culture that citizens unfortunately follow like a flock of sheep.
Q: What are the challenges facing the country today?
A: The unstable economic situation, Sri Lanka being among the worst ranked in the Corruption Perceptions Index, unqualified governance, a corrupt mentality, a lack of political knowledge, income disparities and mounting debt at high interest rates are some of the challenges we face.
There is also a lack of technical and technological knowledge among the general citizenry. This makes Sri Lanka an easy target for hackers, faux advertisers and scam artists. Law and order in the country remains only a policy and isn't implemented with accountability, which has resulted in undermining political and civil mechanisms in the country.

Q: What changes do you observe in the context of nation building and reconciliation?
A: Postwar reconciliation in politics and the community environment should have been established by now. Coexistence too should have been strengthened. However, none of this has materialised.
Nation building and reconciliation are mere rhetoric although these are aspects far more important than infrastructure development. While civil society and volunteer organisations are taking the initiative, a clear vision and shared mission must stem from the leadership, and be a collective endeavour.
Q: What changes do you see in education, healthcare and women's empowerment?
A: The education sector is yet to create accountable citizens with self-confidence, self-realisation, creativity and innovation. Young people are not moulded into professional personalities who are productive. Education itself has not kept pace with the latest developments to prepare students for the real world.
In healthcare, most do not have access to basic services at the regional and rural levels. The healthcare system needs to be diversified to deal with various issues ranging from physical to mental health, social issues, PTSD and digital violence.
Q: Where do you see Sri Lanka in 10 years' time?
A: I dream of a country devoid of fear and hunger, having attained a good quality of life and standard of living. I'd love to see a country filled with people who view problems objectively and scientifically, realising that there are flaws in traditions, with the ability to take on that learning but move forward.
Hopefully, Sri Lanka can transform into a country that is united with the freedom to exchange opinions in an environment that is conducive.
Q: And what's the good, the bad and the ugly of the world in which we live?
A: In this conceptual age, the growth of science and IT – and thereby, the opportunities arising through these developments – is a blessing.
However, preying on people's fears, unleashing hatred, and unequal distribution of power and authority are bad for the world.
Much of the authority and most resources being concentrated in the hands of people who do not have a charitable mindset and vision are the ugliest things in the world.
Q: What are your expectations of Planet Earth and its inhabitants?
A: I expect the people of this world to approve of good things and eliminate bad things, agree on agreeable matters and concede in conflicting matters to live with diversity. Also, I expect a world that seeks scientific solutions to problems and provide guidance.
I'd like to live amid a responsible and accountable population that solves conflict through an exchange of opinions.
Q: Do present-day world leaders live up to your expectations?
A: No. Leaders distance themselves from people and any attempt to improve their lives. Solutions become embroiled in agendas that are political or personal.
Leaders are elected by people to serve, not to be treated like gods. They should be ready to listen, seek opinions and ideas, and use that wisdom to lead.