SRI LANKA TO BE CYCLING DESTINATION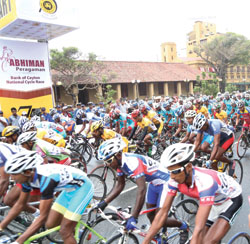 Sri Lanka's is being promoted as a secure destination for tourists in general and cycling in particular as Lanka Sportreizen (LSR), together with the Sri Lanka Cycle Federation and SriLankan Airlines, is set to host the Sri Lanka Tea Cup – a coast-to-coast cycle road race that will take place from 6 to 9 April, covering nearly 325 kilometres.
The race, which will cover the entire island, will be a team event with each team having 4-5 cyclists. Seven international teams from countries including the Netherlands, the Philippines, Singapore and Kenya are set to participate, along with local teams.
Union Cycliste Internationale (UCI) accredited international commissaries from Malaysia, Japan and Hong Kong will officiate the race, which will be conducted in line with international standards.
The total prize money on offer at the Sri Lanka Tea Cup is US$ 20,430.