SPACE EXPLORATION
The race to the moon is on – again!
BY Angelo Fernando
The moon has been desolate since 1972. A few have tried to revisit it but haven't succeeded. After all, having conquered and planted a flag there to stake out first-mover advantage, the pull is in other directions for the US – specifically to Mars.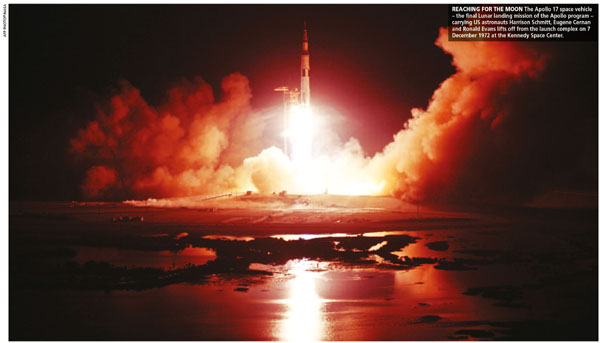 At other times, NASA – which has been operating on a limited budget – has explored various planets and investigating asteroids. But the moon has never stopped calling and plans are now in place to return to that mysterious orb in four years.
We are neighbours after all, and our fates seem intertwined.
The leading scientific theory is that the moon was formed from a chunk of the Earth that broke off due to a collision with a rogue solar system body billions of years ago.
And of course, its gravitational force is what causes our sea levels to rise and fall. So the literal and metaphorical pull of the moon is hard to avoid.
Indeed, the plan to make a neighbourly visit is audacious because if all goes well, the moon will become our base station for larger exploratory ambitions to Mars. This plan, which is known as 'the Artemis program,' was named after Apollo's twin sister Artemis in Greek mythology.
Here's how it's being mapped out…
By 2024, the mission will take the first woman and next man to the moon, and it will be supported by an elaborate system that includes satellites, a rover, a cargo lander, a fleet of small CubeSats and a landing system that can sustain the astronauts as long as the mission lasts. Artemis will be a test run for the eventual Mars run.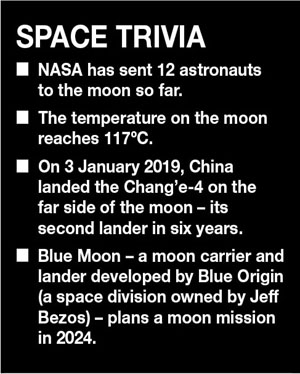 NASA says that by accessing ice on the moon and converting it for other uses, it'll prove to us what we can accomplish on Mars. A CubeSat will continue to scour the surface of the moon in search of water or ice.
Scientists agree that there is water on the moon but it will have to be harvested from frozen beds. And where there's H2O, the possibilities are enormous – from converting it into a source of fuel to using it to grow food.
The 1969 'Moon Shot,' which is how the Apollo programme is remembered, cost NASA US$ 25.4 billion. It involved tens of thousands of people in a series of lunar visits until 1972.
A lesser known fact is that the first crewed mission (Apollo 1) resulted in tragedy. In that 1967 mission, three astronauts died in a test launch when their command module burst into flames. Since then, astronaut safety has been a high priority.
There have been other 'moon shots' too.
China has proved it can be done by landing the Chang'e-4 on the far side of the moon. In September 2019, India's moon lander Chandrayaan-2 crash landed on the moon. This costly failure has probably taught the Indian space agency ISRO lessons that will spur it on for future projects.
A few months earlier, the Israeli moon mission also didn't make it.
Launched by a private company, the Beresheet lander crashed on the moon's surface. It was Israel's first private space probe. Years earlier, SpaceIL – which is the company behind it – participated in the Google Lunar XPrize competition in a challenge with a US$ 30 million bounty to the team that could successfully land a robot on the moon. The robot was also required to travel 500 metres and send pictures back to Earth to prove its success.
The moon beckons as always and this time, it's with other geopolitical ambitions in space. So what's in it for India, China, Israel and the US who are in this new moon race?
Not simply for bragging rights – after all, who wants second place?
Space has a way of expanding our potential and not only our footprint. Hundreds of technologies hitch a ride on any space programme because of the R&D that goes into every aspect of a mission.
Spin-offs emerge from the knowledge gained in material science and rocketry. These include insulation, safety products, and sensors for monitoring, satellite communication and robotics. Specifically spin-offs have included firefighting gear, weight training equipment, 'memory foam' now used in shoes and mattresses, and even GPS communication.
NASA's Jet Propulsion Laboratory perfected a technique for more accuracy in reading GPS signals, and spacesuits with cooling and ventilation went on to inspire garments for people with multiple sclerosis.
The development of integrated circuits, which were in their infancy during Apollo, were spurred on by the extended moon programme. The R&D for food and habitats for astronauts is an industry in itself.
And now, research is being undertaken aboard the International Space Station to develop highly efficient fibreoptic materials, which can only be manufactured in a zero gravity environment.
With so much to gain, it's no wonder that the race has been jump-started once more.