SOUTH ASIAN FEDERATION OF EXCHANGES
Media Release
March 01, 2017
 Colombo:
South Asian Federation of Exchanges (SAFE) Workshop and Panel Discussion in Colombo
Leaders from the South Asian capital market were united in their call for improved integration of regional markets as they shared their views on the way forward for exchanges in South Asia, at an event recently held at the Colombo Stock Exchange (CSE). The views were expressed by Chief Executives of Stock Exchanges from around South Asia, who gathered in Colombo for the Executive Committee Board Meeting and workshop of SAFE.
SAFE aims to foster collaboration and co-operation among its members in order to develop their respective capital markets. Presently SAFE has members comprising of stock and commodity exchanges across South Asia and several depositories and clearing houses in the region as associate members. Sri Lanka has held the Chairmanship of the SAFE Secretariat since 2015.
The following are highlights of remarks shared by the speakers at the event.
Domestic exchanges have much to gain should we reinforce and improve our effort towards integration – Mr. Vajira Kulatilaka, Chairman of SAFE and CSE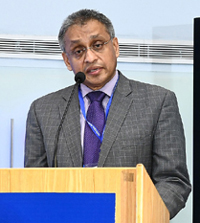 "As we all know, capital markets globally, regionally and even in our nations, are constantly evolving and embracing transformation. The role and impact of an exchange today, is well beyond what was defined at the inception of SAFE as an organization. This is even more so for emerging and developing countries, which many of us are a part of. It is therefore quite relevant that SAFE today looks at evolving as an organization.
We are well aware that our members are at different junctures in their bid for growth and improvement, which is a something that works to our advantage. It also outlines the importance and relevance of an organization such as SAFE.  Our diversity is our strength, and our ability to learn from each other through collaboration and knowledge sharing is a key benefit of being a part of an organization of this nature. Smaller exchanges in the region for an instance, have the ability to benchmark more developed peers, while our more developed peers have the privilege of shaping the future of fellow regional exchanges – a process that is brought into the table through affiliation.
The CSE takes great pride in our involvement with SAFE over the years, and we are pleased to have taken the initiative to advance and protect the interests of the South Asian region and our fellow regional exchanges since inception. We are particularly honoured to have played a part in initiating an effort to shape the future direction of SAFE, in our capacity as the Chair for the current term."
Government's strong commitment to reform sparked transformation – Mr. Nayan Mehta, CFO of Bombay Stock Exchange (BSE)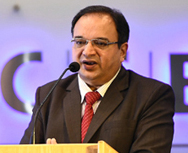 Commenting on the success story of the BSE, Mr. Mehta credited the transformation of the exchange to the Indian Government's strong commitment to the capital market since 1991, which sparked a reform process that transformed the exchange from several operational low points to the largest operation in India and South Asia today. He added that stakeholder management, investment in technology and a strict commitment to compliance and transparency were key drivers that propelled the exchange.
Demutualization an important step in handing vested interest to the investor – Mr. Aftab Ahmed, Secretary General of SAFE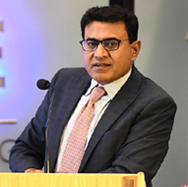 Mr. Ahmed, who was involved with the process that saw a merger between the Karachi Stock Exchange, Lahore Stock Exchange & Islamabad Stock Exchange to form the Pakistan Stock Exchange said "It is critical that we also improve the governance of our exchanges and in our region through demutualization, mainly to relieve brokers from the governance aspects of the exchange so that the exchanges have the ability to provide products and services that are in the best interest of the investors."
He also went on to highlight the importance of South Asian exchanges embracing the increasing influence of SMEs and startups in global affairs, stating that exchanges around the world are already reaping the benefits of providing fund raising opportunities to such enterprises.
Quality primary market key to success of the capital market – Mr. Shaifur Rahman Mazumdar, MD Chittagong Stock Exchange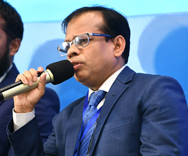 Commenting on the high level of activity surrounding Initial Public Offerings (IPOs) at the Chittagong Stock Exchange, Mr. Shaifur Rahman Mazumdar said "The regulators have worked to change the rules and regulations to create a strong and transparent primary market. We therefore now have the platform ready to create a robust IPO market and we have experienced a strong demand for IPOs in our country. A number of large companies are in the pipeline of getting approval from regulators for listing on the exchange."
Regulation and market development are inextricably linked – Ms. Shalini Gokhool, Manager Stock Exchange of Mauritius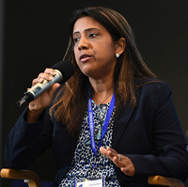 "I would say that regulation and market development are inextricably linked. Too much regulation can stifle market development, hence the need for the right balance. To take the example of Mauritius, since 2010 we have embarked on an internationalization strategy where we are trying to innovate in terms of products and getting more players to come to our market. We have had the very strong support of our regulator the Mauritius Financial Services Commission to bring many changes so that we could implement our new strategy.
Today we have created a flexible and enabling regulatory environment to list a variety of products ranging from global funds, depository receipts, and a number of specialist securities such as specialist debt securities, exchange traded funds etc."
Delegates from the Bombay Stock exchange (BSE), Pakistan Stock Exchange (PSX), Chittagong Stock Exchange, Maldives Stock Exchange, Royal Securities Exchange of Bhutan, Central Depository Bangladesh, Mercantile Exchange Nepal, The Stock exchange of Mauritius, the Nepal Stock Exchange and the Colombo Stock Exchange attended the event. Chief Executives of CSE Member & Trading Member Firms were also invited. The Chairman of the Securities and Exchange Commission of Sri Lanka Mr. Thilak Karunaratne graced the event as the Chief Guest. The event was sponsored by Ironone Technologies.
——————————————————————————————————————-
About CSE
The Colombo Stock Exchange (CSE) operates the only stock market in Sri Lanka and is responsible for providing a transparent and regulated environment where companies and investors can come together. The CSE is a company that is limited by guarantee established under the Laws of Sri Lanka. The CSE is licensed by the Securities and Exchange Commission of Sri Lanka (SEC) and is a mutual exchange consisting of 15 Members and 20 Trading Members. All Members and Trading Members are licensed by the SEC to operate as Stockbrokers. For more information, please visit: www.cse.lk.
For more information:
Niroshan Wijesundere
Head of Market Development
Colombo Stock Exchange
Level 4, West Block,
World Trade Center, Echelon Square,
Colombo 01.
Sri Lanka.
Direct      + 94 112356510
Mobile    + 94 777 819999
Fax           + 94 112445279