SRI LANKANS OVERSEAS
THE QUEST FOR EQUALITY
Afdhel Aziz feels Sri Lanka can do more to realise its full socioeconomic potential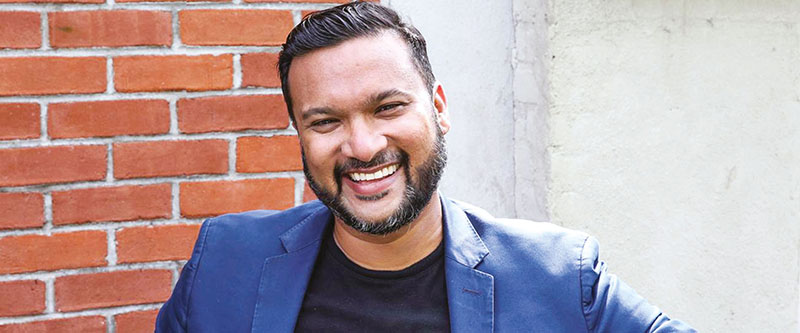 Q: What are your perceptions of Sri Lanka today, in the context of the progress it is making in the postwar era and the challenges it faces?
A: Sri Lanka has an amazing future ahead of itself, provided that it can continue to progress not only economically but also in terms of social justice and equality.
It needs to think progressively about all aspects of life – whether it is the consideration of clean energy alternatives instead of fossil fuels or ensuring equal rights and pay for women. Only then can it achieve its potential in the 21st century.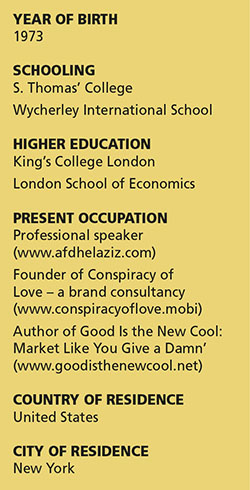 Q: How do compatriots in your country of domicile view Sri Lanka? And is the United States a potential source market for Sri Lanka's tourism industry?
A: I think it would be hard for me to generalise on how Sri Lankans in America feel about the country of their birth or ancestry.
However, I believe that Americans are increasingly curious about Sri Lanka and many of them harbour serious intentions to visit the country. I generally describe Sri Lanka to them as 'the Hawaii of Asia,' which helps them understand its natural beauty and the richness of the island's culture.
While considering that Sri Lanka is an almost 24 hour journey away and US citizens have limited vacation time of only two to three weeks a year, there remain barriers to the island becoming a mass-market destination for Americans. But the number of people who add Sri Lanka to their list of 'must visit' places in Asia, alongside Thailand and Bali, continues to increase.
Q: What were your impressions of Sri Lanka on your last visit here and how much has it changed from the past, in your opinion?
A: I travelled to Sri Lanka in January with my family to attend the Galle Literary Festival and continue to be impressed by the positive changes that have taken place in the country. However, the chaotic traffic in Colombo makes it an extremely difficult city to travel around in so I generally tend to spend as much time out of the commercial capital as possible.
Q: And what is your take of the brain drain – why have we still not experienced a reversal of it?
A: I think that Sri Lanka needs to improve its institutions of higher learning, which continues to be a primary cause for many citizens opting to leave the country. Once they venture overseas to complete their education as I did, it's extremely difficult to return. Secondly, the lack of opportunities for career advancement makes Sri Lanka a very difficult place to work in.

To trigger a reversal of the brain drain, such problems need to be resolved through long-term plans that are sustainable.
Q: So what must be done to entice Sri Lankans living overseas to contribute or return to their country of birth?
A: There should be programmes in place to invite young Sri Lankans born overseas to come over and spend a year working or volunteering their services in the country. Through such programmes, Sri Lankans overseas can reconnect with the country of their ancestry as adults and look to give back in a meaningful manner.
Q: In your view, what should Sri Lanka focus on most in the coming decade?
A: A focus on social progress as much as economic progress is necessary. Inequality of income needs to be addressed as it can otherwise spiral into the creation of a fractured society between the 'haves' and 'have-nots.'
Respect for both sexes with regard to education and opportunity would help unleash the potential of more than half the population. Progressive thinking to protect the rights of minorities of all stripes – not just religious and ethnic, but also gender and sexuality – is of paramount importance.
Q: And last but not least, what are your hopes for the country in the post-conflict era?
A: To plot our future, we should look to a country such as Costa Rica, which has successfully evolved into being a nation of the modern era. Costa Rica has no standing army. It has a Gross National Happiness Index, which actually measures its citizens' outlook on the country's performance as its governance understands that a mere analysis of GDP is a very narrow indicator of progress.
Costa Rica has adopted a sustainable approach to tourism by ensuring that the environment is carefully protected. It has also taken appropriate steps not to overcrowd the country.
Sri Lanka on the other hand, needs to have transparent and dependable institutions in place, starting from government to civil society, to ensure fair, equitable and durable prosperity for all.
– LMD