SRI LANKANS OVERSEAS
COUNTRY BEFORE SELF
Prem Victoria urges the powers that be to put country before self-interests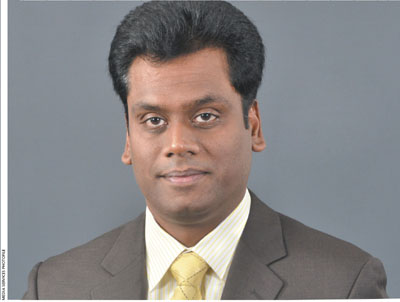 Q: How do you perceive Sri Lanka today in the context of the progress it is making in the post-conflict era?
A: My perception of Sri Lanka in the post-war era remains unchanged. Corruption is on the increase while the concerned authorities who have been vested with the power to change the fortunes of this beautiful country continue to be driven by personal benefit rather than national interests.
Although there seems to be progress in pockets, this has not benefitted the country as a whole. A prime example would be the development of the port and construction of the international airport in Hambantota. Maintenance of this infrastructure places a massive burden on the economy as it does not generate sufficient revenue.
I have learned through media reports that growth in the tourism industry has led to an increase in accommodation providers along the coastal belt who continue to direct their sewage lines into the Indian Ocean. This shocking practice is not only detrimental to this industry but also serves as yet another source of environmental damage.
So civic sense is generally overpowered by greed and selfishness.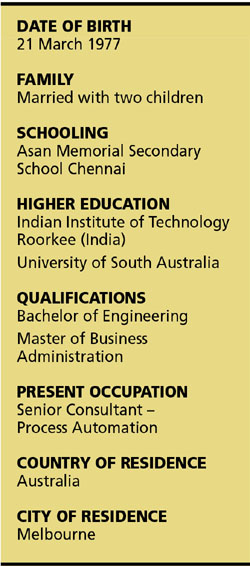 Q: What were your impressions of Sri Lanka on your last visit and how much has it changed from the past?
A: Last September, I visited Sri Lanka for a brief stay. I arrived at the airport and hired a cab at 2.30 a.m. to be driven to Kandy, which is my hometown.
On the way to Kandy, we drove through dark, poorly lit streets and narrow roads, which led me to conclude that not much had changed. When we entered the street where I was to stay in Kandy, I noticed loose soil, which is a trigger for landslides. When I probed further, it became evident that the local council did not have sufficient funds to carry out the necessary repairs – and this meant the 10 families living on that street were in constant danger of being affected by landslides.
Then on my return journey, the traffic was horrendous and drivers weren't abiding by the road rules – and nor did they possess any peer courtesy. Nothing seems to have changed except for the cost of essential items, which seemed to have doubled since my last visit two and a half years ago.
Q: How do your compatriots in Australia view Sri Lanka these days?
A: They have heard both good and bad things about Sri Lanka. The positives are good food, great surfing locations, warm weather and natural scenic beauty. In contrast, the negative factors are the lack of general hygiene facilities, poor infrastructure and high cost of living that is almost on a par with other expensive tourist destinations.
Q: What must be done to entice Sri Lankans living overseas to contribute or return to their country of birth?
A: Reduce corruption levels and prove to the rest of the world that Sri Lanka is conducive to investment, and provide as many incentives and tax concessions as possible for international funds to enter Sri Lanka.
Introduce special tax concessions for those who wish to invest in Sri Lanka and employ our citizens. Moreover, establish a dedicated department to handle such investors and assist them in managing bureaucracy so as to reduce turnaround times.
It would take quite a while before challenging jobs are made available but there's an immediate need to encourage Sri Lankans living overseas to invest in their country of birth.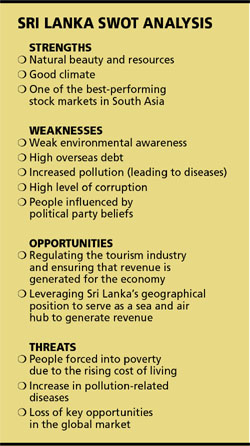 Q: How do you view the brain drain and why is there still no reversal of it, in your opinion?
A: Graduates do not have sufficient opportunities to challenge themselves and live their dreams. There are very limited opportunities due to the ever-increasing number of imports and dwindling local manufacturing industries. The remuneration for qualified candidates is minimal, which is why there remain a large proportion of Sri Lankan doctors in my country of domicile. Engineers and other professionals do not have sufficient opportunities due to the decline of local industries. Moreover, most large industries are situated in and around the suburbs of Colombo, which reduces the exposure of candidates living in other parts of the island.
Q: In your view, on what should Sri Lanka focus most in the coming decade?
A: We should continue to develop infrastructure outside of Colombo, make English mandatory in schools, establish a commission to alleviate corruption with a defined year-on-year target, remove garbage dumps that are located in highly populated areas, limit the importation of vehicles with a focus on reducing pollution, and remove the armed forces from the north to focus more on preserving our regional culture and heritage.
Q: And finally, what are your hopes for the country in the post-conflict era?
A: While the conflict – which was a major distraction – is now out of the way, a stable government coupled with innovative and well-implemented policies could fast-track economic growth.
This is a very important period in which carefully planned and implemented strategies could elevate Sri Lanka to a much higher standard.
– LMD