LIFE
Shiromal Cooray
In conversation with Ruwandi Perera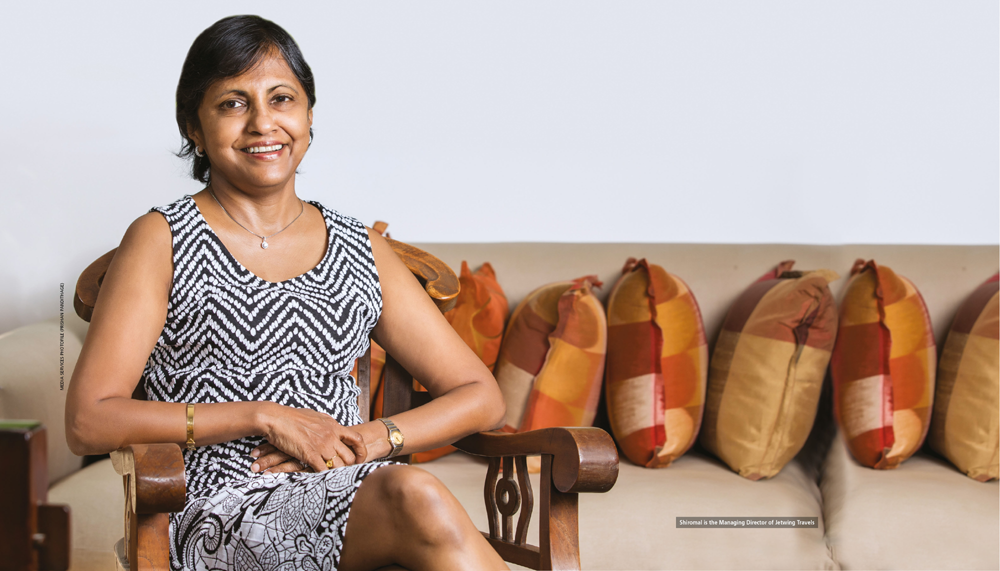 How would you describe yourself?
As 'a simple human being.'
Your alma mater was…?
St. Bridget's Convent 
What did you want to become when you were a child?
To become a doctor. This was simply because my dad said I should become a doctor and treat the less privileged for free.
If you weren't involved in the tourism industry today, what would you be doing?
Perhaps I would have become an author.
Could you describe your family?
My dad passed away and I have one brother. My spouse runs his own business, and my son is an actor and singer, while my two stepdaughters are still pursuing their studies. 
Could you share your favourite memory with us?
My favourite memory would definitely be when I watched my son perform in a school play when he was only five years old. He was playing the titular role in a production of the Broadway musical Annie. 
So how does your day unfold?
I start my day with prayers and then exercise by going for a walk. Afterwards, I have breakfast and head off to work. I return home for dinner or to change and attend any evening functions there may be.
I also attend Mass on three days of the week. And if I reach home early, I read or listen to music. 
If you have six months off work, what would you like to do?
I'd simply love to travel to all the amazing places around the world. 
How do you handle difficult situations and people?
I try to look at things as objectively as possible and separate emotion from fact. Then I try to put myself in others' shoes and see what could be done. If it is a mistake, I'll first try to correct it and then share this learning with everyone so that it isn't repeated. 
What are your favourite places to visit in Sri Lanka?
I love Yala, Jaffna and the beaches of our island. 
And your favourite overseas holiday destinations are…?
New Zealand and the United States.
What are your three favourite brands?
I'm not a brand conscious person; I buy whatever I like, and what suits me and is affordable. 
Where do you shop most often?
Sadly, I shop a lot when I travel overseas. 
How do you relax?
I love my time at the spa. Also, I like to hang around at home reading or simply doing nothing. 
And your hobbies are…?
Reading and travelling. 
What has given you the greatest sense of professional achievement?
It would be the time we competed with other reputed companies and won a tender for a relatively large piece of business. 
On the other hand, what don't you enjoy doing professionally but have to because work demands it?
I don't enjoy talking to my colleagues on disciplinary issues especially if it means terminating somebody's employment or saying 'no' to certain requests made by coworkers. 
What do you love the most about your job?
The opportunities I get to meet different people and cater to the needs of various nationalities. And I love the ability to develop young people and see them grow into responsible human beings who hold senior positions.
Your all-time favourite movie is…?
Victor Fleming's Gone with the Wind. 
What are your favourite books?
Wuthering Heights (by Emily Brontë), the autobiographies of Steve Jobs and Howard Schultz, and The Fountainhead (by Ayn Rand). 
Is there a song that moves or best describes you?
Dance with My Father by Luther Vandross moves me.
Is there a phrase you use often?
'Isn't it?'
Your favourite colour – and why?
I love rusty orange because it's earthy and warm. 
Who are your role models?
My parents – as I get older, I realise more and more how much they mean to me, and how much I've learnt from them.
What or who has had the most impact on your life?
From the time I first heard it as a child, the sermon on the Mount where Jesus Christ shared the Beatitudes really touched me. As hard as it can be, I try to live according to those teachings as much as possible.
So what is your next goal in life?
There are so many places I'd love to travel to and explore. I would also like to write stories and tales about various amazing destinations around the world and my travel experiences. 
If you could change one thing about your life, what would it be – and why?
I have a habit of being impatient and saying things out loud without thinking – I'm too blunt, unintentionally. So I'd like to be more diplomatic. Diplomacy is something I need to improve on.
Describe yourself in one word…
Impulsive
Shiromal is the Managing Director of Jetwing Travels