SERENDIB FLOUR MILLS
Serendib Flour Mills celebrates its Gold Medal in international milling technology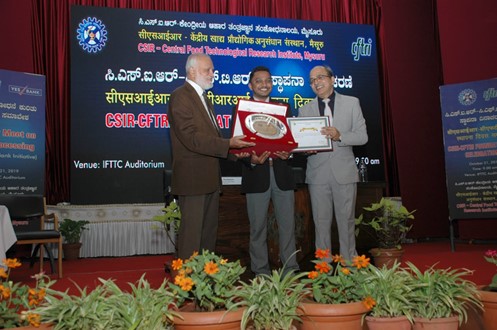 Serendib Flour Mills, one of the most trusted wheat flour manufacturers in Sri Lanka, celebrated success on the global stage as one of its team members won international acclaim in Milling Technology.
Sanjeewa Dharmaratne, Assistant Miller, successfully bagged the Gold Medal for the Highest Achiever by securing first place and also won the "Best Student of the Year 2019" award in the International Flour Milling Technology course (ISMT) at the Central Food Technological Research Institute (CFTRI) in Mysore, India. Sanjeewa out performed over 30 Indian and international students during the one-year full-time course.
Serendib Flour Mills employees have a history of excelling in this reputed international course with Saheed Mohamed Shafrin, Assistant Miller, also winning the Gold Medal in 2016. The award win by Sanjeewa continues a winning trend of Serendib Flour Mills employees in 2019. At the recently-concluded National Sales Congress (NASCO) 2019 organised by the Sri Lanka Institute of Marketing (SLIM), the company's employees bagged 3 awards – 2 Golds and 1 Bronze.
Central Food Technological Research Institute (CFTRI) is a pioneering organization in Research and Development in the area of Food Science and Technology and Human Resource Development. In 1981, the International School of Milling Technology (ISMT) was formed as a joint Indo-Swiss venture and Roller Flour Millers' Federation of India project to serve the needs of flour milling industry in India and other developing countries with regard to training in flour milling technology.
Sharing his thoughts on Sanjeewa's achievement, Mohamed Hamza Khan Chief Technical Officer of Serendib Flour Mills stated, "The entire Serendib Flour Mills family offers our congratulations to Sanjeewa on his outstanding achievement in the ICFMT Flour Milling Technology course. He has brought glory to both the company as well as the country through this win. This is a tough 1-year course that trains students on the latest technologies in milling. He was up against some tough competition with over 30 Indian and international students also following the course. Through sheer hard work, determination and commitment, Sanjeewa has been able to outshine all of them and come out on top of the batch. That is indeed a great achievement and we are all very proud of him."
Serendib Flour Mills (Pvt) Ltd. is a BOI approved Flagship project funded by a renowned Dubai investor, the Al Ghurair Group. The company provides high quality, nutritious and a wide variety of wheat flour products to bakers, eateries, hotels, households, industries and consumers across Sri Lanka. Operating from a state-of-the-art milling facility at the Colombo Port, Serendib Flour Mills adheres to the highest standards of quality and safety. The company has received ISO 9001:2008, ISO 14001:2004, BS OHSAS 18001:2007 and ISO 22000:2005 certifications and also makes continuous efforts to minimize its impact on the environment by reducing greenhouse gas emissions and waste whilst championing energy and water conservation throughout its operations.
The International School of Milling Technology, the first of its kind in South East Asia, provides the facilities and expertise of CFTRI with fully dedicated computer controlled pilot roller flour mill, where students are taught milling systems as per the international and Indian subcontinental standards. ISMT is also equipped with analytical laboratory for testing physico-chemical attributes of raw material and finished products. In addition, test baking and pilot scale baking facilities are available for assessing quality of milled products.