SAMSUNG
Samsung's All New Convertible 5-in-1 Refrigerator with flexible Cooling Modes caters to any and every cooling preference!
Friday, 30 August 2019, Colombo: Consumers expect much more from their refrigerators than storage for perishables – and a company such as Samsung is fulfilling their every wish for an intelligent appliance that empowers their daily lives. The electronics giant has launched a new range of Smart Convertible 5-in-1 refrigerators in Sri Lanka, aimed at the mid-segment, in multiple capacity options from 321 Litres to 543L. One of the highlights of the 5-in1 refrigerator is that the fridge and freezer compartment has its own cooling system, allowing the refrigerator to be flexible depending on the consumer's needs by offering five different modes: Normal, Extra Shopping, Vacation, Seasonal, and Home Alone Mode. The new model offers clear benefits: up to 74% Energy Savings with Smart Convertible 5in1, up to 185 Litres of extra Fridge Space with Smart Convertible, up to 31% fast cooling with its Power Cooling Mode and  up to 31% faster ice making with its Power Freeze Mode.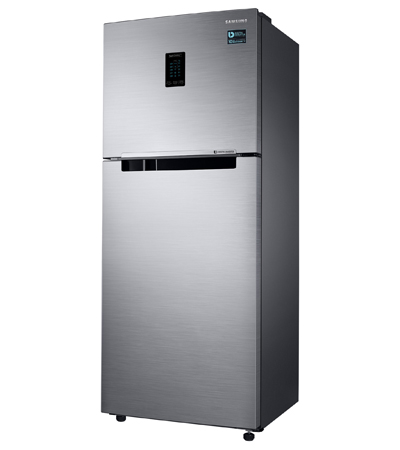 The five conversion modes, including the Normal Mode, deliver the flexibility required while saving energy depending on the needs. The Extra Shopping Mode allows you to bring home more bags with groceries and just convert the freezer into a fridge with the 'Extra Shopping Mode' while the Vacation Mode keeps only the freezer on, while the fridge compartment is turned off. Meanwhile, the Seasonal Mode switch on the refrigerator and switches off the freezer. Finally, the Home Alone Mode, switches off the appliance and converts the freezer compartment into a refrigerator for lower energy consumption. Samsung's tried and tested Twin Cooling Plus™ technology – applied to premium 300L and above Top Mount freezer  refrigerators – that enables consumers to be flexible with cooling storage depending on their needs also powers this latest model.
Commenting on the entry of the revolutionary refrigerators in Sri Lanka,  Mr. Sabry Ansar – General Manager, Head of Consumer Electronics, Samsung Sri Lanka, noted, "Consumers are increasingly looking for home appliances that are personalized to suit their needs and the new Samsung 5-in-1 refrigerator delivers all that and more. Its five different modes ensure you can calibrate the controls to suit your status, a truly revolutionary feature. As always, with Samsung appliances, consumers can benefit from optimal cooling, lower electricity bills and fewer trips to the supermarket because the spacious 5-in-1 has a generous storage capacity. Samsung Sri Lanka is pleased to launch the 5-in-1 refrigerator to redefine the needs of consumers to enhance their lifestyle."
The new model has spacious capacity which can fill up to 543L, enough to easily store a week's worth of grocery shopping for the whole family. The refrigerator can keep all your fruits and vegetables in fresh condition for longer duration, not only in the bottom drawer but on every shelf. This ensures space is maximized, meaning no time is wasted looking for particular items in a packed refrigerator helping meal times at home to become simple and convenient.
Optimum levels of moisture within the refrigerator are needed to keep freshness and taste locked in. The Twin Cooling Plus™ independent cooling system ensures that the right temperature and humidity level (up to 70%) are maintained throughout the refrigerator, so that no matter where food is stored, it stays fresh for up to 7 days.Its Twin Cooling Plus™ is a truly independent cooling system, with separate airflows in both the fridge and freezer. This prevents unpleasant smells from foods moving between the fridge and freezer, ensuring the original flavour of ingredients stored in the freezer is perfectly preserved and odourless. The anti-bacteria protector eliminates bacteria upto 99.99% from food items in the refrigerator section while the Moist Fresh Zone stores your vegetable and fruits at an optimal humidity level by releasing moisture cyclically, so they stay fresh for longer.
Samsung was ranked the No. 1 Electronics brand by Brand Finance Lanka, the pioneering brand valuation and strategy firm, in its 16th consecutive review of Sri Lanka's most valuable and strongest brands in LMD's Brands Annual. This triumph reflects Samsung's brand strength, product innovation, superior quality and service leadership in the industry which has won people's hearts.