SAMPATH BANK
Sampath Bank Scores 9th Consecutive Win at World Finance Banking Awards
~ Retains Status as Sri Lanka's 'Best Retail Bank' and 'Best Commercial Bank' ~
Colombo, July XX, 2022: Sampath Bank PLC has been rated as Sri Lanka's 'Best Retail Bank' and 'Best Commercial Bank' for the 9th consecutive year at the renowned World Finance Banking Awards ceremony hosted by the UK-based World Finance magazine.
Displaying the Sri Lankan flag prominently at this prestigious global forum where the Bank has been receiving both these tributes every year since 2014, Sampath Bank is the only bank from the country to be lauded at this venue this year, too.
The World Finance Banking Award is one of the most coveted accolades in the banking and financial services sector, globally. World Finance magazine–widely read and respected in the industry–has celebrated outstanding achievements, innovation and leadership since 2007, through these annual awards that rate banks' excellence in numerous relevant criteria.
"It is a great distinction to be rated amongst the best banking and financial service providers in the world, and to maintain our position as the 'Best Retail Bank' and 'Best Commercial Bank' in Sri Lanka for the 9th straight year at the World Finance Banking Awards," said Nanda Fernando, Managing Director, Sampath Bank PLC. "This is an unparalleled achievement made possible by the trust, support and endorsement of our customers, investors and business partners and by the entrepreneurial spirit and commitment to excellence of our team members. Awards such as this motivate us to recommit ourselves to deliver even greater value to our customers and stakeholders, as we continue to present their future."
This recent recognition, one of innumerable awards and accolades bestowed on Sampath Bank, comes at a troubled time when Sri Lanka and the rest of the world is coping with a series of health, political and economic crises. The Bank has continued its steady rise on corporate leaderboards, earning several distinctions for both its strength and financial probity as well as the trust and respect it has earned from its customers and the industry at large.
Most recently, Sampath Bank was ranked as the country's Most Loved Bank in the 2022 edition of the Brands Annual 'Most Loved Brands' listings, compiled by Brand Finance and presented by LMD. The Bank was also placed 11th in the overall 'Most Loved Brands' rankings. It stands out amongst FMCG giants as the only banking brand to be featured in the Top 15. The Bank was also ranked among the Top 10 'Most Valuable Consumer Brands' for 2022.
Despite the contemporary obstacles faced by the banking sector in Sri Lanka, Sampath Bank has successfully maintained all its capital ratios well above regulatory requirements throughout 2021. With a total asset value of Rs. 1.2 trillion, this reflects strongly as an indication of the Bank's stability. Meanwhile, its deposit book stood at Rs 978 Bn at the end of 2021, and continues to enjoy a year on year growth rate of 10.3%. All the while, Sampath Bank has implemented all government-led moratorium schemes for eligible customer segments affected by the pandemic. The Bank's digitalisation strategy has also continued to prove its worth during these trying times by securing a more accessible and safer banking experience for customers.
Sampath Bank is a 100% locally-owned bank that has deeply rooted itself in the hearts of the people of Sri Lanka. Established in 1987, the bank has become a state-of-the-art financial institution with numerous innovations to its credit. It continues to be a market leader today thanks to its customer-focused approach to banking. Sampath Bank has introduced many firsts to the Sri Lankan banking sector. These include the introduction of automated teller machines (ATMs) to Sr Lanka, extended banking hours for the convenience of customers, slip-less banking and touchless ATM withdrawals. The bank continues to steadily transform itself into a technology-driven financial services provider whilst keeping true to its traditions, values and ideals.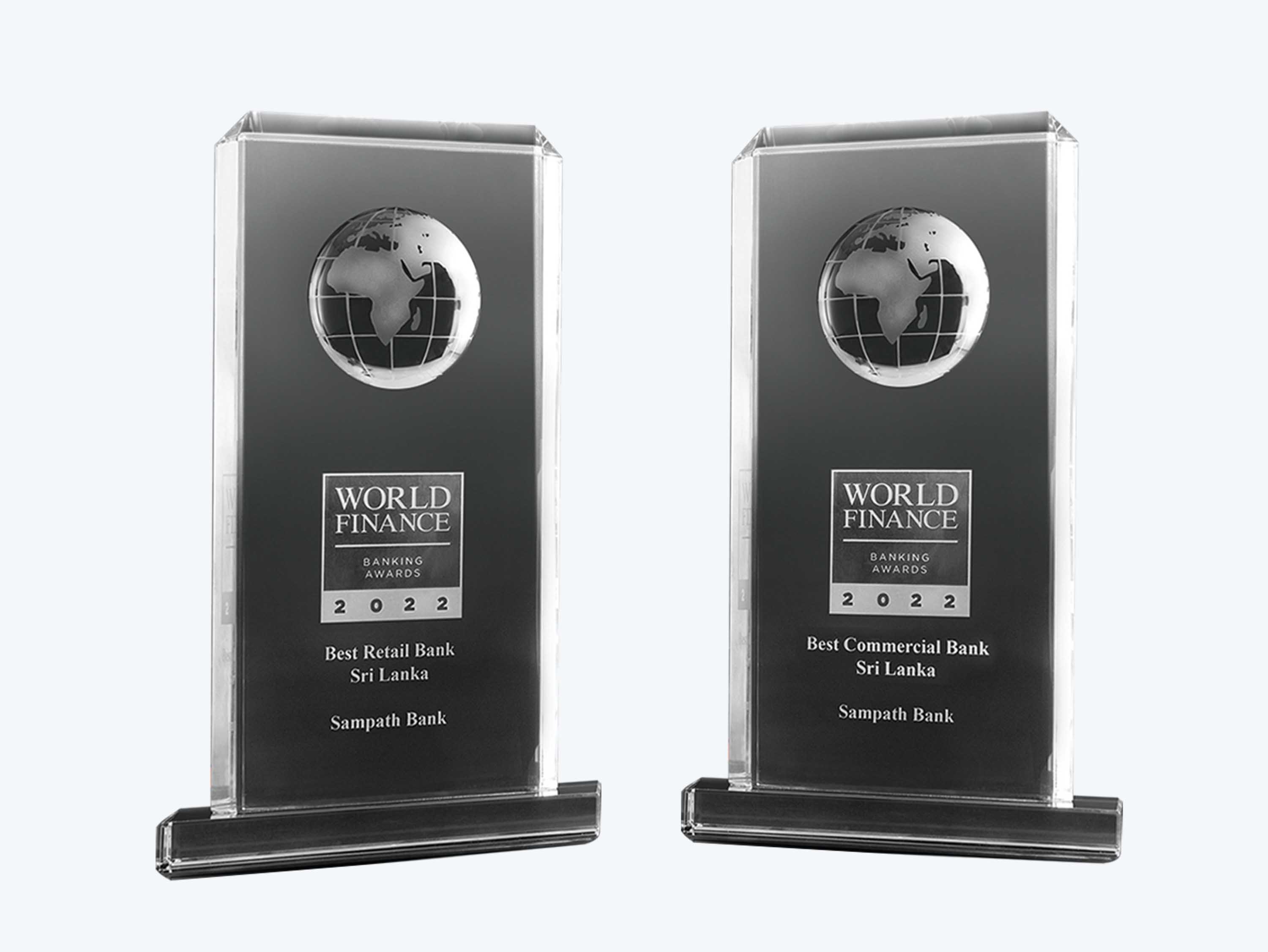 The 2 awards won by Sampath Bank for the 9th consecutive year at the esteemed World Finance Banking Awards