SAFE MIGRATION
LIVING BEYOND BORDERS
Yamini Sequeira reports on ongoing global initiatives for safe migration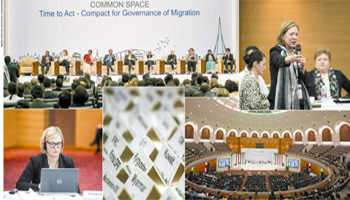 Now that 2015 has been declared the year in which the highest level of forced displacement occurred globally since World War II, the issue of migration must surely take the global stage. Capitalising on the momentum of the UN Summit in New York on the issue of large-scale movements of refugees and migrants, the 9th edition of the Global Forum on Migration and Development (GFMD) was held in Dhaka from 8 to 12 December.
Turning the spotlight squarely on global migration, the summit was themed 'Migration that Works for Sustainable Development for All: Towards a Transformative Migration Agenda' and helped enhance responses to human mobility.
This year's summit brought together policymakers, UN agencies and civil society to discuss cooperation in global, social and labour market governance, and issues such as gender, ethical recruitment, reducing migration costs, diversity and the protection of migrants.
Some of the other issues that were addressed included were the managing of crisis-related movements and protecting migrants in vulnerable situations, as has come to light in heartrending situations of refugees attempting to flee Syria and other besieged nations. Governments and development agencies are acknowledging the need to build opportunities for labour and skills mobility.
However, this realisation is unable to translate into action due to the lack of a common platform on which governments, employers, recruiters, trade unions, education and training institutions, regional organisations, industry associations and other relevant actors can address the multiple policy challenges that are involved in developing skills and managing labour mobility in a comprehensive manner.
In a significant development, the International Organization for Migration (IOM) is expected to formally join the UN system as a related agency, having been outside it for 65 years.
At the summit in Bangladesh, IOM Director General William Lacy Swing stressed that migrants are generally "invisible in crises" and that mechanisms need to exist for the international community to better assist those who have ended up in crisis situations.
In his concluding remarks, Swing asked a pertinent question: "But how do you create orderly, safe and regular migration in an unsafe, irregular and disorderly world?"
"That is our challenge. We can do it though, and we know we are moving ahead to the Global Compact," he added.
Core international human rights treaties must be used as the foundation for any policy approach. Beyond that, access to the labour market and promotion of cross-cultural dialogue are key elements – as is the issue of the path to citizenship.
This year's GFMD comprised three clear broad strands: the economics, sociology and governance of migration. Speakers at the event touched on the fact that women in migration are not 'vulnerable populations' in need of 'rescue,' but advocates for their rights and agents of change.
Immigration policies that create the contexts of exclusion, inequality and rights violations place women at risk and in situations of vulnerability. Prioritising gender equality and women's empowerment as an enabler and beneficiary of sustainable development throughout the migration cycle is the need of the hour.
Moreover, social inclusion should be promoted by targeting groups that buy into populism or fear migrants as this will address the irrational fear of the 'other' through genuine dialogue.
Speakers noted that securing borders is insufficient to achieve safe, orderly and regular migration. More legal channels for all women and men on the move are needed, as is an inclusive negotiation process leading to the adoption of an actionable agenda.
Indeed, 2016 proved to be a benchmark with the adoption of the New York Declaration for Refugees and Migrants – a demonstration of the international community's willingness to come together in response to the largest migrant and refugee flow in 70 years. And it is all the more significant considering the background of xenophobia and anti-immigrant sentiment that is sweeping across the world.
IOM notes that 2016 was also the deadliest year for migrants with increased levels of forced displacement globally that were tragically accompanied by record-high numbers of people perishing or going missing while attempting to cross international borders.
UN statistics indicate that about a billion of the world's seven billion people are on the move and that of this, at least 65 million are forced to move either by crossing borders as refugees or are displaced within their own countries.
Migration is relevant to Sri Lanka too, as many of its unskilled and skilled workers migrate to foreign lands for employment. IOM has rightly emphasised that migrants contribute towards investment, transfer of technology and skills, human capital formation, the enhancement of social capital, the promotion of trade and business links, and good governance.
Migrants have higher labour force participation than non-migrants, particularly due to the existence of higher labour force participation rates for migrant women relative to non-migrant females.
Human trafficking is also another silent but lethal threat that is growing apace, and needs policies and strategies to combat and curb it.