ROBOTIC PROJECT BY ELIZABETH MOIR TEAM
SOLVING REAL-WORLD PROBLEMS THROUGH ROBOTICS
Project Don Pablo Gasper Telliez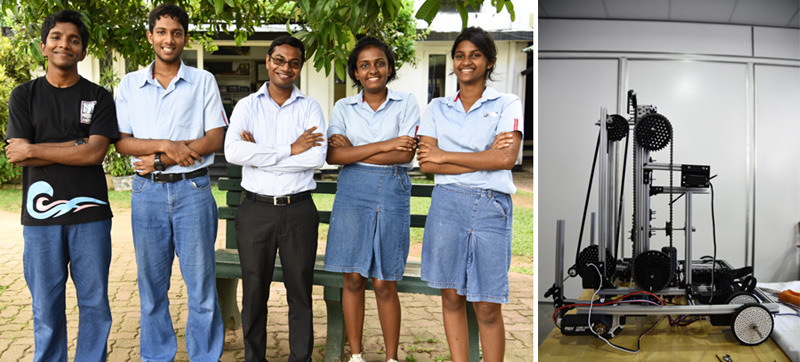 Organised by FIRST Global, the International Robotics Challenge is a competition among 163 nations and hundreds of eager high school students with a passion for all things science, technology, engineering and mathematics (STEM).
The Olympics-style robotics challenge involves teams assembling a full-scale robot using a pre-provided robotic kit and operating it in a 2.5-minute competition that involves symbolic purification of contaminated water.
Held in Washington D.C. from 16-18 July, the competition was attended by a team from Sri Lanka of Elizabeth Moir School comprising a bunch of talented, eager, excited and passionate students.
Members of the school's 'Coding Club' who were hand-picked to be part of the team had been working tirelessly since April to have their robot ready to compete in July. After making minor revisions and prototype testing, they finally built their own water purifying robot, fondly named Don Pablo Gasper Telliez.
Although Elizabeth Moir School students have previous experience in robotics, for these four members, it was a first-time experience, which they excelled at.
Snippets from the team and coach before they flew to Washington D.C.
---
DILUM RATHNASINGHE
Since the day he broke the news to the students and assembled a team, Dilum has been as excited and anxious as the team itself, stating that "it's been an amazing experience – the students are really enthusiastic and passionate."
He reminisces: "When I first spoke to them about the project, they were over the moon and started promoting themselves to be picked. I got the best team, and I'm very happy and proud about it."
"The way they solve problems is unbelievable," Dilum avers, admitting that he sometimes finds it hard to think of the team members as high school students.
He notes: "It's a good team and they all help each other. They are really dedicated – you only need to inspire them, and they push themselves and do the rest."
---
ALI ANVER
Coming from a family of robot lovers, Ali is the calm spokesperson for the team: "The project is really fun – we have the opportunity to create and the artist inside you is set free."
"I've always been interested in robotics," he says, adding that in the future, he would love to put robotics and science "to good use."
"I like wildlife, playing chess and going for walks," mentions Ali.
"The more extracurricular activities you engage in and the more sports you play, the better you become as a person," he adds.
---
AKASH GNANAM
"I have always been super interested in robotics but I've been especially interested in programming," says Akash.
"We all get along really well and there is a lot of joking around among us," he says when asked to explain the team dynamic.
While a prefect, actor, chorister and guitarist, he loves being part of the project: "This is the kind of stuff I want to get involved in in the future – i.e. my long-term plan."
"I want to develop my own AI and game one day," he concludes.
---
ISHINI GAMMANPILA
Loud, funny, mischievous and full of laughter, Ishini has always been into programming, thanks to her father.
"I am really into maths, and after I'm done with school I want to major in applied mathematics and then move to the US to pursue medicine," she says, outlining her future goals.
Quite the all-rounder, Ishini is a dancer and singer who also plays four instruments: violin, piano, ukulele and guitar.
"I love music and drama, and I look forward to our school musical next year that is titled Singing in the Rain," she reveals.
Ishini is also a member of 11 clubs, including MUN, drama, choir, essay, community service, basketball, design and media, and science journal club.
---
VINIDU JAYASEKARA
Silent and shy, Vinidu is studious and peaceful but with a fun side.
"I really like AI," she says while discussing the project, adding: "Building it is challenging and sometimes progress is slow but it's all fun and worth it."
"It was a bit tough to juggle the project and science but we managed," says the budding pianist, dancer and table tennis player.