RENEWABLE ENERGY
MAKING THE SWITCH TO SOLAR
Zulfath Saheed evaluates the factors driving the adoption of solar power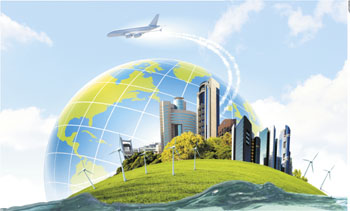 In 2014, the International Energy Agency (IEA) projected that under its 'high renewables' scenario, solar photovoltaics (PV) and concentrated solar power would contribute to approximately 16 and 11 percent respectively of global electricity consumption by 2050. Moreover, it predicted that solar would be the world's largest source of electricity with the majority of installations occurring in China and India.
And even today, an increased focus on solar is evident here in Sri Lanka – especially in the light of the island's traditional reliance on hydropower and thermal energy generation proving to be costly, particularly during periods of extreme climate change.
But the question is to what extent the country has made advances in increasing the use of solar power across the land.
STATE INTERVENTION As part of his election manifesto prior to the January 2015 presidential poll, Maithripala Sirisena too pledged to "prepare the groundwork for the country to fulfil the basic energy requirements of the people through renewable energy sources such as Dendro (biomass), wind and solar power, ocean energy and so on."
The government's 'Soorya Bala Sangramaya' (Battle for Solar Energy) project appears to be part of the planned shift towards renewable energy sources. This community-based power generation project was operated in collaboration with the Sri Lanka Sustainable Energy Authority (SLSEA), Ceylon Electricity Board (CEB) and Lanka Electricity Company (LECO), and launched to promote the installation of small solar power plants on the rooftops of households, religious sites, hotels, commercial establishments and business premises.
It is expected to add 200 megawatts (MW) of solar electricity to the national grid by 2020 and 1,000 MW by 2025.

ENERGY SAVINGS It was also recently announced that the government has decided to install solar energy in state institutions over a period of two years with the Chairman of SLSEA Keerthi Wickramaratne informing reporters that "after 2019, all government buildings would be powered by solar energy."
More than a fifth of total power consumption in the country is currently attributable to government offices; therefore, it's believed that a saving in excess of a billion rupees a month could be achieved by the state from this shift to solar power.
Moreover, Wickramaratne noted that the government is considering the installation of solar-powered roofing for homes in line with its rural electrification agenda, adding that Sri Lanka can then achieve "100 percent electricity status for all targets sooner than expected."
REGIONAL PROSPECTS As for the global picture, China leads the way in terms of installed solar capacity, having overtaken Germany to grab the top spot in 2015. Other Asian nations have also jumped on the solar bandwagon with India and Pakistan being the main representatives from the South Asian region.
In India, heavyweight global pension funds are reportedly looking to invest in the country's solar power sector amid Prime Minister Narendra Modi's target of achieving US$ 100 million in investments over a period of five years. Cheaper solar material costs and government efforts to tackle pollution are said to be contributing to this cause.
Earlier this year, India launched the world's largest solar farm in Kamuthi, Tamil Nadu. The nation has also expanded its solar capacity fourfold over the last three years, supplying electricity to millions of previously off-grid homes.
Incidentally, Sri Lanka is scheduled to issue a letter of intent to India for a 50 MW solar plant that would subsequently be expanded to 100 MW, as the Sunday Times reported recently. The plant is expected to be built in Trincomalee and comes on the heels of a deal signed during Prime Minister Ranil Wickremesinghe's recent visit to India.
Pakistan is also set to witness a take-off in its solar sector thanks to arid climate conditions as well as the presence of high-quality solar maps in the country. While the country is said to face a national power shortfall of over 6,000 MW that causes lengthy electricity outages across the land, a number of solar projects amounting to over 4,000 MW in potential power are in the pipeline, which bodes well for its future energy prospects.
GLOBAL INNOVATIONS In terms of tech innovations driving the global solar industry, the most recent comes in the form of spray-on and printable panel versions. While currently in the research phase, these technologies are expected to offer scope for cheaper and lighter panel production.
Large conglomerates such as Fujifilm, Statoil, General Capital and Panasonic are said to be investing in the technology with a view to cashing in on the first batch of panels that are expected to go on sale some five to 10 years down the line.