REGIONAL POLITICS
SINO-INDIAN
CONTESTATIONS
Janaka Perera discusses relations and conflicts between New Delhi and Beijing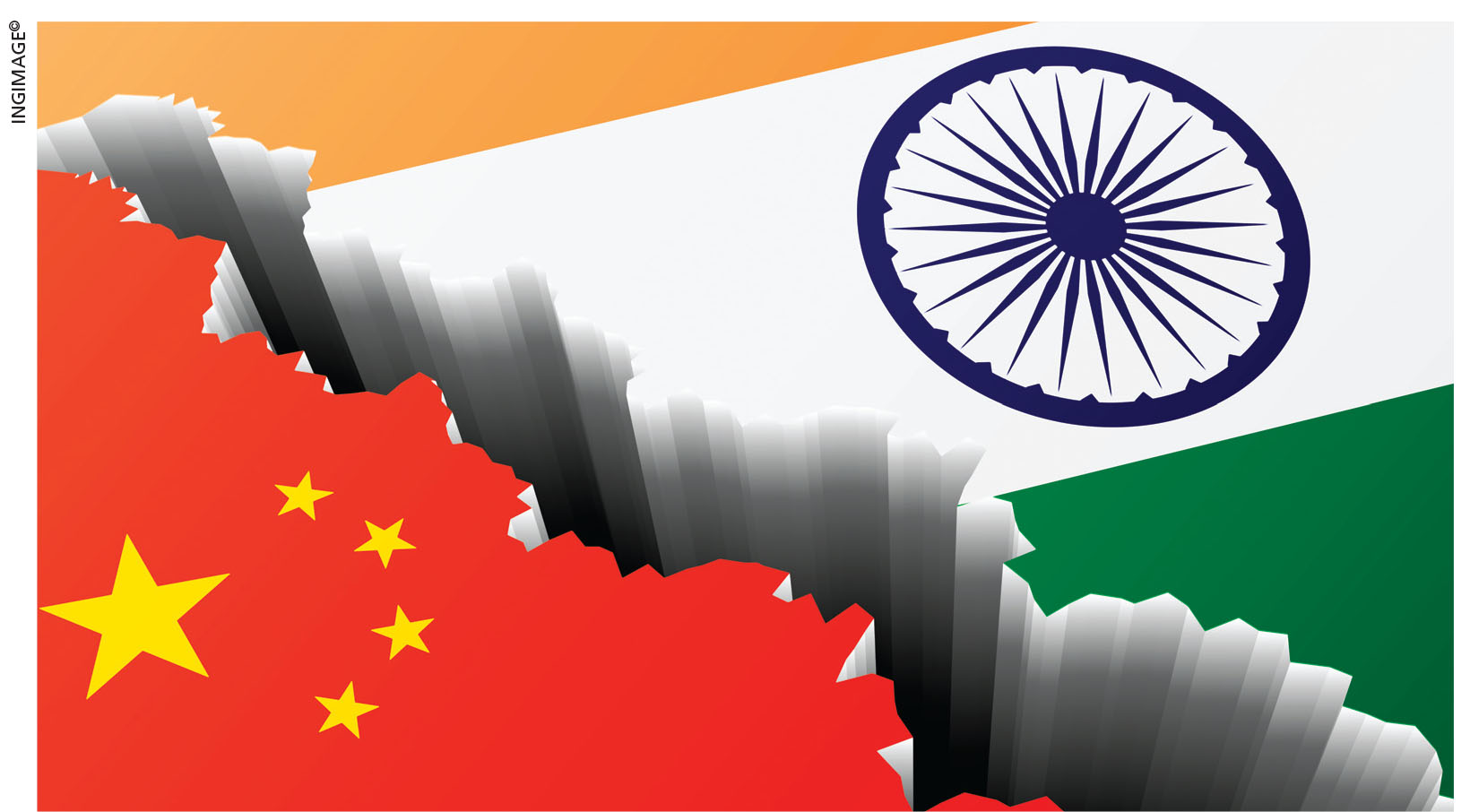 The Indian Ocean is a place of increasing Sino-Indian rivalry with both countries trying to establish their position as the region's leading maritime power. Despite a significant improvement in relations between Beijing and New Delhi since the late 1990s, their relationship remains competitive. And naval competition between the two Asian giants is likely to intensify with Indian and Chinese navies operating far from their own shores.
Since 1950, Sino-Indian relations have witnessed many ups and downs. China alleges that India has engaged in the cartographic aggression of amending maps to show Chinese territories as being Indian in truth.
India's policy on Tibet during British rule and after it was to secure the area as a buffer zone between India and China. Indian Prime Minister Jawaharlal Nehru and China's Premier Zhou Enlai met in New Delhi in April 1960 to try and defuse the situation.
But their efforts failed and the boundary dispute led to war between the two nations on 20 October 1962. It broke out along the McMahon Line, which the British had estab­lished in agreement with Tibet in the 18th century.
After more than 2,000 deaths on both sides and a US threat to intervene on behalf of India, the antagonists declared a formal ceasefire on 19 November. The Chinese announced that they would "withdraw from their present positions to the north of the illegal McMahon Line."
However, China retained actual control of the Aksai Chin region and this remains a thorn in the side of Sino-Indian relations to this day. Both countries continue to accuse each other periodically of border violations along the Line of Actual Control (LAC), which is divided into three sectors.
Concerns over China's increasing regional assertiveness deepened in 2020 when Indian and Chinese soldiers clashed in deadly skirmishes on the dis­puted Himalayan border near Ladakh.
According to some experts, the hallmark of India's foreign policy towards its neighbours is ambiguous. They claim that its duality is clearly reflected in relations with China and this duplicity forms the greatest obstruction to a peaceful resolution of India's disputes with its neighbours.
New Delhi never openly objected to Beijing's control of Tibet when communication links in the area were being constructed. When Tibet's then head of state – the Dalai Lama – fled to India in 1959 following China's annexation of Tibet however, he was granted asylum along with his followers. China reacted by accusing India of expansionist aims in Tibet.
Beijing considers India's close relations with the US to be an impediment to its policies, and is attempting to reduce the nation's regional and global influence. The result has been conflict, which is presently confined to the LAC on the Himalayan heights. This is complemented by a tussle for control of the seas south of the subcontinent as well.
Sri Lanka's strategic location has attracted outsized interest from these two regional giants for over a decade with Beijing and its free flowing loans and infrastructure investments widely seen as having gained the upper hand in a quest for influence.
The armed conflict in Sri Lanka gave Beijing a grand opportunity to form an alliance with the then Mahinda Rajapaksa government, which had received little or no military assistance from other countries except Pakistan. But that regime's defeat in 2015 weakened this country's ties with China; and since then, little has changed – even after Gotabaya Rajapaksa was elected president in 2019.
Beijing's military focus is currently more in the South China Sea and Pacific Ocean – while its interest in Sri Lanka and the Indian Ocean appears to be more economically motivated, says London-based Senior Fellow for South Asia at the International Institute for Strategic Studies Rahul Roy-Chaudhury.
Sri Lanka's economic collapse gave India an opportunity to swing the pendulum back with New Delhi stepping in, and providing massive amounts of financial and material assistance to its neighbour across the Palk Strait.
Dean of the School of International Affairs at O. P. Jindal Global University in Haryana Dr. Sreeram Chaulia observes: "The intent is to drive China away from India's backyard and restore the balance in New Delhi's favour."
In the ongoing competition between New Delhi and Beijing, India is more of a rival to China – not only on the borders but also in terms of economic prowess. In this context, China's great weapon is its ambitious Belt and Road Initiative (BRI), which links scores of nations along land and sea routes to China through mega-infrastructural projects.
New Delhi wants to maintain the status quo and not be checkmated in the area of its influence but is wary of Beijing's attempts to control strategic ports in Sri Lanka.
The rivalry between the two powers influences the political landscape of smaller neighbours – especially with China looking to overshadow India in the region.