THE ROVING DIPLOMAT
REGIONAL CONFLICT ZONES
Tension exists in some African states while nuclear fears rise in Asia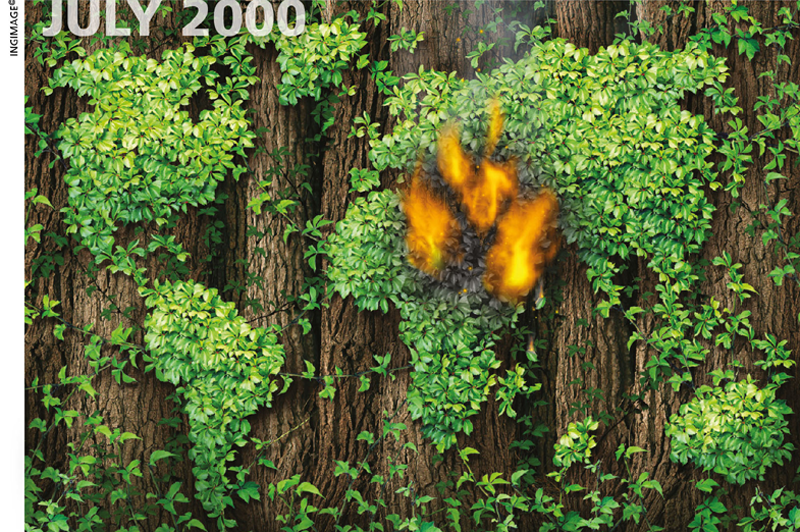 There is turmoil in Africa with problems in Zimbabwe and Sierra Leone, and Ethiopia's offensive against its erstwhile enemy Eritrea. In Zimbabwe, there are no signs of a solution to the land crisis that has arisen due to the local population seizing British owned plantations, which has resulted in violence and tension.
President Robert Mugabe, who to a large extent has instigated this action against the planters, has laid the entire blame on the British government for withholding financial assistance to Zimbabwe. The imminent civil war in Zimbabwe has caused concern internationally – principally in the UK, as the victims are British planters. The Commonwealth is also closely watching the unfolding events.
In Sierra Leone, the outrageous episode of UN peacekeepers being held hostage by the Revolutionary United Front led by the warlord Foday Sankoh is concerning the international community.
The climax in over eight years of civil war in that country is ending with the progressive release of hostages. However, the heads of seven African states who met in Nigeria recently to discuss the crisis in Sierra Leone are proposing to send an army of about 3,000 soldiers to fight and dislodge the rebels.
Yet, questions have arisen over the action to be taken against Sankoh who is currently being held by Sierra Leone's government – the issue is whether or not to try him for his atrocities. This seems premature at the moment with some UN peacekeepers still being held hostage.
Meanwhile, peace talks are being held in Algiers with a view to ending the conflict where clearly, the Eritreans have been worsted. This presumably seals the fate of Eritrea's struggle for independence from Ethiopia, which it achieved some years ago but can no longer sustain due to its defeat at the hands of the Ethiopian army.
Apart from these conflicts and tensions in the international scene, important developments are afoot elsewhere and they seem to indicate the emergence of new political and diplomatic patterns in global relations.
One such was the official visit to China by the President of India K. R. Narayanan. Apart from the personal stature of the president who is an eminent diplomat and statesman, the visit itself is significant at this juncture since India is expanding its political and diplomatic horizons.
It is equally a landmark in the context of relations between China and India, and aimed at establishing a bond of friendship and understanding.
In an address, the Indian president invited China to work with India in combatting international terrorism, which he has described as a scourge that is casting a shadow over Asia. In the course of his official talks, Narayanan raised the matter of China's support for India's candidature for membership of the UN Security Council.
China has apparently not committed itself, possibly feeling that this is a matter for Third World countries to deliberate on.
Together with the wide-ranging talks between the Indian president and Chinese leaders, a new chapter is being established on strengthening relations between the two countries – and this coincides with the 50th anniversary of the establishment of diplomatic relations.
Another important head of state visit was that of President Bill Clinton to meet his counterpart Vladimir Putin. The spectre of nuclear weapons in Asia has arisen following a statement by a US official that there are indications of preparations by Pakistan to conduct a nuclear test though detonation was not imminent since preparations haven't reached a final stage.
The statement expresses concern about this likelihood describing such a test by India or Pakistan as a huge setback and a step in the wrong direction.
General Pervez Musharraf, Pakistan's military ruler, for his part has offered to discuss a nuclear restraint regime in South Asia with India. He hopes that India will respond positively to this proposal, which comes at an appropriate time in that it coincides with the second anniversary of its nuclear tests.
Fears of an Asian arms race have been heightened by the proposal of the US to build a limited national missile defence system. It is feared that this could cause an arms race between China, India and Pakistan, which would nullify attempts to prevent a nuclear explosion in Asia.
The consequence of this missile system would be that China will increase its nuclear arsenal, and both India and Pakistan will follow suit. The American system appears to be designed to counter missile threats from countries like North Korea, Iran and Iraq but its effect will be to activate a nuclear arms race in Asia as well.
BY  The late Deshamanya  Dr. Vernon L. B. Mendis