REFUGEE CRISIS
SURVIVAL INSTINCT
Yasmin Helal weaves her way through the refugee crisis and its impact on the world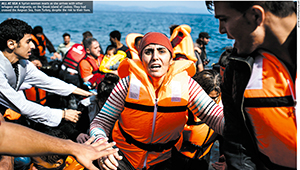 The habit of migration that began about two million years ago has continued to this day, as a basic human survival instinct. Throughout this period, waves of mass migration have uprooted, shaped and formed communities around the world.
Modern history stands witness to several mass migration movements – including involuntary migration – like the transatlantic slave trade that transported over 12 million people from West and Central Africa to North and South America, and voluntary movements such as the post-World War II migration.

Globalisation has made the process of migration easier than ever before. This is largely due to the fact that countries have become more connected.
Inexpensive forms of communication that are readily available these days, such as smartphones and the Internet, are also critical in helping migrants connect with their families back home, as well as finding new opportunities more easily in their host countries.
Contrary to popular belief, the majority of today's migrants are moving from South to South, across developing countries, rather than from South to North (from developing to developed countries). Last year, 90 million international migrants from developing countries resided in other nations in the global south, while 85 million migrants born in the south resided in developed countries of the north.
In fact, the vast majority of refugees around the world are hosted by developing nations. For example, 2.2 million Syrian refugees are now
based in Turkey, 1.2 million in Lebanon and 630,000 in Jordan.
The truth remains that, last year, the number of international migrants around the world was the highest ever recorded, with over 244 million individuals, according to the International Organization for Migration (IOM). Two years earlier, this number was lower, at 232 million migrants.
Thanks to the increase in the number of refugees, asylum-seekers and internally displaced people (IDPs) in regions like Africa, the Middle East and South Asia, last year also saw the highest level of forced displacements recorded since WWII. This is believed to be mostly due to the ongoing conflict in Syria and the rest of the Arab region.
What's more, there has been a steady increase of female migrants, and it is expected that, by the end of 2016, over half of the world's migrants will be women. An increasing proportion of these women are migrating independently, and as breadwinners of their families.
Of course, the greater numbers of women and children will inevitably attract more human traffickers to the scene.
Victims of trafficking include Nigerians, the Chinese and Albanians. And Italian authorities have recently reported a 300 percent increase in the number of Nigerian victims. Meanwhile, more than two-thirds of identified victims in Europe were EU nationals from Romania, Bulgaria, the Netherlands, Hungary and Poland.
More often than not, traffickers pose as visa providers to desperate refugees and migrants who are turned away by local authorities. These victims are usually exploited for sex work and other forms of forced labour such as construction, domestic work and fishing.
The IOM reports that it assisted nearly 7,000 victims of trafficking, in 115 countries, last year. This represents an increase of nine percent, compared to 2014.
According to a recent study, the most popular destination for today's migrants is the US, second is Germany and Russia comes up third. Last year, nearly 47 million foreign-born residents were based in the US, with 12 million in Germany and 11.9 million in Russia.
However, the highest proportion of migrants have been recorded in Gulf Cooperation Council (GCC) countries, with the foreign-born consisting of 88.4 percent of the population of the UAE, 75.7 percent in Qatar and 73.6 percent in Kuwait.
Of note is the fact that migrants in GCC countries comprise mostly persons employed on a contract basis. Most employment contracts with foreigners contain an early retirement age, and exclude pensions or post-employment residence permits.
Whether in GCC countries or elsewhere, new estimates indicate that the large majority of international migrants are those who have relocated for work. These workers (mostly women) offer many economic opportunities to their host countries, as they tend to display higher labour force participation than non-migrants.
This economic benefit lies at the heart of the pro-migration argument that calls for stagnant economies of the developed world to take advantage. Fortunately, more governments are acknowledging this. And as a result, the global war for talent is expected to intensify.
Australia, as well as other countries that are sought after by migrants, is already taking steps to attract qualified talent in areas where there are gaps in the local labour market.
In the meantime, the anti-migration sentiment in the Western world is expected to grow, exacerbating the asylum crisis. This has been true in the US presidential election campaign, in which the extent of popular support for pro-migration policies will determine the choice of the next President of the United States of America, since Hispanics account for 17 percent of the population.
This issue also took centre stage when British voters voted for Brexit. And a similar situation could transpire in the lead up to next year's French presidential election.