EDUCATION SECTOR
Yasas Hewage
REAL-TIME LEARNING 
Continuous learning at all ages and across all spectrums is a dire need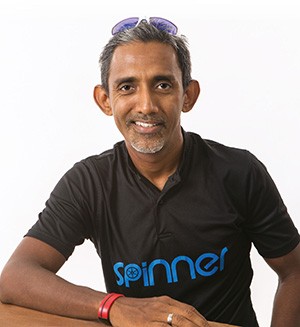 The education sector today
It's a broken-down system but most don't realise it – we're still doing the things we did centuries ago and in the same way.
Three barriers to sector growth globally
The myth that education equals qualification; a lack of appreciation for continuous education; and the commercialisation of education.
The future of the local education sector
Disruption whereby industries will start to look into continuous education while education itself will be in real time.
Strengths of the local education sector
Sri Lanka's large and organised school system, cultural appreciation of education and good infrastructure to some extent.
Weaknesses of the education sector
Our school system is based on a 'gramophone model' and there are many limitations in the curriculums – kids are taught outdated content.
Main threat to the education sector
The market is extremely unregulated; anyone can set up an education institute in this country – so it's a disaster waiting to happen.
The local market in a nutshell
Fragile. The private sector is only active in popular spaces such as MBAs, marketing and management. But children don't always have to go abroad for higher studies.
Changes in demand in the sector
Today, the demand is for obtaining quick and easy paper certificates – everyone wants to be qualified easily.
New prospective customer segments
You have to keep learning – tools, techniques, concepts and more – continuously so there's a huge opportunity since everyone is a prospect!
Evolving consumer trends or behaviours
Young learners have digital acumen but lack focus. Meanwhile, 35-year-olds still prefer to receive tutelage but do not know how to use Google properly.
Productivity is affecting sectorial and economic growth – yes or no
Yes – and the way we're going, Sri Lanka is not a very productive nation.
Corruption is affecting sector growth – yes or no
No – I don't think the education sector is affected by corruption.
The future of the global education sector
Bite-size, problem specific and real-time education is seen around the world; it's becoming more accessible and democratised due to technological developments.
Competition drives innovation – yes or no
Yes – in general but in education, I'm not sure since we don't see too much innovation locally. Competition however, is driving pricing.
Sri Lanka's competitiveness in a few words
A two out of five rating: if one were to look at the local labour force – perhaps excluding some players in the apparel and tech industries – we are not that sharp.
Three priorities for Sri Lanka
Policy conversation, direction and education; economic and infrastructural growth; and social and religious integration.
Impact of the digital age on Sri Lanka
We have reasonable smartphone penetration, broadband speeds are great and the cost of data is among the most reasonable in the world – hats off to the telcos!
Impact of social media on the world
It can change governments. And today, someone can start a business and make money through social media – that's the opportunity.
The education sector in five years' time
I don't see any progress from a policy angle so without that in place, there's no hope for education and we have a serious problem on our hands.
Mantra for success
'Learn of books and men, and learn to play the game' – I learnt this at my alma mater Royal College; and later, I learned the power of innovation and endurance.
Yasas is an entrepreneur, a sales coach, marketing educator and the cofounder of Strategy College
– Compiled by Ruwandi Perera