REAL ESTATE

Neluka de Alwis
THE PROPERTY BOOM
POLICY CONUNDRUMS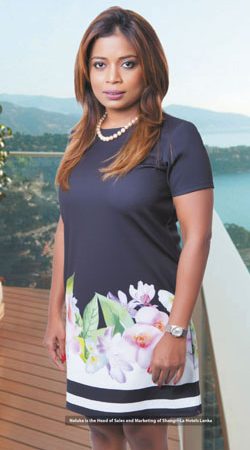 What are your thoughts on the state of the real estate sector in Sri Lanka?
The real estate sector is booming but we have a long way to go. While there's potential, whether we have maximised on it is the question as policies continue to change. This does not augur well for investor confidence.
Ours is a virgin market but what about saturation? Real estate encompasses a broad focus area, whether this be in the context of commercial or residential properties. We see many projects coming up in the Rs. 30 to 40 million price category. But the eventuality is that if there isn't a proper system to regulate the market at this price range, there may be saturation.
When you travel to other parts of the world and talk about Sri Lanka, people still recall the civil war and tsunami. So we have a tremendous task at hand to venture into overseas markets to promote Sri Lanka as a destination.
As a nation, we need to be more aggressive in marketing 'Brand Sri Lanka' and projecting the country as a potential hub to attract foreign direct investment (FDI).
Are real estate developments restricted to the city of Colombo?
Real estate developments are gradually spreading to other parts of the country.
For example, everyone was investing or purchasing in city suburbs such as Wellawatte, Bambalapitiya and Colpetty earlier. But now projects are coming up in suburbs like Rajagiriya and beyond as emerging markets, as well as in cities such as Galle, Gampaha, Kurunegala and Kandy.
Galle has been identified as a promising hotspot for the vertical real estate market that is developing at a steady pace.
A category of urban professionals – which could be classified as the upper middle class – is emerging. Currently, this is a relatively untapped yet exciting market although some players have already begun to explore it. If you have a good product and strategy, there is a market that you can capture.
How can we improve the ease of doing business in the country – especially in terms of establishing new projects?
We need to be far-sighted and smart. We can watch other emerging markets and see what strategies they employ to open new avenues for FDI to flow in. It is important that there's flexibility with streamlined processes. Moreover, policies cannot continuously change.
The government must play a proactive role in attracting the best people to this sector. There should be a system in place to develop the necessary human resources and enhance the skills of our people.
What recurring challenges does the sector face?
The primary challenges are managing the constantly changing policies, adapting to them and surviving in the sector, all of which have an impact on investor confidence. Emphasis must be placed on establishing a process that explains how the system works.
Policymakers must be tactical, and plan important aspects like cash inflows and outflows for the budget. It is crucial to be far-sighted. Even if there's a regime change, the policies should remain the same for continuity and to gain investor confidence. That is what we need to invest in – because if there's a mismatch, all sectors of the economy will be affected.
How long have you been associated with the real estate sector?
A long time – since 1998, in fact. Looking back, I am happy with my decision to venture into real estate as it has been both challenging and interesting. Real estate is a specialised area and I think I made the right choice. Maturity plays a critical role in performing well in the sector.
I always encourage friends and colleagues to consider the real estate trade because it has much potential. The journey is tough; but if you are a passionate go-getter, this is the sector to be in.
It's important to understand that when we deal with clients, we play a guiding role that's critical – after all, we're making their lifetime investments a reality.
What is your mantra for success?
It is my journey with the Lord. I'm a Christian and truly believe that God has been my tower of strength in everything I do. I also believe in being a selfless human being.
Describe yourself in one word…
Vibrant
Neluka is the Head of Sales and Marketing of Shangri-La Hotels Lanka
– Compiled by Hansani Bandara