LIFESTYLE
Ramesh Schaffter In conversation with Ashwini Vethakan
Ramesh is an Executive Director of the Janashakthi Group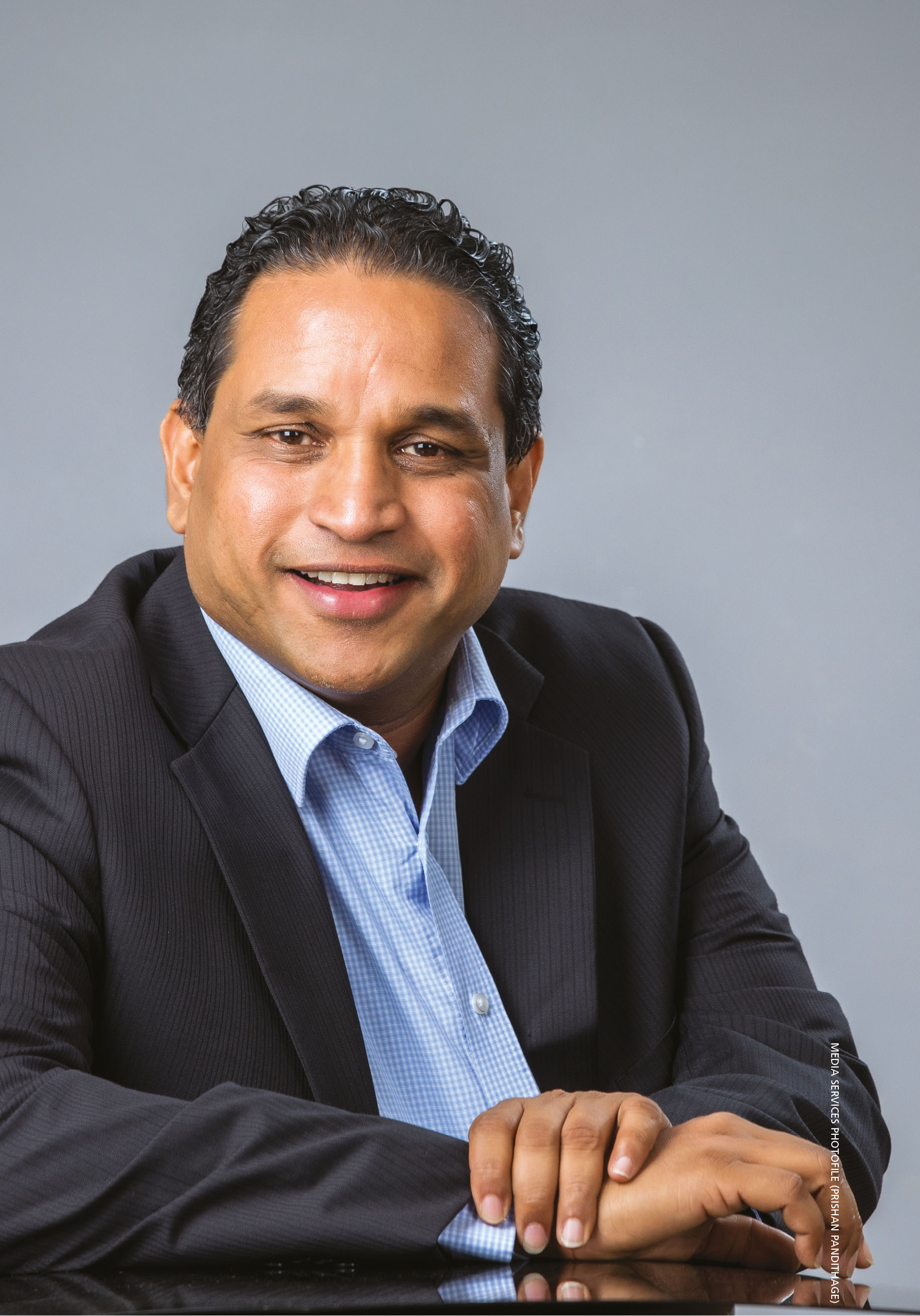 THE JOURNEY OF LIFE
Born in
Colombo
Alma maters
C.S.I. Ewart Matriculation Higher Secondary School and Sherwood Hall Senior Secondary School in Chennai (Madras at the time)
Family members
Wife (Abby) and our four children (Sashi, Sarita, Tehan and Ethan)
Wanted to be
A veterinarian
Is (but didn't want to be)
A boring accountant!
Driven in
A Nissan Leaf – an eco-friendly car
Would like to be driven in
Something a lot more fancy!
INTIMATE AND INSPIRING
Likes to play
Cricket, badminton and pool
Likes to watch
Period dramas and action movies
Most unforgettable events
The 1996 Cricket World Cup victory in Lahore at which I was present and the birth of my children
Most forgettable event
The death of Tryphon Mirando – a friend, mentor and colleague who died of a heart attack at 53 while visiting his family in London
Purpose of life
To love God and humanity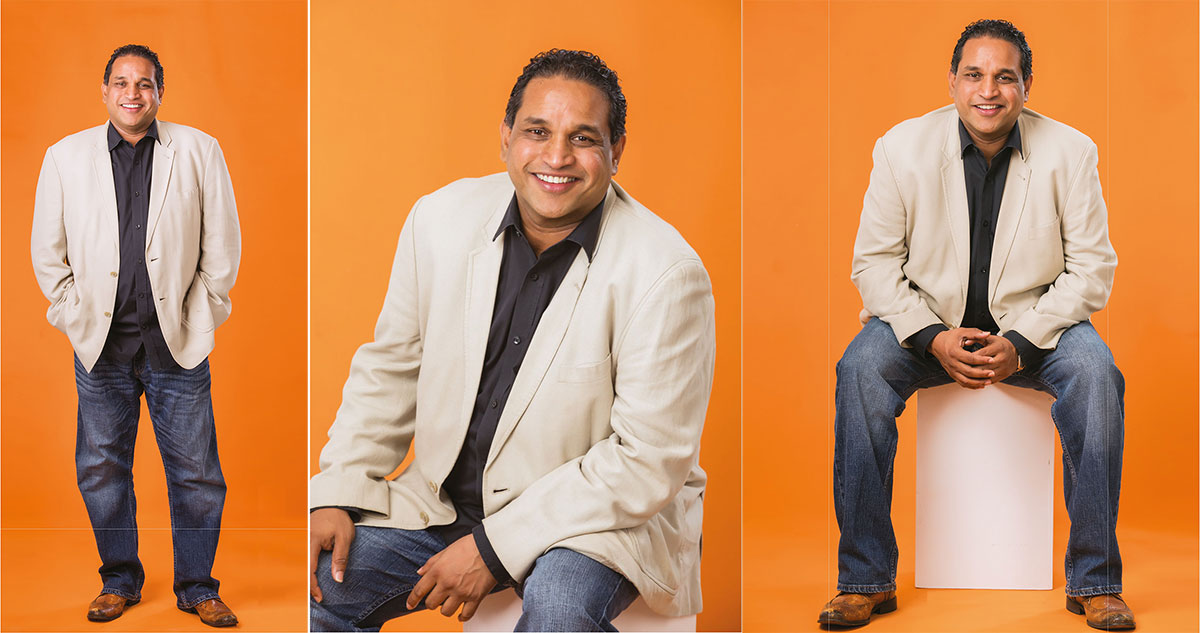 UP CLOSE AND PERSONAL
Most hated chore
Any chore – particularly filing
Success is
Being the best version of yourself that you can be
Impressed by
Very little
Happy place
At home surrounded by my family
Three hobbies
Researching obscure topics of no use to anyone, and reading and following cricket around the world
Some pet peeves
Racism, bad driving and inconsiderate people
Ideal romantic date or outing
Spending time with my wife at St Mark's Square in Venice
Three items on the bucket list for the next six months
Visit St Mark's Square, take a cruise around the Mediterranean including Santorini, and lose 10 kilogrammes in weight!
And three items on the bucket list following retirement
There is no such thing as 'retirement'! Don't keep anything for later; enjoy every moment that you have – but I would like to travel around Sri Lanka in a caravan
Three must-haves
Access to Wikipedia, a comfortable pillow and my allergy tablets
And three 'would like to haves'
More holiday time as well as with my childhood friends (since most of them are overseas) and good coffee
Mantra to unwind
Feet up with a cup of hot coffee in my hand

FAVOURITES
Day of the week
Every day is great!
Colour
Red
Chill out spots
Watching live cricket at the Tamil Union Cricket and Athletic Club, and in the Cinnamon Lakeside lobby
Leisure wear outfits
Jeans and T-shirt, and anything between casual and very casual
Workwear outfits
Similar to my leisure wear – and if I do have to dress up, it's usually with a white shirt and no tie
Food
Thai, Indian and Japanese
Drinks
Soda on the rocks (two-thirds of a good drink), virgin Mary and virgin pina colada
Brand
Christian Dior – for my Fahrenheit perfume
Local holiday destinations
I love the whole country – particularly Galle and Trincomalee – and the journeys in-between
Overseas holiday destinations
Rajasthan and Italy
Actors
Richard Gere, Robert De Niro, Pierce Brosnan and Denzel Washington. Actually, quite a few and you didn't ask about actresses – that list is even longer!
Musicians
Varied tastes; but as a former CEO of a retro radio station, lots of '60s and '70s musicians
Author
Louis L'Amour, author of the best westerns ever – and I've read almost all of them
FIRM FAVES
Favourite quote from a movie
"Real peace is not just the absence of conflict; it's the presence of justice." (Air Force One) – because it's true even if it was written by a Hollywood scriptwriter
Favourite local sportsperson
Muttiah Muralitharan – because he's a dear friend whom I have known since he was 18
Favourite international sportspersons
Sir Vivian Richards and Sir Ian Botham – because they were my heroes when I was growing up
Favourite local civil servant
Deshamanya Bradman Weerakoon – because of his exemplary record and down-to-earth personality
Obsessed with
The news – I'm addicted to it
Favourite songs
Yesterday (by Andy Williams) – it reminds me how not to lead my life; and Amazing Grace – because it's the story of my life
Favourite movie
Pink Panther – my entire family has memorised all the lines
Likely retirement destination
No retirement for me so I'll probably be stuck here – but I would be enjoying the whole country rather than only Colombo
COMPLETE THE SENTENCE
When you dance, you look like…
No one is watching
The first thing you notice when meeting someone
His or her smile
Recently laughed out loud when
I watched a standup comedy clip that was brilliant
You know it's going to be a bad day when
There's a power cut, you cannot open the gate and you're already late for a meeting
You're irked when
I see injustice around me
Challenged by
What I can do to change that
Colombo in a few words
Home – it's comfortable and I love it
Sri Lanka in a few words
Love every bit of it but not explored enough
The world in a few words
A nice place spoiled by humans
PICK ONE
Memory skills on a scale of 0 to 10
15
Computer ability in one word
Retarded
Most productive in the morning, noon or night
Under pressure
A leader or follower by nature
Leader
Workout preferences
Watching others working out!
Cook or foodie
A bit of both
Best haircut and style
When I had long curly hair and bleached it like Lasith Malinga – everyone thought it was a wig
Quality or quantity
Quality (always)
The glass is half full or half empty
Half full if it's mine; half empty if it's yours!
Work or play after retirement
No retirement; but life is play – if you enjoy what you do, you don't work a day in your life
The most delightful phrase you can think of
Hakuna matata
Do you consider yourself a student or teacher?
A bit of both
A new technology that will transform the future
Anything that can be used by technological retards like myself
Most used word or phrase
Come on!
Role model
My father – he's almost 90 and still working
Yourself in a few words
Funny, laid-back and loyal
Motto in life
Happiness is not a destination