MAN ON A MISSION
LMD DECEMBER 2011
Q&A WITH KUMAR SANGAKKARA
Kumar Sangakkara responds to LMD in conversation with Savithri Rodrigo
He's fought many a battle with the bat, his weapon of choice. He uses it as a radar to highlight critical issues on and off the field – from human trafficking to slavery, from poverty alleviation to corruption, from equality and tolerance to HIV/AIDS and children's rights, and from nation-mindedness to national unity.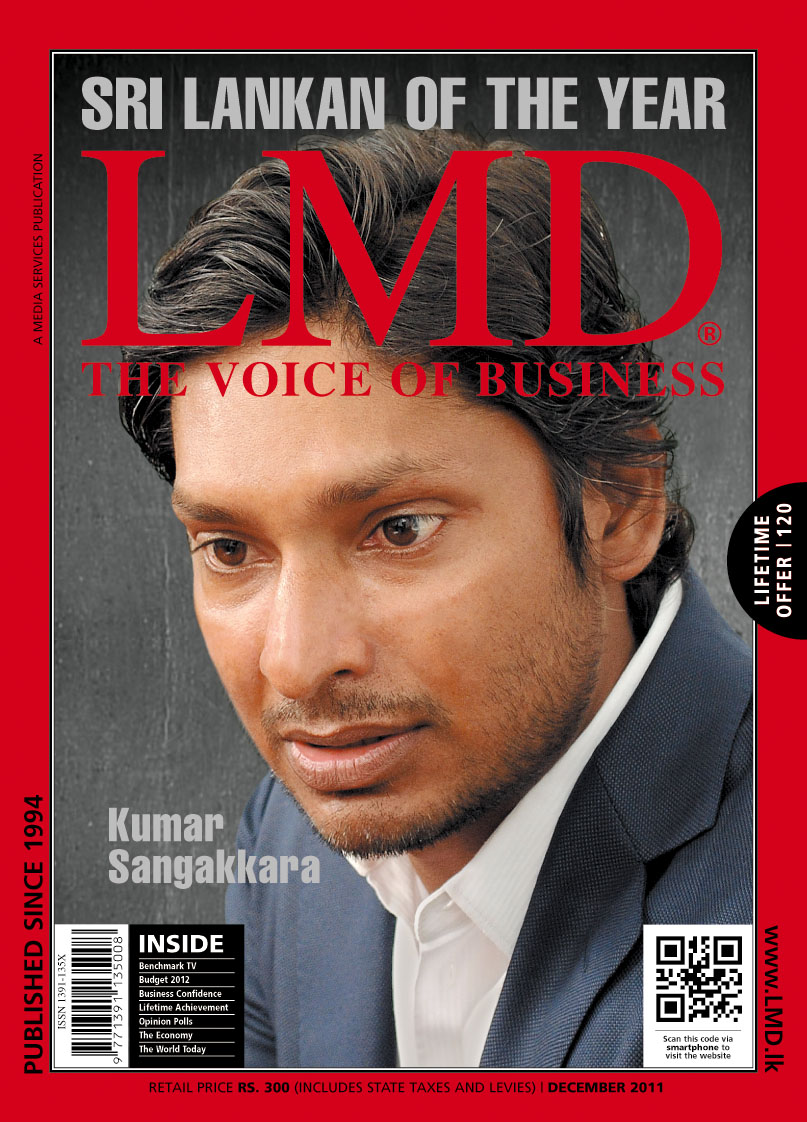 Kumar Chokshanada Sangakkara has the mettle of a true leader – the heart, the spunk, the courage and the calm, punctuated with a strategic, tactical and knowledgeable persona that's complemented by a magnetic charisma. And the ground remains solidly under his feet and his head firmly on his shoulders. His humility should be emulated, as his characteristic style and flair have pushed Sri Lankans to place him on a pedestal. And 'Sanga' continues to remain on that pedestal, more so because the 34-year-old is truly what the nation needs at this cusp of its renaissance.
An ambassador who knows the true potential of his country and countrymen, he is a leader who goes beyond the sport and into the larger arena of national opinions to move, shake and shape people… and create the 'Sri Lankanness' that he unequivocally espouses. His passion is infectious; his message timely; and as a former Sri Lankan of the Year says: "He is a gentleman who goes beyond the realm of a sporting leader and into the spotlight as a national leader."
Here are excerpts from an exclusive interview with LMD's 2011 Sri Lankan Of The Year at LMD House, a week before his departure to the Middle East on yet another national tour in which he excelled with the bat. 
---
Q: How do you view the state of the nation at this time – what's good, bad and ugly?
A: Overall, there's a lot of hope especially with the end to the war. There's a resurgence of the economy, reconciliation and hope for a new future. At the same time, we must augment that hope with a foundation of development and infrastructure. There's also hope that the country will move forward further to a stage of mutual understanding, making the conflict a chapter of the past, and moving to the present and future – where we fight for each other, for improvement and for better living conditions for all our people.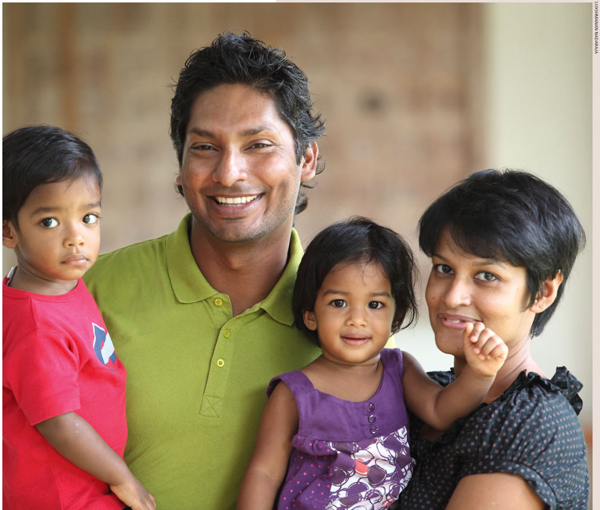 We must also fight against corruption at all levels and I see the Government taking steps to combat that, which will stand the country in good stead and increase confidence amongst the people. While the Government will take initiatives to build the nation, the Sri Lankan people also need to take responsibility to build healthy partnerships to fuel the future of the country, fostering brotherhood and the sense of family.
Q: Your Colin Cowdrey Lecture at Lord's on 4 July has been widely acclaimed both here and abroad… not only by the cricketing fraternity, but also by people who desperately want change vis-à-vis an end to politicisation and corruption? You spoke out about what ails Sri Lanka Cricket – would some or most of what you said apply to the nation at large or at the very least, to some aspects of it (and if so, which aspects do they apply to)?
A: My experience has been with cricket and that's what I'm qualified to talk about. It's a subject close to my heart and close to our nation, because cricket is really a part of the national psyche and our social relationships. Hence, cricket needs to be in a healthy state.
We have fantastic players and great administrators, but the development of the game must be both on and off the field by instilling a sense of responsibility, honesty and integrity in everything, including the playing and administering of the game. That was the primary message, while the rest of my speech was built around my experiences – the Sri Lanka I know, the people, culture, traditions and the passion for cricket that makes me proud to be Sri Lankan.
I also touched on the great love I have for our country, for cricket and how important it is for us as cricketers to understand the responsibilities we have towards our people who have given us these great opportunities.
Q: How serious do you think bribery and corruption in this country is? And are things getting worse?
A: I'm not qualified to speak about the country as a whole. However, the patronage we have received from the Government, from its inception, has always been favourable to the game. The fact remains that until 1996, cricket could not sustain itself without state funding and we would not have achieved this status without government patronage. And when it comes to foreign teams visiting Sri Lanka, Sri Lankan security is the best I've ever experienced; and that too can never happen without that direct patronage.
The very life of cricket has been influenced strongly and positively by political patronage and hence the administrators of the game have a responsibility to ensure that the trust placed in them is not abused, the functions and responsibilities are discharged to the best of their abilities, that there's honesty, integrity, accountability and transparency executed for the benefit of the people and the country.

Q: What, in your assessment, can and must be done to address the spread of bribery and corruption in this country today?
A: To ensure that the law is upheld, complaints should be heard in the proper forums and investigations undertaken appropriately. If proven correct, the charges should be dealt with under the law. In many countries, bribery and corruption is a stumbling block towards greater development, and I think Sri Lanka has recognised this now and is doing its best to ensure that the confidence of the people is upheld and the country can rid itself of these ailments.
Q: How can the business community help to reduce the incidence of bribery and corruption? Is the corporate sector, do you think, partly to blame for the status quo?
A: Everyone, individuals and corporates, have a role and responsibility to drive out corruption. Every country in the world deals with this issue. It's not isolated to Sri Lanka. But we can't sit back and expect the Government to combat it single-handedly. People themselves must take responsibility to ensure there's no corruption, either in their own lives, in business or in any form.
We must all reach a consensus that corruption has no place in society and unite to fight it, because it is unfair to pass the buck or blame just one sector or the Government. We are all responsible. Any relationship should be based on values where 'give and take' should not lead to corruption and moral compromises should not affect the good of the people at large.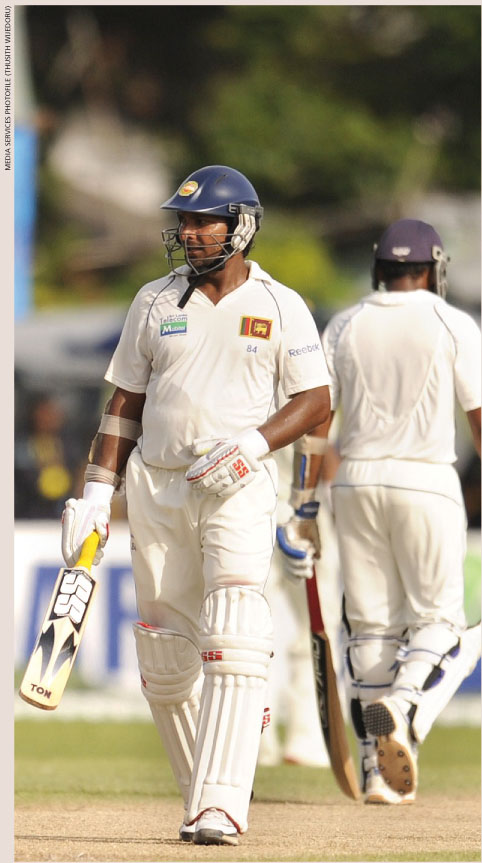 Q: Your comments on law and order – or the lack of it – in this country are…?
A: In any country, the law reigns supreme, a factor that is important to any civilised society. The rule of law in Sri Lanka must be enforced regardless of an individual's stature, resources or standing. We have to work towards 'equality before the law' in Sri Lanka. At the same time, people must have faith in the legislature and the bodies charged with administering the law, following rules and taking responsibility when found guilty. It begins with the simple notion of taking responsibility for yourself and your actions. Once that happens, the burden of responsibility to ensure that the rule of law is upheld will be on the bodies of law.
Q: How can we, as a nation, promote that elusive 'Sri Lankan identity'? Who can and must take the lead in this endeavour – and why?
A: This begins with those who are more visible like sportspeople, musicians, corporates and government. It is they who should identify themselves with the Sri Lankan spirit and understand that their thoughts and actions project the Sri Lankan identity to our countrymen and the world. If we are projecting our national identity for the right reasons, then the way we act, speak and think will translate into speaking to the world in one voice.
We Sri Lankans feel an island passion and island life is embodied and inherent in us. As a society, we have to be more accepting of each other, both the good and the bad. We need tolerance and humility to accept our wrongs. We are a great country with much to offer the world; and while we are not perfect, we can be an excellent people and this we need to project to the world.
As cricketers, for example, we have a role both on and off the field. Each cricketer has a definite place in the legacy of Sri Lankan cricket. We are national icons and this doesn't happen because we are good players, but because the people have given us this privilege, recognising certain qualities and values they wish to emulate and uphold. As cricketers, we must ensure that this message of 'Sri Lankanness' permeates and influences society, playing our best and conducting ourselves as ambassadors of the country.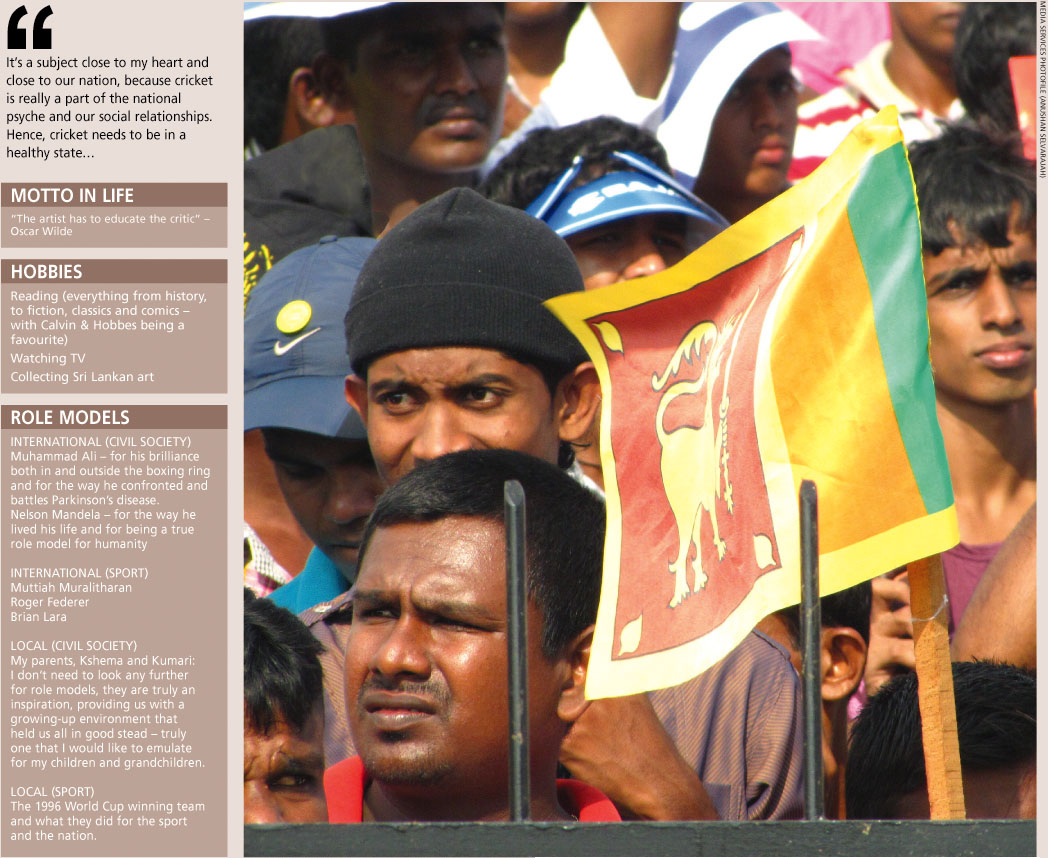 Q: What more must be done to bridge the gap between the rich and poor, and reduce poverty in our land?
A: Social and economic initiatives should filter to those living on the verge of poverty, but the first initiative is individuals taking on the responsibility of paying income tax. We have to foster and nurture a stronger middle class, ensure that social and economic policies are driven with wider focus towards empowering a larger segment of the population, directly channelled towards those sections of the community that need it most. The small minority of affluent Sri Lankans must play a role in ensuring this happens, because our country's development must reach all its people.
Q: What is your message to the business community vis-à-vis nation building and perhaps poverty alleviation?
A: I think the business sector in Sri Lanka continues to play an integral role in sharing social responsibilities. We have had numerous focused initiatives where corporates have filled the gaps in our social policies and built those much needed bridges. But there's more they can offer and that could be through fostering a more inclusive proactive approach in the nation-building and poverty-alleviation initiatives they implement, ensuring that they reach and impact these segments of the community in an apt and sustainable manner.
Q: Your message to the people of our country vis-à-vis 'national unity' is…? Would this be different if one were to address the 'generations' (yours, and the older and younger generations)? And if so, why and what would they be?
A: Lessons of the immediate past have been graphic, impacting both the majority and the minority, irrespective of caste, creed, race or religion. These lessons belong to all of us, lessons we must understand and use to embrace and foster in each and every one of us. Our sense of unity must come from tolerance, understanding and love, without which future reconciliation will be difficult. Implementation of policies and development is useless if we don't have a sense of unity that lives within the people.
On a daily basis, we need to teach our children and future generations of the horrors of division and the wonders of unity. To sow these seeds in young minds is important, as they need to see people beyond the petty labels we're so good at pasting on each other. The message we send them should be exemplified by the way we live and the way we act, not simply in words but in really walking the talk. This is the true step we take towards development.
It is essential that we accept the horrors of war and use it to build a new society where history doesn't repeat itself. So the message is to understand, love and foster this sense of 'Sri Lankanness,' while ensuring that we do not harm that tenet, no matter what we do.
While the older generation has experienced the bitterness and horrors of war as well as the narrowing of social vision and understanding, the younger generation is experiencing the 'now.' Their character and psychological makeup is influenced by what they see, read and experience. The test for Sri Lanka will come with this next generation, whether we have sent the right message and whether the lessons we have learned have been enough. It is this younger generation that can take a step beyond and integrate into one Sri Lankan family.
There can't be mixed messages when addressing the future generation, no bitterness and no false hope. They need to understand that they have the privilege and responsibility to create a new Sri Lanka, while the older generation must understand and acknowledge the mistakes made and take responsibility for them. Our experiences are what shape us into being who we are today. We must not let this affect the future of our country.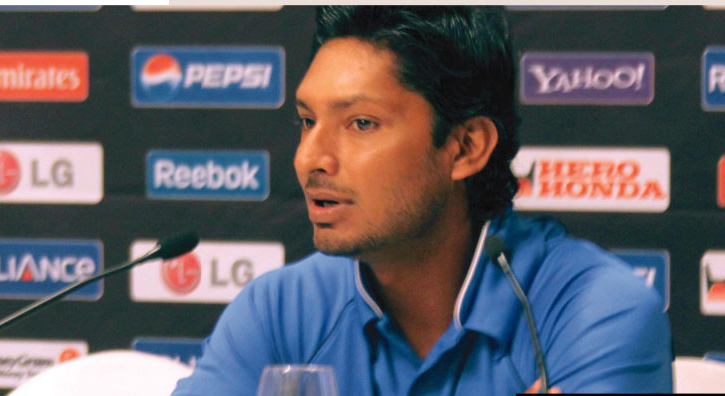 Q: How much of what we have discussed affects young people? Aren't they at the top of the list of reasons for the brain drain – which, despite the advent of peace, seemingly continues?
A: Young people are catalysts for change. With social media, young people express themselves effectively and create powerful movements that have even overthrown governments. In times of turmoil, they find causes to believe in and fight for. So it is our responsibility that the Sri Lankan cause is embraced by them, believed in and fought for.
Youth are an extremely important cog in the developmental agenda. They must be given realistic hope and vision to found a new Sri Lanka that will make them want to stay here or at least to return. The Sri Lankan cause is so powerful that once they buy into it, they can believe and work for it. They will ensure that the Sri Lanka they want becomes a reality. Their responsibility is not a light one.
We must ensure that the systems within and out of our country nurtures their free spirit to take on whatever comes their way, using their experiences and knowledge to sift out the good and bad, true and false. They will learn to stand up for their country and for their people, wherever they are. 
Q: As for life after on-field cricket, what are your plans Kumar?
A: Less travel and more time with the family… and at 34, I must find myself a 'real job.' Once a cricketer goes beyond 37, an on-field life becomes unrealistic. Having played the game during an exciting period, there are also opportunities which if not grasped immediately can go by quickly. So it's important that I make the most of these opportunities and lay the foundation not just for my future, but for my family.
My wife and I are responsible for providing my two children the right environment to grow up as good and responsible citizens, contributing towards the country. I want to move away from the game of cricket when it comes to career options because while I've given it all for most of my adult life, it is time for me to do something on my own maybe.
I must also finish my law studies, at least for my peace of mind and closure, since I don't like to leave things undone. 
Q: Sri Lanka in 10 years… vision versus reality?
A: We had a war for nearly 30 years and development will not be miraculous. It will be slow and steady. It will not be a 10-year miracle. Everyone has to give it their all if we are to get the country up and running. In my opinion, the next 10 years will lay a foundation, because this is the planning stage; and what we do in those 10 years will bear fruition for the next decade and beyond.
The country will do better with a more focused development plan that will embrace all people, not just the business community or Colombo city for instance. The focus must encompass poverty alleviation, equal opportunities and better standards of living. While it may take longer than 10 years, it's a journey that can be realistically achieved.