PUBLIC TRANSPORT

WHEN COMMUTERS WOBBLE
Janaka Perera laments the lack of efficiency in our public transport system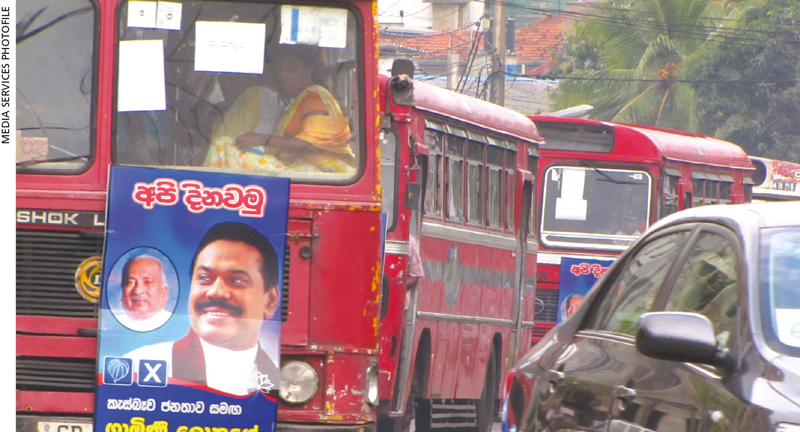 Public transport appears to be a perennial issue in Sri Lanka. This is clearly the case with the bus service, the predominant form of public transport in the island. It is indeed a shame that more than 100 years following the introduction of the bus service to this country, passenger comfort has received the least attention from operators.
Bus transport in Sri Lanka started as an owner operated service without regulation. So when several buses operated on a single route, there was a scramble for the passenger load with no concern for commuter safety.
Around 1940, the colonial government set up limited liability companies to regularise public transport and curb malpractices. But it failed to arrest the gradual decline of these services during the post-independence years.
In the pre-independence era, tramcars operated in Colombo. Later, in the 1950s, trolley buses were introduced. Since both were powered by overhead electric lines, they did not contribute to the environmental pollution that results from diesel fumes. Yet, these systems were discontinued in the 1960s – although to this day, tramcars are considered a convenient mode of urban transport in Europe, Australia and elsewhere in the developed world.
When bus services were nationalised in 1958, people hoped they'd be provided with a better service since the creation of a single nationalised entity made it possible to run buses on a large number of rural routes in addition to long-distance operations. At its peak, the Ceylon Transport Board (CTB) was one of the world's largest bus companies with about 7,000 buses and over 50,000 employees. It even had a flying squad to keep errant conductors in check.
However, the rot set in soon. The CTB, like most other nationalised ventures in Sri Lanka, became a source of employment for ruling party supporters. Wastage, corruption, inefficiency, mismanagement and resultant losses began to plague the board. At times, there were 10 employees for every bus.
When bus services were privatised in 1979 to address the pathetic situation and apparently encourage competition, the cure became worse than the disease! The country witnessed a return to the '30s when bus owners scrambled for their load with no concern for commuter safety.
Reckless drivers violating traffic rules have terrorised the roads, killing and maiming both passengers and pedestrians. CTB drivers receive formal training whereas poorly trained private bus drivers, some of whom don't have licences, have been the cause of fatal accidents. Fatalities have also occurred due to private buses not being roadworthy.
Parallel to these developments ran the CTB's decline. Even though it was reconstituted as the Sri Lanka Transport Board (SLTB) in 2005, it hasn't made as much headway as expected.
The biggest mistake in privatising bus services was to permit individuals to operate services rather than employ reputable bus companies. Instead today, we have virtual SMEs where one individual owns a few buses and at times, an entire fleet!
Except on long-distance routes, some private bus conductors continue to ignore government instructions that all commuters should be issued tickets. Bus fares are increased every time diesel and spare part prices rise but there's no corresponding improvement in services.
Those who can afford private vehicles avoid this public pitfall but lower income groups continue to suffer. Let alone wheelchair access for disabled commuters, others too – especially the old and feeble – board buses at their personal risk. In a properly designed passenger bus, the gap between steps at the entrance and road level should be narrow so that it is easy for a person to embark or disembark.
In addition to these issues, our roads – with the exception of expressways – are no longer able to cope with the increasing volume of vehicular traffic. The flyovers in Dehiwela, Nugegoda and Rajagiriya have failed to generate the expected results in terms of easing traffic congestion. As one observer notes, it often takes between one and 1.5 hours to travel 10 kilometres in overcrowded buses in Colombo and its suburbs.
Among the better solutions to this issue is a three tier systematic approach to transportation as former Urban Development Authority (UDA) Chairman Ranjit Fernando told reporters in 2016. The first part of the plan would be to service seven main entry nodes to Colombo by rail or bus while the second tier would involve intercity bus transportation. The third tier would require an inner city transport loop – either a mass rapid transit or monorail – that could serve the more heavily congested urban areas.
A better mass transit system would also pave the way for higher productivity in workplaces, which in turn would lead to an acceleration of growth and development. An efficient public transport system is the hallmark of a sustainable city, which should include a metro system and bicycle infrastructure, and have less private vehicles plying the roads.