PRIMA
Prima Champions Cup to Commence for the 12th Year
The Prima Group, in partnership with Sri Lanka Cricket, has made all plans for the commencement of the Prima Champions Cup 2019 Under-15 Inter-District and Inter-Provincial Tournaments for the 12th year. The press conference was held at the SLC headquarters recently with the participation of all the senior officials from the SLC and Prima Group Sri Lanka.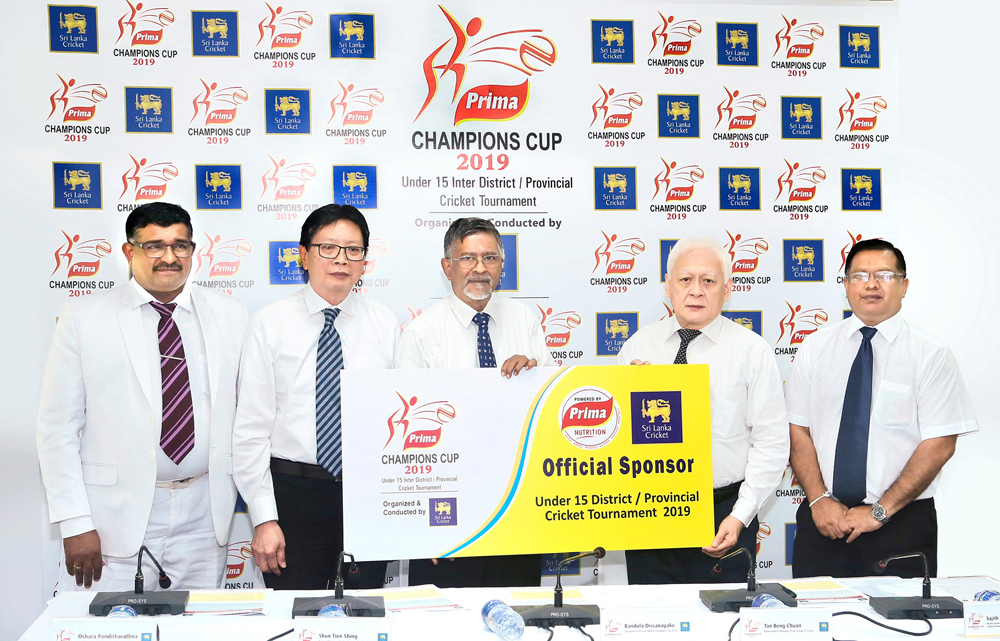 This year's final match will be held on the 9th November at the R. Premadasa Stadium, Colombo. The tournament will allow the participation of over 600 players from all around the country. The District Tournament concluded and the best of the best have been selected to play in the Provincial Tournament. 12 provincial teams will then compete for the Provincial Championship. Also, there are five teams participating from the Northern Province representing -Jaffna, Mannar, Vavuniya, Mulativ and Kilinochchi.
Kusal Mendis and Dhananjaya de Silva, who are now members of the National Cricket team, have participated in the Prima Champions Cup, along with Anuk Fernando and Sadeera Samarawickrama, who represent the Under 19 National Cricket team.
Addressing the gathering, Mr. Shun Tien, General Manager, Ceylon Agro Industries (Prima Group Sri Lanka) confirmed the renewed partnership with the SLC. "Having successfully conducted this tournament for 11 years with tremendous results, we are proud to continue with the 12th Edition of this effort to develop junior cricket with the renewal of our partnership with the SLC".
"On behalf of Prima, I wish to extend my gratitude to Sri Lanka Cricket for allowing us this opportunity to continue our valued partnership and for all the support provided in making the Prima Champions Cup a successful tournament that makes a positive contribution towards uplifting junior cricket in Sri Lanka".
"We at Prima believe that it is our responsibility to encourage and inspire youngsters to improve themselves and gain recognition for their talents. The Prima Champions Cup serves as a means for aspiring young cricketers to further develop their cricketing careers to national and hopefully international levels. Prima will be providing necessary nutrients and cricket attire for the players as a support to develop themselves. We at Prima take great pride in sponsoring the Prima Champions Cup and we are ever grateful to our supportive partner – Sri Lanka Cricket", commented Mr. Sajith Gunaratne – Deputy General Manager, Ceylon Agro Industries (Prima Group Sri Lanka)
The Prima Champions Cup under 15 District and Provincial Cricket tournaments will undoubtedly help the young cricketers gain confidence and experience in the coming years. The choice of R. Premadasa Stadium for the final matches gives these players a rare opportunity to play in an international venue. In addition, these matches will receive extensive media coverage while the final match will be telecast live on TV to showcase the talent island wide.