POWER PLAY
EMPOWERED WOMEN
The need of the hour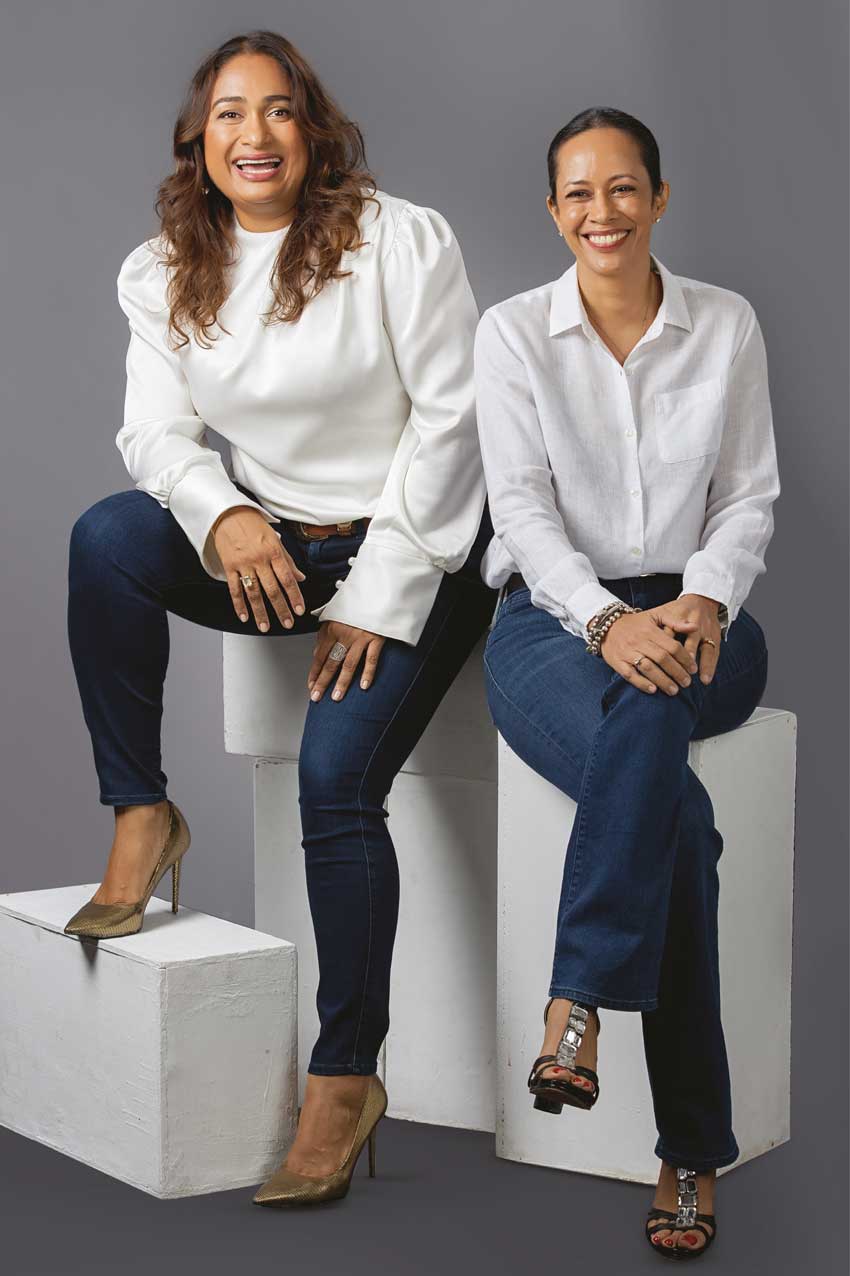 In an age of unprecedented technological advancements and unsurpassed globalisation – when we would expect the world to have evolved from its discriminatory gender imbalances – the need to empower and enable women to take their rightful place at the table still tops agendas around the globe.
Yet, in a tempestuous sea of inequality, we find power women who stand bravely and boldly like lighthouses, to inspire and guide others to be their best selves.
Power women have illuminated the path in all arenas – from the corporate world to sports, from education to fashion, from humanitarian missions to government and from homes to wherever life leads them.
These women have braved boundaries to change their lives and the lives of those they inspire; and they're breaking conventional chains to create a world that embraces the synergy of equity and beauty of diversity.
Sri Lanka has always had power women in the saddle – from ancient queens and the world's first female premier, to super women who have made their mark on the global map by leading in sports, diplomatic missions, marine conservation and astrophysics, to name a few fields.
So as Sri Lanka gears up to write its most crucial chapter yet, our women need to be given the opportunity to contribute their utmost – because it's no secret that we need all hands on deck. And this means breaking a few chains and shattering many ceilings… nothing that's impossible if we pursue such a goal together as the people of one nation.
We've got double the power, so to speak, on our cover in this third annual edition of Essence – we're turning the spotlight on two trailblazing power women who are playing leading roles in two powerhouses in one of Sri Lanka's leading industries – apparel.
There can be many secrets to being an empowered working woman and many formulas to get it right.
Yet, for Rajitha Jayasuriya (Director Corporate Affairs of MAS Holdings, member of the MAS Apparel Board and Director Corporate Affairs, Board Director – MAS Foundation for Change), the magic lies in attitude, hard work, passion and self-belief.
And for Natasha Boralessa Kumara (Group Director – Projects, Administration and Occupational Health & Safety, CSR, Corporate Communications and Legal of Brandix Lanka), it comes down to pushing the limits, being open to new ways of doing things and bringing out the best in people.
The duo believes that power lies in impact.
Natasha says that power is "the ability to make a difference, and leave places and people better off."
And Rajitha defines a power woman as someone who has "transcended personal and professional obstacles, is graceful in her work-life balance, portrays humility, is able to influence change and works to uplift others."
Read on to learn how these two power women juggle work and life… and beyond.
– Ruwandi Perera
---
WORK
WHAT ARE THE MOST SIGNIFICANT MILESTONES IN YOUR CAREER TO DATE?
Rajitha: The most significant milestone will always be that I was able to establish a new function for a billion-dollar company, which has earned the buy in of all its stakeholders.
Although the start was hard and felt like it was never-ending, looking back now, the gestation period doesn't feel all that long. The gratification and sense of achievement I feel today come from knowing how integral the function and role are to the organisation and all its stakeholders.
Natasha: Reflecting on a career requires looking back at different milestones because significant events that take place in life affect how we work.
My decision to trust my instincts to leave a stable job and a future in banking, and take on a marketing role in the apparel industry for lower pay, was a turning point in my career.
Although many believed I'd taken a wrong turn considering my background in accountancy, with God's grace, hard work and determination, I now know I made the right choice.
Year 2005 was full of milestones for me.
In the first week of March, I was promoted to CEO of the Sri Lankan operations and also found out that I was pregnant with my son Yannik! Naturally, this would be viewed as quite challenging but facing life with the right attitude always makes a huge difference.
Since I don't believe there is a perfect order for how things should happen in life, I don't overthink or overanalyse anything – I simply take it in my stride, one day at a time. Looking back, I know I've balanced both responsibilities to the best of my abilities and that's all that matters.
Having been a CEO of apparel manufacturing strategic business units varying from trims to intimate apparel and fabric, and owning the company's profit and loss for over 15 years, I decided to take on a group corporate role.
This meant having to reinvent myself, and take on a new paradigm of learning, leading, influencing and driving outcomes.
It was difficult, considering my natural tendency to revel in the hive of activity of a manufacturing facility. Yet, it presented me with a great opportunity to challenge myself, and grow and enter a new chapter in my career.
WHAT'S YOUR MANTRA WHEN IT COMES TO WORK?
Natasha: Work hard because you reap what you sow – the harder you work, the luckier you get.
Adopt a never-say-die attitude and never give up. You also need unwavering commitment to do whatever it takes to deliver on your promises as this will build credibility.
It's important that you continue to focus on delivering value and outcomes, and never limit yourself to a job description.
Build relationships with your colleagues by trusting them and respecting their expertise. A team is as strong as its weakest link. So build up people and strengthen them to make the team stronger than the sum of the total.
Know your customers and spend time networking across all levels of their businesses from CEOs to storekeepers… because everyone matters.
And have confidence in yourself. Be courageous and always push the limits – you will surprise yourself!
Rajitha: 'Tough Times Don't Last – Tough People Do.' With resilience and courage, there isn't much that can't be overcome. I also believe there's no alternative to hard work and if you combine that with a passion for what you do, success is inevitable.
The lyrics of the song Tubthumping – "I get knocked down, but I get up again, you are never gonna keep me down" – always come to mind.
"I believe there's no alternative to hard work and if you combine that with a passion for what you do, success is inevitable
AND WHAT IS IT LIKE TO BE A FEMALE LEADER IN A MALE-DOMINATED INDUSTRY AS FAR AS SENIOR MANAGEMENT IS CONCERNED?
Rajitha: Irrespective of the industry, there will always be unique challenges for women in the workforce and society. Yet, what is most encouraging is seeing the positive strides that we have made as a nation and globally towards eliminating gender stereotypes and biases, which then enable and empower women to thrive and succeed.
The work needed to create this enabling environment for women to succeed must continue to gain momentum. I consider myself lucky to be a part of a very progressive organisation, which from its inception has recognised the value of women in the workforce.
The journey is continuous but at MAS, it is a key focus. This has enabled me to grow as a leader and key influencer with my stakeholders.
I feel fortunate to have always had the confidence to know that I can stand up for what I believe and have my voice heard. There will always be challenges but I think if we have an undefeatable attitude, there is nothing that can't be overcome.
Natasha: I have enjoyed the privilege of leading several teams with many male counterparts and subordinates; and I haven't faced any major obstacles that I can put down to gender.
Once you establish trust and demonstrate capacity as a colleague and leader, your gender hardly matters. In my first appointment as CEO, the manufacturing operation I was responsible for had a workforce of over 1,800 males.
As women, we have great capacity and capability to be natural leaders. We lead our children, our homes, our siblings, our extended families and communities, sometimes unconsciously and even silently.
Women's intrinsic qualities of kindness, gentleness, compassion, endurance and a sense of service are their greatest strengths as leaders.
"Since I don't believe there is a perfect order for how things should happen in life, I don't over analyse anything – I simply take it in my stride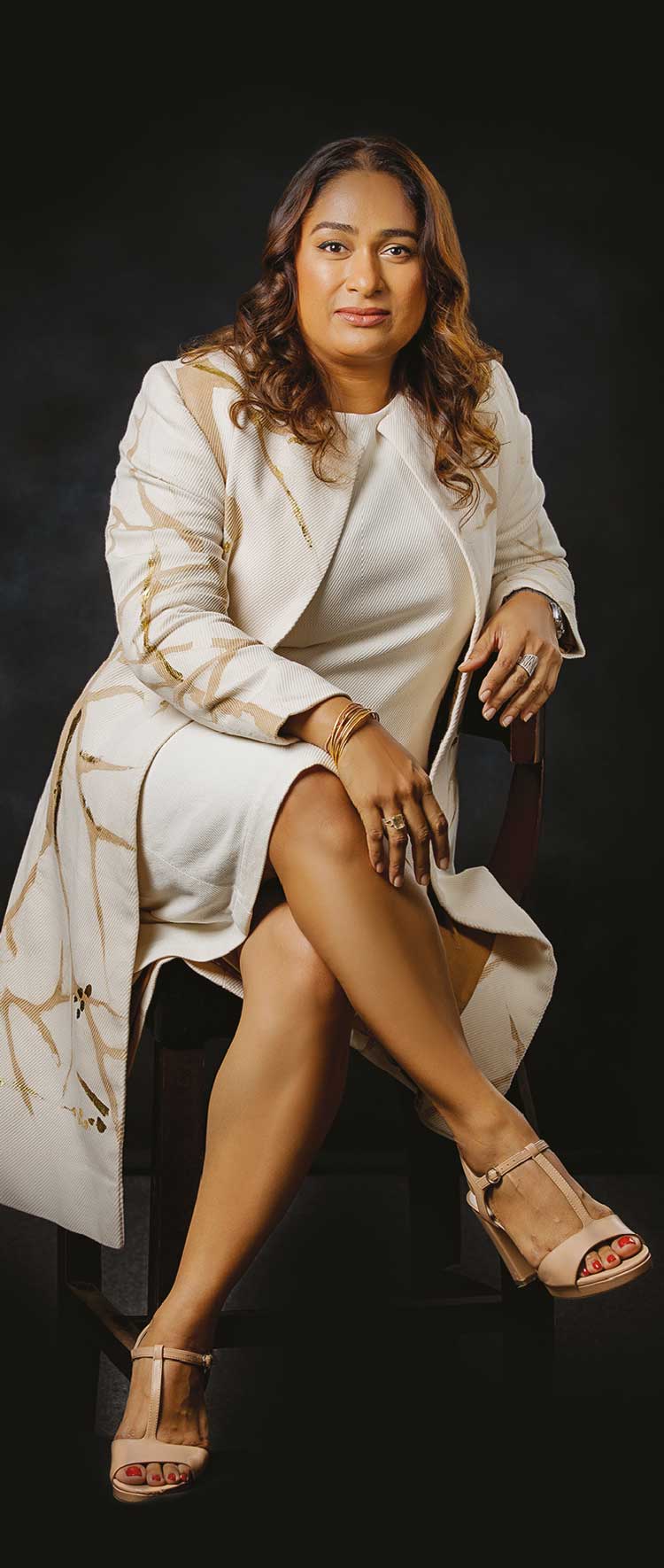 WHAT IS THE MOST CHALLENGING ASPECT OF YOUR WORK? AND HOW DO YOU OVERCOME IT?
Natasha: Considering the scale of operations today, how issues evolve rapidly in our operating geographies and marketplaces, and the impact of technology on how people perceive, communicate and influence things, we must always be conscious of changes to ensure that we consistently deliver value to all our stakeholders and remain relevant.
At Brandix, as we do this, preserving and enriching the culture of 'Inspired People' and our DNA – built on our 'RITE' values of Respect, Integrity, Teamwork and Excellence – is fundamental.
Ensuring a robust and agile governance framework that provides the necessary guide rails to minimise exposure to risks – and yet, empowers teams at the ground level to consistently deliver solutions – is also essential.
Rajitha: I think what's most challenging is staying relevant – especially in an organisation that is so dynamic that it can pivot and change at a pace that's way ahead of the industry and marketplace.
I've had to be constantly receptive to change and be ready to reinvent myself to remain 'business relevant.' I think that staying curious and uncomfortable, and never becoming complacent, is key.
"I feel fortunate to have always had the confidence to know that I can stand up for what I believe and have my voice heard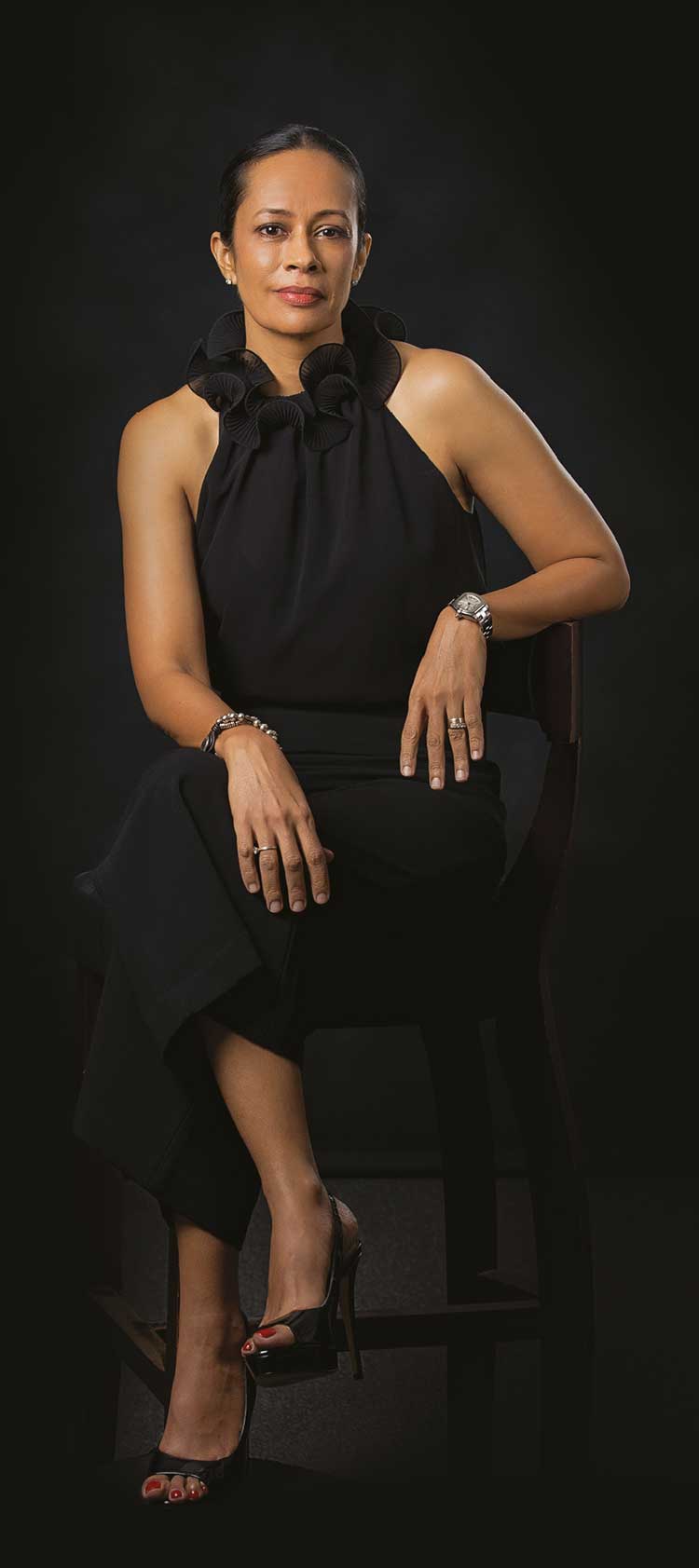 HOW WOULD YOU DEFINE A POWER WOMAN IN THE SPHERE OF BUSINESS?
Rajitha: Irrespective of gender, a powerful person is someone who is recognised and respected for more than what he or she has achieved professionally.
It would be someone who has transcended personal and professional obstacles, is graceful in the work-life balance, portrays humility, is able to influence change and works to uplift others irrespective of their gender, caste, creed or other social circumstances.
Natasha: To me, power means the ability to make a difference, and leave places and people better off. In the business sphere, it is to create a shared vision and inspire commitment to deliver a vision.
Everyone wants to have a sense of purpose and the opportunity to make a valuable contribution. Tapping into this desire, inspiring this sense of common purpose and creating personal relevance can unlock amazing potential.
One thing that gives me a great sense of satisfaction is seeing the transformation of team members as they evolve into the best version of themselves, and overcome challenges and fears that once held them back.
Our duty as leaders is to recognise the strengths and weaknesses of team members, coach them, build them up and bring together those who complement each other. There are no perfect people but we have the power to unlock the best in our team members and create high performing teams with huge potential to deliver value.
"It's important that you continue to focus on delivering value and outcomes, and never limit yourself to a job description
LIFE
WHAT KEEPS YOU GOING, DAY IN AND DAY OUT?
Rajitha: The knowledge that it's a new day and opportunity to do better than I did yesterday. I truly believe we must be driven by passion in everything we do – passion for life, and our family, work and country.
Natasha: My family is the epicentre of my life. My husband, amazing son, wonderful parents and sister are my constant sources of inspiration.
HOW INFLUENTIAL ARE YOU IN THE LIVES OF YOUR LOVED ONES – AND VICE VERSA?
Natasha: I strive to be there with them all the way and play an integral part in their lives. By prioritising their needs, I make it a point to be present and support them in everything they do.
My vision for my family is centred on our son, similar to the way my parents laid out a path for me.
Rajitha: The only gauge I have is the love and support of my parents, and closest friends – who are by extension my family, even at times when I was not very lovable or likeable.
They have always stood by me and lifted me up – and they will always be my safety net and sounding board to help keep things real and grounded.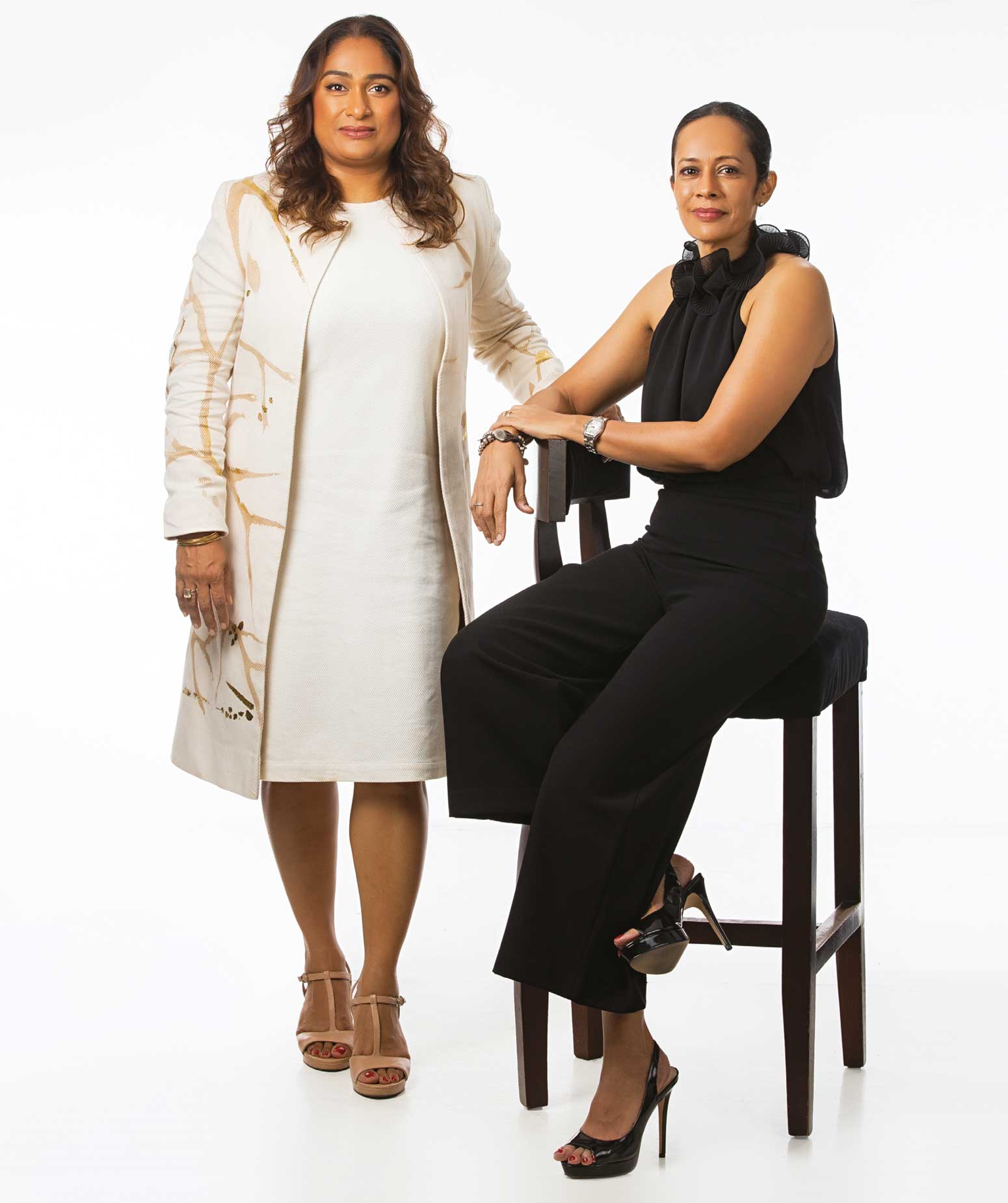 IF YOU COULD BE ANYTHING IN THIS WORLD, WHO WOULD YOU BE? AND WHY?
Rajitha: All my bumps, imperfections, mistakes, and ups and downs define me, and who I am today.
I may have taken the longer and harder path in some aspects of my life, but the knowledge and hopefully the wisdom I've gained through all my life experiences have brought me full circle to where I am now.
And I am happy here. So I'd still want to be me.
Natasha: I would be me; and I can't think of anyone else or any other place I'd rather be or be in. By the grace of God, I have been blessed with a wonderful family both at work and home. My heart is happy where it is.
WHAT IS A PERFECT DAY FOR YOU
Natasha: To wake up at 4 a.m., pray, do one hour of yoga, and have breakfast with my husband and son.
Then at work, spend time at a plant with the teams on CSR initiatives, and connect with the factory team members on inspiring a path for them through the many initiatives we have.
And then, watch my son play golf.
Rajitha: A day when I feel fulfilled and happy.
Perfection can mean different things every day. Most often, it's the simple things in life such as long walks and chilling with lots of belly laughs with my girlfriends.
My favourite is the joyous greetings I receive from my little daughter when I come home after a long and stressful day, which hands-down makes any crappy day pretty close to a perfect one.
AND HOW DO YOU RELAX – AND HOW MUCH TIME DO YOU HAVE FOR SUCH A LUXURY?
Rajitha: I think with maturity, relaxing means different things. An hour and a half of yoga, a long bath with a glass of wine, an unplanned coffee with a close friend… all these small things mean a lot. It's the moments you make to catch your breath and recharge your soul.
I find that periods of relaxation with a young daughter can be few and far between. But I never lose sight of how important it is to have some downtime, even if it is only quiet time alone.
Natasha: I don't have much time to relax. However, I make time to exercise every day as it gives me the boost I need in the morning. I love yoga, so whenever I can squeeze in a couple of rounds of sun salutation, I do so.
Painting is something I've done since I was a child. It's tough to find time but I try to paint whenever I get the opportunity.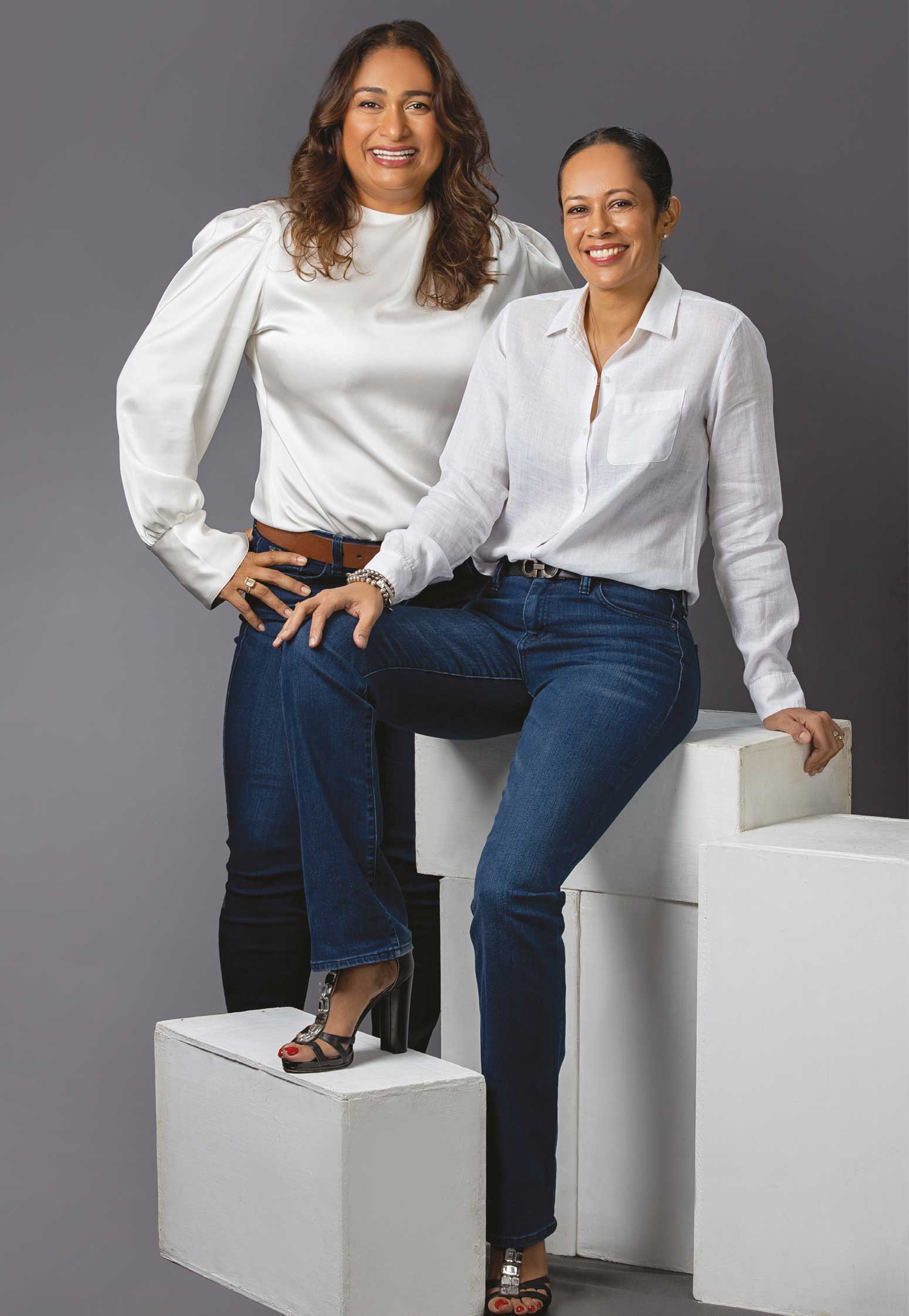 BEYOND
POWER VS IMPACT – WHAT IS THE INTERPLAY BETWEEN THESE TWO FROM THE PERSPECTIVE OF A POWER WOMAN?
Rajitha: Power shouldn't define who you are as a leader. Your legacy as a leader should be defined by your ability to influence change – social, economic and environmental – and the power to positively impact people and the planet.
Natasha: Power essentially means to have control and command. But power is of no use if you're not using it to deliver a positive impact on the lives you touch.
I feel that as leaders blessed with a sense of power, it is our duty to inspire others to become the best version of themselves, unlock their true potential, and show them that they are appreciated and valued.
HOW DO YOU ENVISION THE FUTURE OF THE APPAREL INDUSTRY… AND YOUR ROLE IN IT?
Natasha: The apparel industry, which is driven by consumer demand for both fashion and function, will grow in complexity and speed.
It will also be influenced significantly by consumer demand and regulatory requirements for sustainable and ethical manufacturing, and the increasing trend of end-of-life apparel to minimise the impact on landfills.
Considering my present role in the business extending from governance, sustainability and corporate social responsibility to the welfare of the manufacturing teams, my focus is on ensuring that we future-proof our business so that we can continue delivering solutions to all our stakeholders.
Rajitha: The apparel industry is vital to the growth of the Sri Lankan economy, and has immense potential to grow and compete with larger players in the region.
The skill of our labour force is unparalleled; and as a country, we have some of the best minds when it comes to innovation and highly engineered product creation. That's why giants such as Nike and Victoria's Secret have established their innovation and product creation centres here.
However, skill alone is inadequate when playing in the global arena – especially when other countries in the region are becoming more cost competitive due to the trade treaties they enjoy with the larger markets.
We need to ensure that Sri Lanka isn't left behind because of the constraints it's facing as a result of political and economic instability. Our leaders must actively support the industry by ensuring that the right infrastructure – a continuous supply of electricity, fuel and other essentials – is provided.
The government should also work towards renewing and establishing critical Free Trade Agreements (FTAs) that support the industry with the US, the EU, the UK, Japan and South Asian countries – particularly India, where we're seeing massive potential.
Through my roles in the Sri Lanka Apparel Exporters Association (SLAEA) and Export Development Board (EDB) councils, I am privileged to be able to contribute to ensuring that the apparel industry remains at the helm of the export sector, and that it continues to support the country's economic development and stability.
With adverse global economic dynamics currently dampening the industry's revenue prospects, it is important that we promote positivity about doing business with Sri Lanka.
IN YOUR VIEW, WHAT IS NEEDED FOR SRI LANKA TO UNLEASH THE TRUE POTENTIAL OF ITS FEMALE WORKFORCE?
Rajitha: Most women in Sri Lanka don't have the right environment to thrive in their careers, in aspects ranging from pregnancy and motherhood, to harassment in the workplace and financial inclusion.
We need a national approach to fixing this with more legislation and enforcement of labour laws that protect women in the workforce. It's also necessary to create more enabling environments such as providing safe transport and childcare facilities, so that women can enter and remain in the workforce.
The corporate sector's approach to empowering women is admirable. It has evolved with processes, initiatives and best practices to provide women with the right ecosystem to thrive in their jobs. The provisions include financial allowances, longer maternity leave, crèche facilities and other support services.
Women have come a long way in terms of gaining empowered status but there is still a long way to go. We need to create sponsorships and mentorship programmes in the public and private sectors to continue this momentum.
As a nation, we have to create a more enabling environment that helps women reach their true potential.
Natasha: Every woman in Sri Lanka can realise her full potential and ambition despite the circumstances. In my career, I've had the privilege of meeting some amazing women who have made a positive impact on their families and communities.
Since education is fundamental to unleashing one's potential, ensuring access to learning is essential. At Brandix, we have recognised this and drive multiple initiatives to support the education of our team members, their children and those in the communities we operate in, not only in school but through university as well.
We also support our female team members through focussed coaching and mentoring programmes to enable them to boldly reach their full potential.
Broad basing such initiatives at national level with the support of the private sector will be a solution to unlocking the huge potential of women.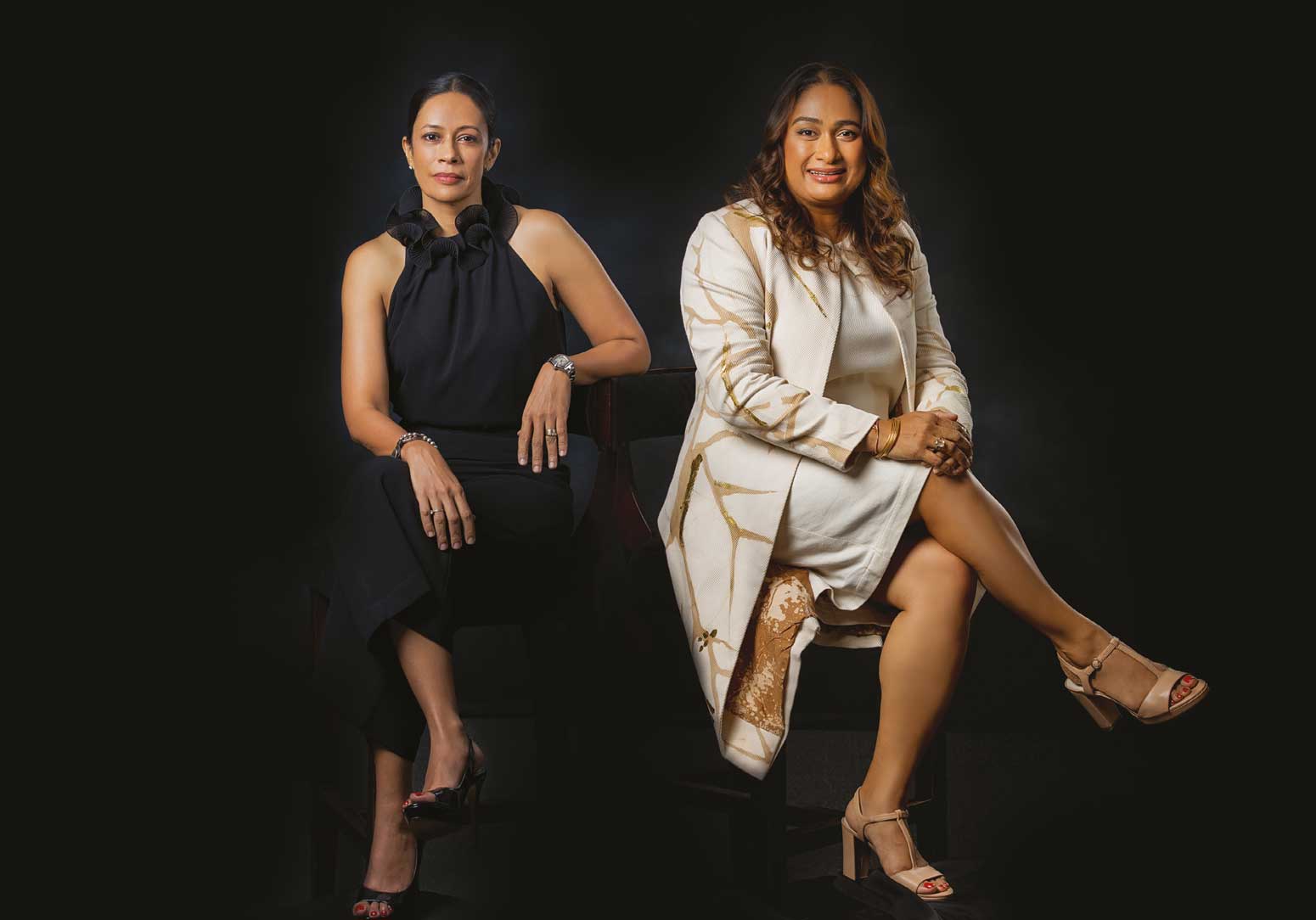 HOW DO NEW WORK NORMS SUCH AS WORKING FROM HOME IN THE POST-PANDEMIC WORLD CONTRIBUTE TO FEMALE EMPOWERMENT?
Natasha: Working from home can give women greater freedom to strike an effective balance between the responsibilities of family and work.
It is especially helpful to those who lack the necessary support systems such as extended families and others, to overcome difficulties and have greater autonomy over their deliverables.
Working from home enables us to not have to choose between work and home, and miss all the important moments in the early lives of our children and to be there for our parents. This concept ensures that we don't lose out on valuable female talent.
The work ethic then shifts from being physically present to delivering outcomes, which is another win.
I would endorse a hybrid model to ensure some degree of physical presence depending on one's role – because keeping people physically connected and engaged, and giving our female team members adequate visibility is very important.
Rajitha: Female workers have a lot to balance since there is a distinct expectation of women to play multiple roles in society. For instance, working women are still expected to put dinner on the table and take care of their children's needs.
When it was first implemented, working from home gave women more access to balance work and family life; but it also added pressure such as managing housework, taking care of children and attending to elderly parents on a full-time basis.
So employees and management alike had to learn new boundaries, and how to respect working hours and family time. We learned how to reorganise ourselves, rethink and pivot to thrive in this enabling and empowering environment.
New work norms also gave companies and their employees a very good cultural reset on how they worked and balanced their family lives, and helped move them towards a hybrid working environment – one that operates today.
If not for the pandemic, it is likely that this type of reset would have taken much longer to gain acceptance.
WHAT STRENGTHS AND AREAS FOR IMPROVEMENT DO YOU SEE IN YOUNG FEMALE TALENT TODAY?
Rajitha: Youngsters today are driven by purpose, and are far more confident and fearless than those before them.
They can easily adapt to the digital environment, are far more focussed on what they want to achieve, and quite socially and politically aware. But they can also be 'me' focussed, lack longevity, and need instant gratification and results.
Given these dynamics, retention and motivation of this new young talented workforce can be rather challenging.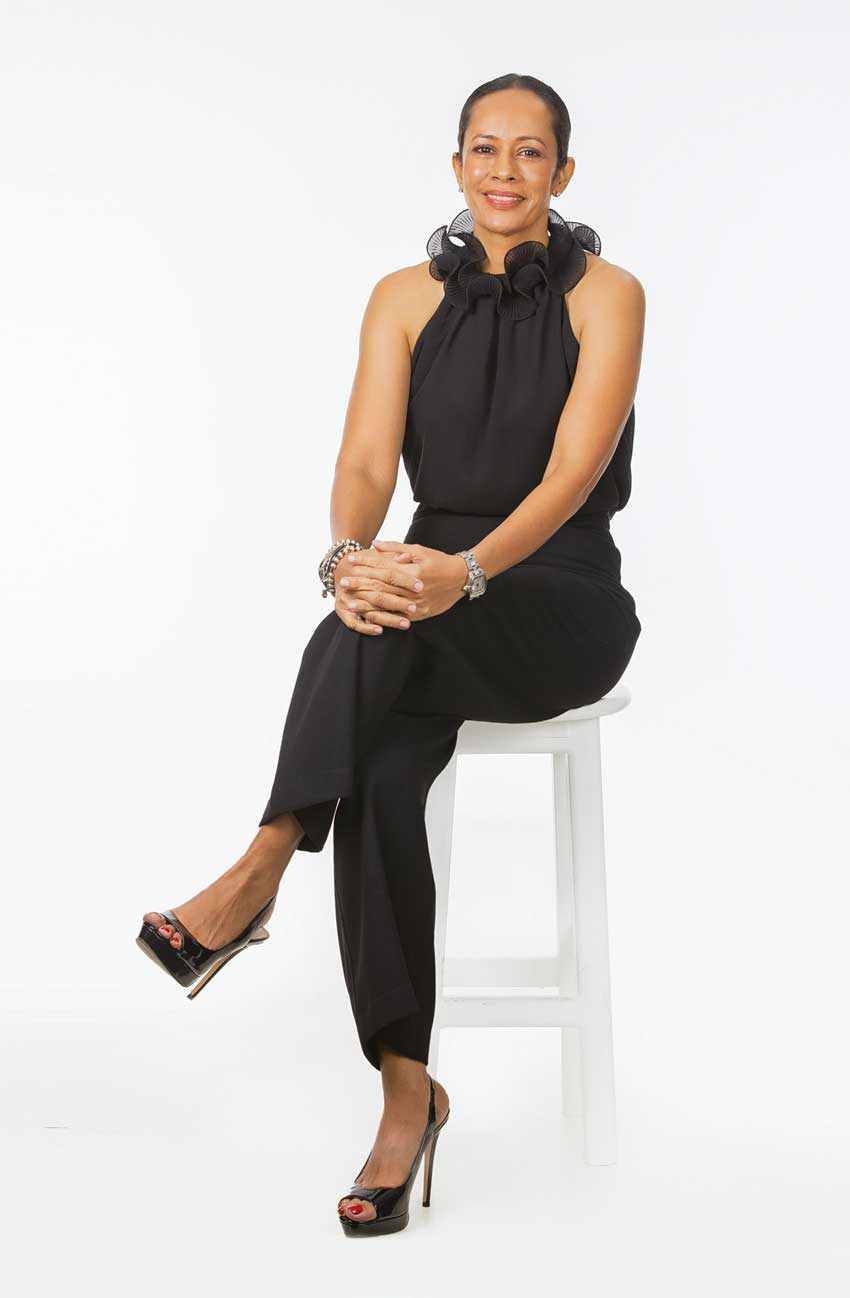 Natasha
In person
SELF-DEFINITION
Natasha is intelligent, humble, kind, loyal, persevering and determined. She knows exactly what she wants to do in life and picks the most practical choices.
BIRTHDAY
29 January
EDUCATION
Holy Family Convent
Stafford International School
HOBBIES
Painting
Interior decorating
LOVES
Family
Dogs
Home
PET PEEVES
Rudeness
Arrogance
Inconsiderate people
MOST CHERISHED ACHIEVEMENT SO FAR
Being Yannik's mother
MOTTO IN LIFE
You reap what you sow
ADVICE TO ASPIRING POWER WOMEN
Embrace the strength of your femininity and be the authentic self you were created to be, unapologetically.
Life advice
THREE INGREDIENTS OF SUCCESS
Hard work
Humility to listen and accept when you are wrong
Gratitude and appreciation
THREE REASONS FOR FAILURE
Pride
Arrogance
Selfishness
THREE THINGS TO NURTURE IN LIFE
Family
Health
Peace of mind
THREE THINGS TO STAY AWAY FROM
Jealousy
Gossip
Negative people
THREE THINGS THAT SHOULD DEFINE YOU
Spirituality
Values
The impact you have on others
THREE THINGS THAT SHOULD NOT DEFINE YOU
Designation
Economic and social status
Ego
THREE THINGS YOU SHOULD ALWAYS CHANGE
Negative thoughts and self-talk
People pleasing habits
Complaining
THREE THINGS YOU SHOULD NEVER CHANGE
The ability to laugh at yourself
Faith and hope in your dreams
Waking up at 5 a.m.
THREE THINGS THAT SHOULD BE UNIQUE TO YOU
Your creative quirks – in my case, my love for eccentricity
Your reasoning – I opt for logic over impulsiveness
Your inner responsibility – I have a compulsion to maintain peace and harmony
THREE THINGS THAT YOU SHOULD SHARE WITH OTHERS
Time
Knowledge and experiences
Resources
Viewpoints
TO BE A WOMAN IS TO BE…
Clothed in strength and dignity, and laughing without fear of the future, as mentioned in Proverbs 31:25.
EQUALITY IS ALL ABOUT…
Having an equal voice and being heard
Having an equal opportunity to be the best version of yourself – and be treated with respect and rewarded equally
Feeling safe
EMPOWERMENT COMES FROM…
The amazing people in your life and how they have shaped you along your journey
Your family – which will always hold your hand through thick and thin
MEN AND WOMEN ARE…
Two sides of the same coin
SUCCESS DEPENDS ON YOUR…
Willingness to look beyond the possible at the impossible by pushing the limits, being open to new ways of doing things by learning and unlearning, inspiring a common vision by creating personal relevance and bringing out the best in people to deliver the vision.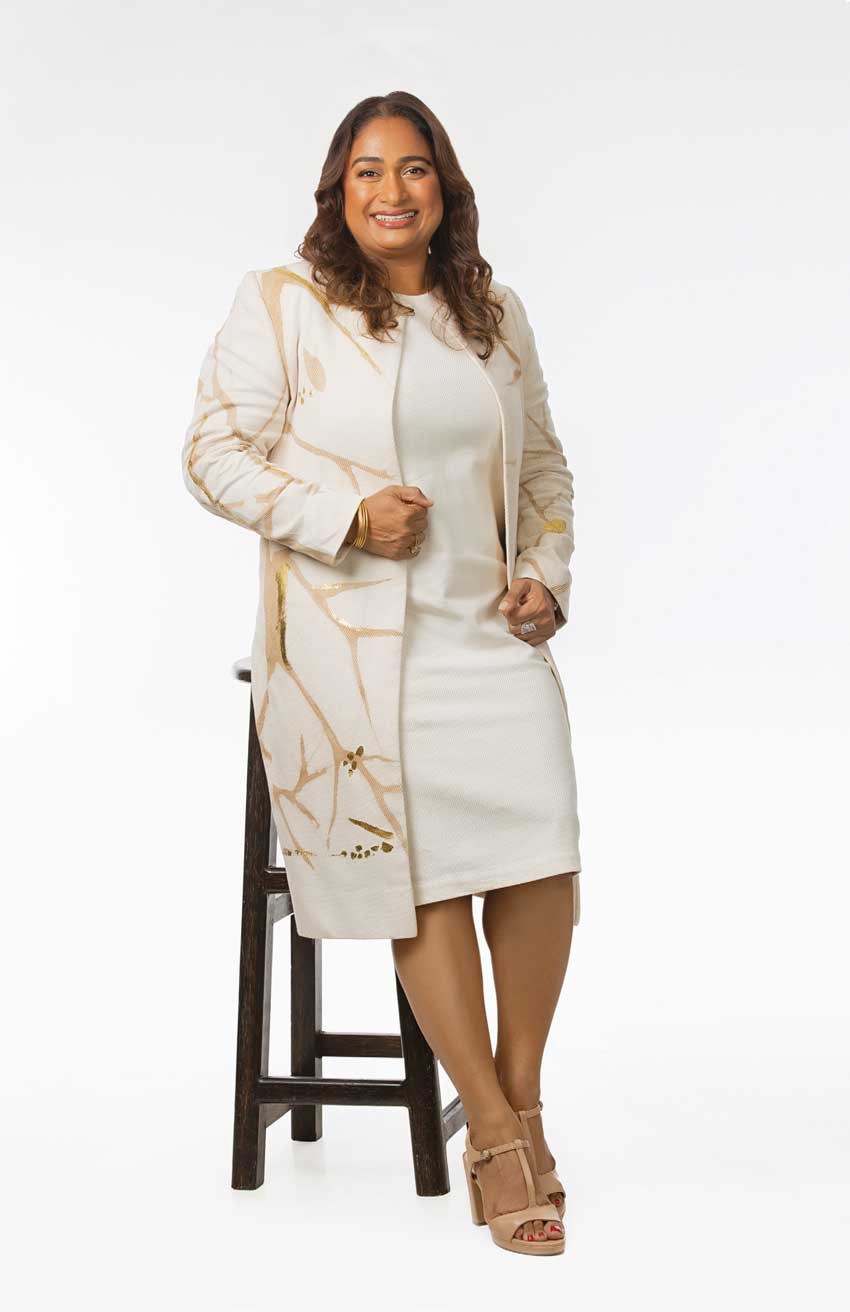 Rajitha
In person
SELF-DEFINITION
Rajitha is bubbly, happy, hardworking, persevering, boisterous, passionate, emotional, caring, fiercely loyal and competitive!
BIRTHDAY
22 November
EDUCATION
Bishop's College
Sri Lanka Law College
Monash University (Melbourne – Australia)
HOBBIES
Travelling (for leisure)
Reading (which she rarely finds time for)
Watching movies
Yoga
LOVES
Good food
Travelling for leisure
Hanging out with her daughter
PET PEEVES
Disingenuous and arrogant people
Uncleanliness
MOST CHERISHED ACHIEVEMENT SO FAR
Her daughter
NEXT GOAL
To survive her [daughter's] adolescence!
MOTTO IN LIFE
Let go of the past, it only holds you down and back. Live life to its fullest, forgive, love, eat good food, laugh and always be kind.
ADVICE TO ASPIRING POWER WOMEN
Work hard with integrity, respect and empathy for others whether it's in your career or your personal life. Be passionate about everything you do and always give your 100 percent – and never give up!
Life advice
THREE INGREDIENTS OF SUCCESS
Hard work
Humility
Passion
THREE REASONS FOR FAILURE
Arrogance
Complacency
Lack of empathy
THREE THINGS TO NURTURE IN LIFE
Your soul
Real friends
Family
THREE THINGS TO STAY AWAY FROM
Lying
Hypocrisy
Overeating
THREE THINGS THAT SHOULD DEFINE YOU
Being a good human being
Values
Actions
THREE THINGS THAT SHOULD NOT DEFINE YOU
Social expectations
Opinions of strangers
Titles
THREE THINGS YOU SHOULD ALWAYS CHANGE
Bad attitude
Bed sheets
Underwear
THREE THINGS YOU SHOULD NEVER CHANGE
Values
Ethics
Principles
THREE THINGS THAT SHOULD BE UNIQUE TO YOU
Your personality
Your values
Your attitude
THREE THINGS THAT YOU SHOULD SHARE WITH OTHERS
Good food
Laughter
Friendship
Viewpoints
TO BE A WOMAN IS TO BE…
A superhuman being – mother, daughter, sister, caregiver, wife, wise oracle, doctor, nurse, angel… the list is endless, hence the term 'superhuman being.'
EQUALITY IS ALL ABOUT…
Treating others how you wish to be treated
EMPOWERMENT COMES FROM…
Within – we must take control of our lives and our own destiny
MEN AND WOMEN ARE…
From different planets!
SUCCESS DEPENDS ON YOUR…
Attitude, hard work, passion and self-belief.