GLOBAL GEOPOLITICS
PORTS OF CALL FOR WORLD POWERS
Zulfath Saheed draws attention to global interests in Sri Lanka from near and afar
Sri Lanka's geographic location is an oft cited fact of its strategic importance to the world. Much has been said about the role of the island's ports along the ancient Maritime Silk Route, which extended from modern-day Southeast Asia to the Middle East and North Africa. And despite its present battle-scarred reputation, there's a growing interest in Sri Lanka on the part of economic superpowers such as India, China and the US among others.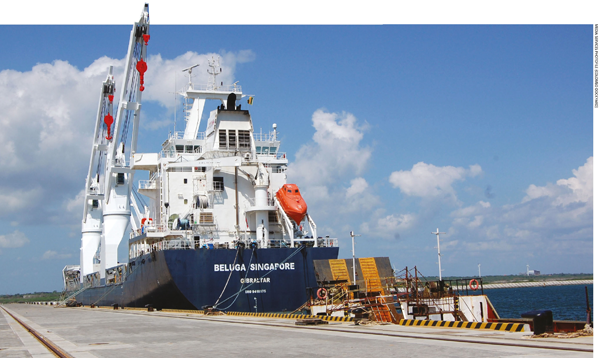 This greater awareness of Sri Lanka should ideally be a point in the country's favour; however, what's materialised is a sense of scepticism over the circumstances surrounding the interest in the nation from the global powers that be at this time.
NOISY NEIGHBOUR Having condemned the Easter Sunday terrorist attacks in Sri Lanka, Reuters reported that a member of the Bharatiya Janata Party (BJP) and Indian Prime Minister Narendra Modi posed the following series of questions at an election rally in Rajasthan: "Should terrorism be finished or not? … Who can do this? Can you think of any name aside from Modi? Can anybody else do this?"
A BJP led coalition went on to register a landslide victory at the general elections in India on 23 May. The lead up to voting witnessed what some have described as 'intensified nationalist sentiment' as well as pointed barbs aimed at traditional enemy Pakistan coming to the fore. This was seemingly amplified by the 4/21 bomb blasts and ensuing chaos across the Palk Strait.
Following the election victory that handed Modi a second term in power, he made a brief visit to Sri Lanka in early June, making him the first world leader to do so in the aftermath of the April terrorist attacks. It marked a show of strength by the newly elected Indian premier.
SOFT POWER STRATEGY As reported in the Nikkei Asian Review, China's Belt and Road Initiative (BRI) has faced a "backlash around the world over controversial projects, such as in the Maldives, Pakistan and Sri Lanka where the country's debt problems forced it last year to hand back the Chinese built Hambantota Port to China on a 99 year lease."
However, the transfer of the port of Hambantota has meant that China secured a strategic position along a major commercial and military channel in close proximity to India – a major rival in both a global geopolitical and trade context.
President Maithripala Sirisena visited China to attend the Conference on Interaction and Confidence Building Measures in Asia (CICA) in May, and met his Chinese counterpart Xi Jinping in Beijing where they held bilateral discussions. Furthermore, the heads of state signed an agreement promoting defence sector cooperation between the two nations.
Meanwhile, a statement issued by the Chinese embassy in Colombo referring to the trade war with the US asserted that "China, with a highly responsible attitude and utmost sincere (sic), hopes that the two sides could bridge differences on trade and economic issues. However, [a] foreign country should never harbour the illusion that China would trade core interests, or allow harm to be done to its sovereignty, security or development."

WESTERN AGENDA More recently, the status of forces agreement (SOFA) between Sri Lanka and the US has come into greater focus. A draft copy of the deal under negotiation at the time of writing, published in the Sunday Times, points to demands made by Washington that could potentially infringe Sri Lanka's sovereign status.
According to the newspaper exposé, amongst the sweeping military privileges sought by the US under SOFA are that American troops would not need passports or visas to enter Sri Lanka; its vessels or aircraft cannot be checked; and it wouldn't be liable to pay taxes in this country.
The national weekly reveals that "the US is also seeking authorisation for its troops to wear uniforms whilst 'on duty' in any part of Sri Lanka, carrying arms and radio communications equipment."
Minister of Finance and Mass Media Mangala Samaraweera addressing a news conference claimed that the agreement was "harmless" and "not a danger," while warning that Sri Lanka would lose both exports to the US and new employment opportunities should the deal not be accepted.
EASTERN ALLIANCE In the midst of all this activity, Sri Lanka has signed a memorandum of cooperation with Japan and India to develop the Port of Colombo – a move that can be construed as being in response to China's influence in the region.
And making yet another reference to Sri Lanka's geographic significance, a statement released by the embassy of Japan in Sri Lanka affirmed: "As a hub of the Indian Ocean, the development of Sri Lanka and openness of its ports are of great importance … This joint project reflects the longstanding goodwill and cooperation among the three countries."