POLITICS IN INDIA
A CASE OF DEFAMATION AGAINST
RAHUL GANDHI
Saro Thiruppathy discusses the actions of overt and covert actors who may be influencing India's Congress Party ahead of elections next year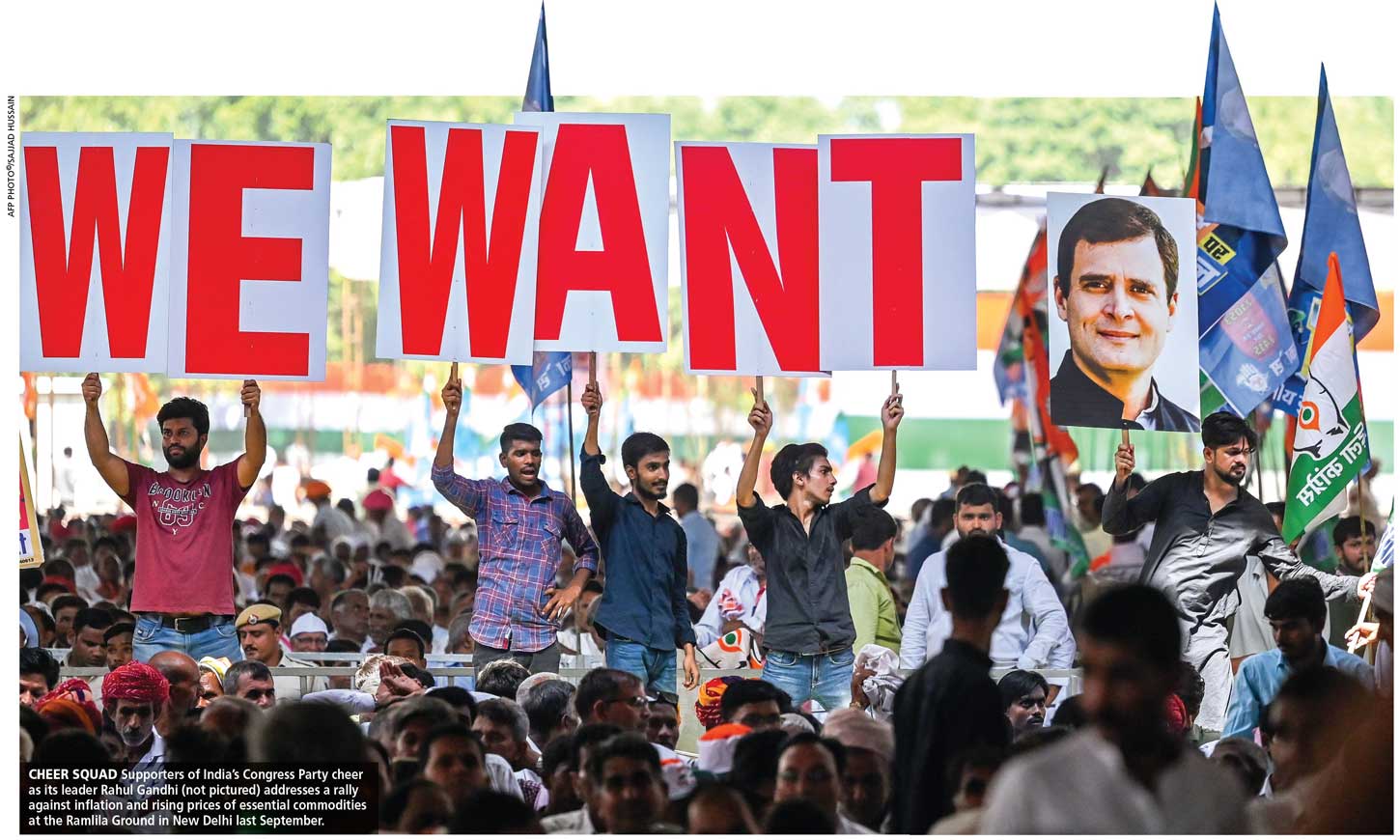 Whenever election time rolls around, most incumbent governments become rather antsy even when their track record of governance has been good. They look at their main political threat and either dig up dirt on their opponents, or decide to bite the bullet and take them to court.
NOT QUITE FLIPPANT Rahul Gandhi, who is the heir to the Nehru-Gandhi political legacy, asked a provocative question at an election rally back in 2019: "Why do all these thieves have Modi as their surname? Nirav Modi, Lalit Modi, Narendra Modi?"
Those he mentioned and other Modis took umbrage, and decided to take him to task. Bharatiya Janata Party (BJP) lawmaker Purnesh Modi filed a defamation suit against Gandhi in Gujarat and claimed that his statement defamed the entire Modi community. However, Gandhi says that all he wanted to do was highlight corruption and his comment wasn't directed at any particular group.
But two of the Modis mentioned do have an apparently shady past – one is a diamond tycoon in hiding and the other has a rocky reputation with the Board of Control for Cricket in India (BCCI).
However, Gandhi does have a string of defamation cases filed against him for various reasons – possibly because he speaks without giving much thought to his statements. In March, a lower court in Gujarat sen­tenced him to a jail term of two years.
Upon an appeal, the court granted him bail until 13 April to present his case. He has been stripped of his parliamentary seat due to a Supreme Court order, which stipulates that any lawmaker convicted of a crime and sentenced to two or more years in jail is disqualified from retaining his or her seat with immediate effect.
Meanwhile, other opposition parties appear to be uniting against what they see as an existential threat to India's democracy by the governing BJP.
Gandhi claims that the reason for his political victimisation is because he has been raising questions in parliament about the government's close relationship with billionaire industrialist Gautam Adani. In 2014, Adani was estimated to be worth US$ 7 billion and within nine years, his wealth has risen to 100 billion dollars.
As a result of the Hindenburg report however, which claimed that Adani's practices were dubious and fraudulent in nature, the value of the shares in his companies plummeted and his personal wealth took a serious beating not long ago.
CURIOUS PARTIES Even though much of the world is currently in turmoil, the Western powers have found the time to keenly follow the Gandhi-BJP row for reasons best known to them.
Germany's foreign ministry spokesperson notes: "To our knowledge, Mr. Gandhi is in a position to appeal the verdict. It will then become clear whether this verdict will stand – and whether the suspension of his mandate has any basis. We expect that the standards of judicial independence and fundamental democratic principles will equally apply to the proceedings against Rahul Gandhi."
Her remarks followed those of the Principal Deputy Spokesperson for the US State Department Vedant Patel. "Respect for the rule of law and judicial independence is a cornerstone of any democracy, and we are watching Mr. Gandhi's case in Indian courts and we engage with the Government of India on our shared commitment to democratic values including the freedom of expression," he says.
REGIME CHANGE Economic researcher, historian and freelance journalist William Engdahl at the Centre for Research on Globalisation (CRG) warns that there are external destabilisation efforts in the offing to topple the BJP government.
The reasons could be many – including the fact that despite Western pressure, India remains committed to working with Russia due to their longstanding friendship. And the strengthening of BRICS is also a concern for the West.
In February, the Indian government criticised Hungarian-American financier George Soros for making statements that are harming India's image and alluding to regime change.
When speaking at the Munich Security Conference, Soros suggested that Prime Minister Narendra Modi and Adani are close allies. He said that Adani's troubles would "significantly weaken Modi's stranglehold on India's federal government and open the door to push for much needed institutional reforms."
Then in March, India's Finance Minister Nirmala Sitharaman accused the Congress Party of inviting foreign governments to interfere in the country's internal affairs. Her statement was in response to senior Congress leader Digvijaya Singh's tweet: "Thank you Germany Foreign Affairs Ministry and Richard Walker, for taking note of how democracy is being compromised in India through the persecution of Rahul Gandhi."
Sitharaman summed up the Indian government's suspicion and displeasure in her tweet: "Apparent that @INCIndia wants foreign interference in our affairs. Signs memorandum of understanding with Communist Party of China with opaque contents. During interactions abroad, pleads for help to change government. Thanks them when help is forthcoming. Any more proof needed?"
"Whenever election time rolls around, most incumbent governments become rather antsy even when their track record of governance has been good"