POLICY REVISED ON ELEPHANT ADOPTION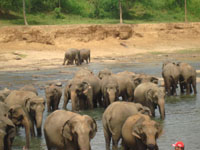 Overturning its ban on adopting baby elephants, the Sri Lankan government has decided to allow the excess elephants of the Pinnawala Elephant Orphanage to be adopted by individuals and temples to overcome the issue of overcrowding.
The Cabinet approved a proposal put forward by Minister of Sustainable Development and Wildlife Gamini Jayawickrama Perera, which allows individuals to buy these excess elephants for Rs. 10 million each, while temples get them free of charge.
As reasons for this decision, the minister expressed that maintaining 88 elephants at the orphanage, which spans over 30 acres of restricted land, had become difficult.
Government spokesman Rajitha Senaratne meanwhile noted that although wildlife conservation is good, the country also needs to conserve its cultural pageants.
Naturalists and wildlife experts have expressed their disappointment at this decision, which they say will cause much damage and harm to the country's elephant population.