RETAIL SECTOR
SHOPPERS' PARADISE
Compiled by Yamini Sequeira
POLICY IS A PRICELESS TAG     
Mahesh Wijewardene calls for policies that support the local retail trade
Sri Lanka's retail space is expanding rapidly with two new malls having opened recently and more poised for launch in the next year or two. A frenzy of construction activity in the city's prime retail hubs creates a sense of excitement – about new retail spaces and sector prospects. But despite the gloss and glamour, the reality is that the retail sector isn't necessarily performing up to expectations.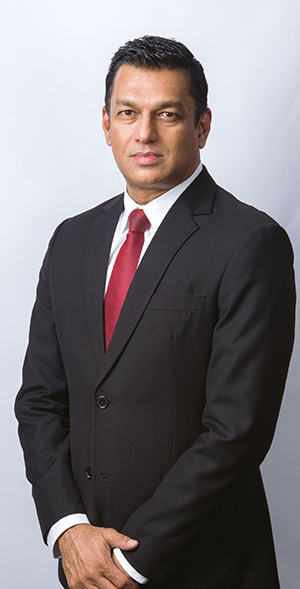 Mahesh Wijewardene observes that "the main retail sectors including fast-moving consumer goods (FMCG), supermarkets, clothing, restaurants, pharmacies and consumer durables are performing below expectation due to sluggish market sentiment, and low consumer spending power."
He continues: "An acceleration of the consumer price index and other macroeconomic factors are also triggering an increase in the cost of living, and low money circulation, alongside prolonged droughts in agro-based areas."
"Some retail sectors are cyclical in nature when long-term key performance indicators (KPIs) are analysed – generally a high period of two to three years and likewise for lows, which could be considered cyclical. Having been in a downturn for some time, perhaps we might witness an upwards movement next year," he adds.
RUPEE DILEMMA In an underperforming economic milieu, the devaluation of the Sri Lankan Rupee poses serious difficulties with the cost of sales increasing and margins eroding. "Every retailer faces the dilemma of whether to pass the full impact of this onto the consumer or absorb it. Price increases affect sales volumes, margins and profitability because consumers prioritise spending. With limited income – and the price of staples such as fuel, transportation, and essential goods and services increasing – nonessential purchases and replacements will be delayed," Wijewardene surmises.
The sector faces daunting challenges as it has a relatively high cost base and expends substantial sums on infrastructure, manpower, logistics and operations.
Wijewardene explains: "The main challenge in downtimes is to sustain operations as reducing scale is not an option. Showrooms must retain their appearance, and human resources and operations have to continue."
"Maintaining minimum margins too becomes a challenge as competition is intense. Web malls and online sellers with low-cost bases have added to the competition," he adds.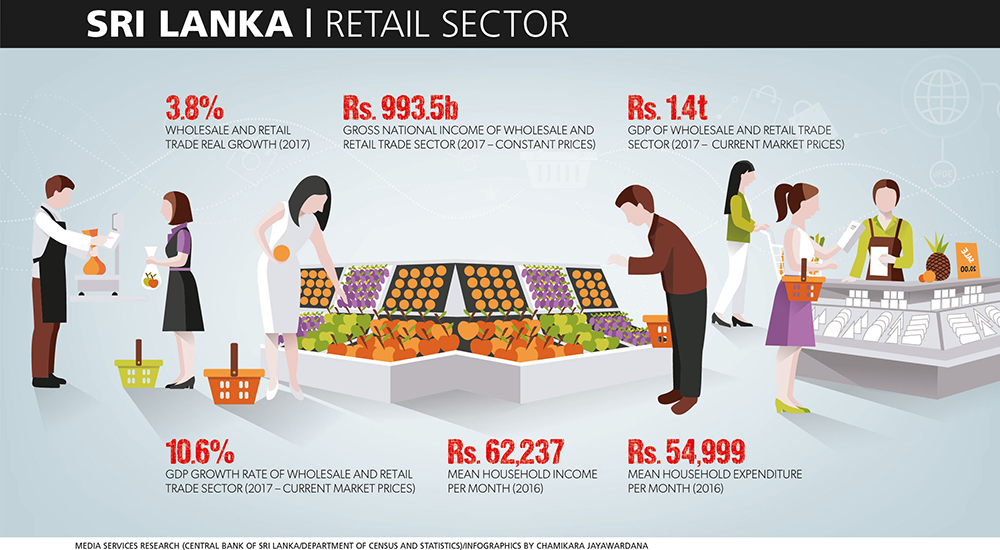 RETAIL IS KING Yet, opportunities abound for the sector. Wijewardene notes: "Amid improved lifestyles and incomes, consumption patterns will move up and pave the way for more business opportunities."
He adds: "Consumers seek convenience, which offers more business for organised retailers. There will also be an increased footfall in major urban centres with better living standards envisaged, thereby echoing the trends of middle to high income countries such as Singapore, Malaysia, Indonesia and Thailand."
"Brands are introduced due to local franchise partners displaying an interest – rather than brands wanting to be present in Sri Lanka of their own volition. Except for a small and Colombo concentrated upmarket urban segment, Sri Lankans have yet to reach the income or spending levels to afford international brands," he insists.
Wijewardene elaborates: "In the retail sector, the presence of strong local brands makes it challenging for international players to enter the market on their own. This leads to international brands partnering local retail companies to penetrate the market. However, given our high level of education and global exposure, Sri Lankans are well aware of international brands and we're able to generate decent volumes to sustain the expectations of brand owners."
CRITICAL MASS Can Colombo become a shopping hub? Wijewardene responds: "A retail shopping hub requires manifold product offerings and availability, competitive pricing and shopping convenience on a par with the region."
He adds that "it's equally important to promote and build brand awareness among tourists, and Sri Lankans who travel abroad, so that they're aware that goods are available at the same or lower prices in the island. Greater high end mall space is a plus but it's also crucial to upgrade and renovate smaller shopping centres to stimulate retail activity."

If Sri Lanka is to become a shopping hub, Colombo will have to be promoted as a destination in itself since all the mega malls are situated in close proximity to the city centre. "The marketing strategy and positioning that each mall adopts will make the difference between success and failure," Wijewardene opines, adding that "marketing has been stagnant in Sri Lanka and must be resuscitated with an infusion of innovation. In Sri Lanka, it's all about price."
He remarks: "If we are to compete with the rest of the world, our duty structure must rival those of Singapore, Malaysia and Dubai. But in Sri Lanka, duties and taxes have been reintroduced and continue to be inconsistent!"
"The government must offer its full backing to the sector and view it with long-term consistency to ensure lower tariffs especially for hand carry items, and promote the destination internationally through airlines, hotels and tourism. It is difficult in the current context because funding is a serious concern," Wijewardene emphasises.
TREND TRACKER The top three retail segments are supermarket chains, fashion and clothing, and consumer goods. And consumers seek a one stop shop. Large format stores with more choices, speedy payment options such as touch and pay, and the younger generation adopting new ways of shopping through technology have taken over.
Sri Lanka is gradually moving in this direction with visible efforts made by retailers in many segments.
However, sluggish economic conditions and policy inconsistencies are obstacles to retailers investing in new features. Although global trends have reached Sri Lanka, they remain slow in their uptake.
In his view, "the future continues to look good because Sri Lanka is in the process of moving to a higher per capita GDP. The additional income would mean that people will upgrade their living standards as products become more affordable."
"We also expect demand to rise with the population shifting to major urban centres and moving away from rural life, an increase in apartment living and the existence of large-scale development projects in the country. When a country evolves from one level to the next, organised retail does benefit," Wijewardene notes.
Sri Lanka's retail sector is primarily driven by domestic consumption and when disposable incomes grow, domestic consumption is expected to surge and benefit the retail sector – all of this however, is subject to where the nation heads in the aftermath of the recent constitutional crisis.

The interviewee is the CEO and an Executive Director of Singer (Sri Lanka)