BOOKRACK
By Vijitha Yapa 
Philip Kotler is a household name among marketers and his book Marketing Management is one of the 50 best-selling guides for business of all time. According to the UK's Financial Times, he is considered one of its top 10 business thinkers.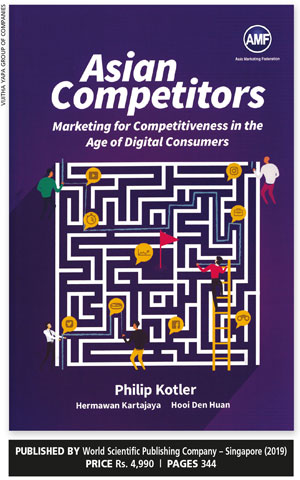 In his new book, Kotler teams up with Hermawan Kartajaya (cofounder of the Asia Marketing Federation) and Hooi Den Huan (Associate Professor at Nanyang Business School in Singapore's Nanyang Technological University).
They cite examples of innovation by 36 enterprises in 18 Asian countries. Asia's high population growth and rising purchasing power have made it a lucrative target market for companies across the world, say the authors. What makes the book interesting is that it discusses examples of marketing and innovation successes in Asia rather than only those cultivated in the West.
Two businesses from Sri Lanka are showcased in the book – namely Cinnamon Hotels & Resorts and Dilmah Tea. In the case of the former, the authors cite innovative strategies such as the bloggers' gathering in Sri Lanka, which hosted 250 bloggers. Travel bloggers are major influencers by dint of sharing their journeys and experiences with aspiring travellers.
Cinnamon also used innovative videos at the World Travel Mart in London and launched a specialised online travel agent training module in 2015 – which linked over 97,000 travel agents – as well as a large e-learning library offering 200 educational programmes. The authors say that such features actively targeted tech savvy travellers and online travel agents.
In the case of Dilmah Tea, the book notes that in the midst of intense competition from blended tea manufacturers, it emerged as an authentic local brand from Sri Lanka "due to the quality perceivably lacking among other players." Dilmah is considered the sixth largest tea brand in the world.
James Gilmore and Joseph Pine in their book titled 'Authenticity: What Consumers Really Want' – published by Harvard University Press – claim that due to the overabundance of commercial experiences, customers are knowledgeable and can generally differentiate between a real and phony experience.
They say people yearn for something that's authentic and from the heart. And what counts in the long run is the trust that's built between the producer and consumers.
Starting from the founder's personal commitment, authenticity should eventually become the company's brand DNA. According to Janelle Barlow and Paul Stewart in their publication 'Branded Customer Service: The New Competitive Edge,' this DNA should constitute all the unique aspects of a brand, which are reflected in the common language used by all employees of the company rather than only those who face customers.
Millennium Information Solution in Bangladesh, which began as an outsourcing company, is now developing special products for Islamic financial institutions. There are also success stories like AirAsia, which was acquired by Tan Sri Dr. Tony Fernandes for one Malaysian Ringgit (around Rs. 43 in our currency) in 2001. He inherited a debt of US$ 9.3 million to boot.
Today, AirAsia is the second largest airline in the region when passenger figures are analysed with the first being Air China. His attempts to raise funds for the airline failed until Credit Suisse lent him US$ 30 million and the airline recorded a profit within a year.
Fernandes has an interesting philosophy that's produced dividends – i.e. employees come before customers. He says that a happy workforce will care for customers more efficiently.
Malaysia is now actively pursuing a digital economy; it has launched the world's first digital free trade zone to create an environment that's ideal for new economy entrepreneurs. AirAsia is proceeding to create a digitalised airline and aiming at cashless transactions. These innovations come amidst competition from over 50 low-cost airlines operating in Asia.
What a contrast to SriLankan Airlines, which is struggling amidst political interference and unsound decisions like abandoning its profitable association with Emirates because its management refused to give up Business Class seats already sold to passengers on the London-Colombo sector – the seats were required to accommodate members of our president's party!
While other countries are thriving, Sri Lanka continues to live in a dream world of its own; we prefer to cross unguarded railway crossings hoping the train will stop for us… so we ignore the warning sirens.
This book shows up the missed opportunities in Sri Lanka, which is one of the reasons we're in such a mess today.