PLC
People's Leasing rated as the No.01 Brand in the Non-Banking Financial sector by Brand Finance Lanka for 2018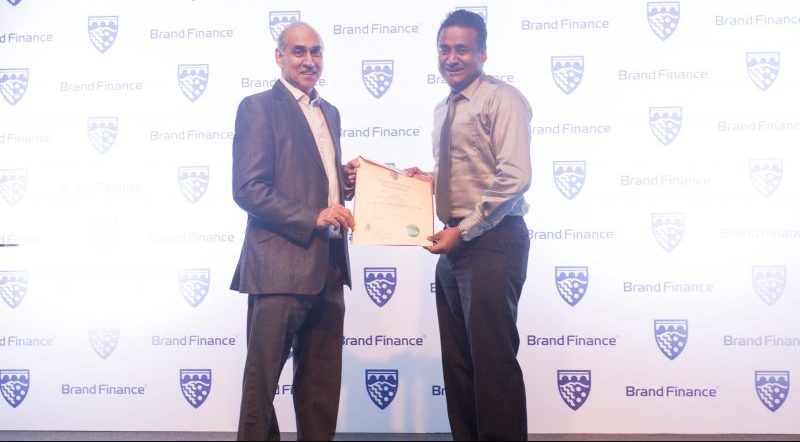 Reinforcing its standing as the leading light among the nation's Non-Banking Financial Institutions, People's Leasing & Finance PLC won the coveted No.01 Brand in the NBFI sector at Brand Finance Awards 2018 held recently.
Additionally, Peoples' Leasing received the distinction of being adjudged the 'Most Valuable Consumer Brand in the country' among the NBFI sector.
These awards were announced by Brand Finance Lanka in their annual 'Brand Finance 100' list of leading brands for 2018 in the country. Brand Finance Lanka, recognised as local pioneers for independent brand evaluation and ratings has for 15 consecutive years continued to provide a comprehensive analysis of the performance of brands in key sectors and become a much sought after annual review.
Brand Finance Lanka's annual study of selecting Sri Lanka's most valuable brands and related rankings are carried out through an independent and unbiased analysis. Market research is also carried out amongst a large number of respondents and publicly-available published financial data by the Colombo Stock Exchange for listed companies and other printed and circulated information used for analysis and rankings.
The local arm is affiliated to Brand Finance Lanka, considered globally as of the world's leading independent brand evaluation and ratings firms with headquarters in London and a network of offices around the world.
Commenting on winning these noteworthy awards, Laksanda Gunawardena, Deputy General Manager, Marketing & Business Development, People's Leasing said, "Brand Finance Lanka is the most locally respected organisation which publishes independent branding evaluations. Receiving the 'Most Valuable & Strongest Brand' among the NBFI sector is indeed a victorious achievement. Our commitment, close relationship with our customers and superlative service offered to Sri Lankans have contributed towards being chosen for these accolades."
People's Leasing Company PLC was commissioned in 1995 as a wholly owned subsidiary of Sri Lanka's biggest state bank in Sri Lanka, the People's Bank. Today, People's Leasing is currently the market leader in the non-bank finance sector in the country.
Fitch Rating Lanka has assigned PLC a credit rating of AA-(lka) making it the highest rated finance company in the country. PLC is also the only Sri Lankan finance company to have two international ratings. Among these one is equal to the Sovereign from Standard and Poor's ('B+/B') and the other is one notch below the Sovereign from Fitch Rating International ('B').
PLC's financial service product portfolio includes leasing, fixed deposits, savings accounts, personal and business loans, margin trading, factoring and Islamic financial services.
The company consists of five subsidiaries namely, People's Insurance PLC, People's Microfinance Ltd, People's Leasing Property Development Ltd, People's Leasing Fleet Management Ltd and People's Leasing Havelock Properties Ltd.
People's Leasing's underlying unique strength lies in its ability to provide diverse financial solutions under one roof to its customers spread across the country enabling them to obtain superior customer friendly services.