PEOPLE'S BANK
Known for its trustworthy service since its inception in 1961, People's Bank is deemed to be a classic example of a state bank competing head-on with private in- stitutions based on performance by delivering top-notch customer service and future focussed operational excellence whilst assisting the national unity government in pursuing its economic objectives.
Recently, the bank was ranked amongst the Top 1000 World Banks for the second consecutive year by The Banker magazine of the UK.

According to Head of Finance Azzam Ahamat, "the ranking is based purely on the size of consolidated Tier I capital – a function of capital raised and earnings retained. Over the last 10 years alone, People's Bank has raised Rs. 6.5 billion in new capital and paid over 40 billion rupees as dividends. In this finer context, continuing to be amongst the top 1,000 banks in the world attests to the level of earnings and earnings growth achieved over the years."
"The bank's performance is attributable to a number of different factors," states Senior Deputy General Manager (Business Banking) Rasitha Gunawardana.
He explains: "People's Bank has over 700 branches countrywide, more than 18.5 million customer accounts
and in excess of 8,000 staff members. Our customers include those from diverse socioeconomic and demographic profiles including importantly, low and middle income earners. For us, their trust and confidence represents the ultimate vote of confidence."
Ahamat further notes that People's Bank's history offers insights into its capacity and capability to push the boundaries of performance even amidst limiting circumstances.
"The drive comes from the bank's most valuable asset – our employees," he affirms while adding: "Amidst regulatory capital challenges faced early on during the year, 2017 witnessed People's Bank successfully overcoming its hurdles and posting a consolidated total operating income of Rs. 78.8 billion – which was an industry high – and a pre-tax profit of 29.9 billion rupees."
Touching briefly on Basel III regulatory capital enhancement initiatives, Ahamat discusses the various measures that have been undertaken by the bank with the assistance of the Ministry of Public Enterprise Development and the Ministry of Finance: "Capacity for further growth is naturally and ultimately a function of regulatory capital."
He explains that "in addition to raising five billion rupees in new capital during 2017, the initiatives we have taken include improving earnings retention and expediting the amendments related to the People's Bank Act."
With a limiting condition in the bank's act in relation to the issuance of debentures, People's Bank last issued debentures in 2013. "However, with this limitation likely to be resolved soon, the bank will be in a position to freely augment its Tier II capital – and importantly, realise its real growth potential," Ahamat remarks.
People's Bank also claims to be passionate about digitising its operations to cater to the ever-changing demands of customers.
Gunawardana observes: "Digitisation will further augment our current capabilities. As things stand, the bank benefits from one of the most advanced digital abilities at its front end. Its leadership on this front is best described by the recent award received for the 'Best Branch Digitisation Initiative, Application or Programme' at
The Asian Banker Financial Technology Innovation Awards 2018."
He continues: "In addition, the bank has also received the ISO/IEC 27001:2013 certification for its information security standards, which places us amongst only a few in the country to do so."
To its benefit, People's Bank recognised early on that digitisation is the new way of life.
"Digital ultimately means convenience and is for everyone," Gunawardana emphasises while acknowledging: "However, with many of our custo- mers not being digitally savvy, this is a journey fuelled by our objective to make banking accessible anytime and hassle free."
The bank also entered a new era in its marketing approach and now projects itself differently, backed by physical evidence. Gunawardana points out that "we have also made progress on the service front where our transaction turnaround times have reduced drastically. Certainly, we understand the dynamic needs of our customers and have trained our staff to deliver consistent excellence."
Overall, the bank's successes can be accredited to progressive initiatives and its team of talented staff, who comprise those groomed within the organisation and have risen to the top, as well as new blood that has poured in from the private sector armed with global experience.
In conclusion, Gunawardana states: "We maintain a good balance in our team; and the entire team understands the subtle aspects of the bank's culture. This unique mix of people is what has made us click."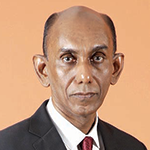 Rasitha Gunawardana
Senior Deputy General Manager
Business Banking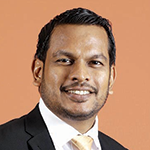 Azzam Ahamat
Head of Finance
Telephone 2481481  |  Email info@peoplesbank.lk  |  Website www.peoplesbank.lk