COMMERCIAL CREDIT SLIM AWARD
Commercial Credit wins SLIM award for 'People's Advertisement of the Year' for fourth time 
Colombo. Tuesday 19 March 2019. Commercial Credit and Finance PLC, accredited internationally as one of Sri Lanka's premier financial services organisations, is widely recognised for benchmarking the highest standards in services and performance. Also identified as one of the fastest growing finance companies in the country, Commercial Credit and Finance PLC has been successful in inculcating a strong value-based culture that enables it to stay ahead and achieve consistent growth in a highly competitive environment.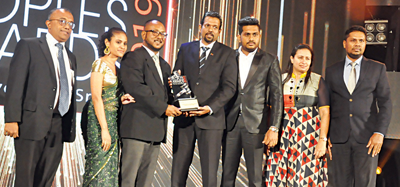 The Company gained recognition once again recently at the 'SLIM-Neilson Peoples Awards' by winning the award for the 'People's Advertisement of the Year for the Year 2019. This is the fourth year that Commercial Credit and Finance PLC has won this prestigious award, having previously won the same in 2015, 2016, and 2018. The "Loved Ones" commercial that has received this critical acclaim and won the hearts of many has also previously collected this award three times.
Chief Operating Officer of Commercial Credit and Finance PLC, Rajiv Casie Chitty said, "We are truly humbled and delighted to have won the Peoples Advertisement of the Year Award yet again this year for the fourth time. We are most definitely committed to ensuring that our success reflects across all levels in the services we provide to all our stakeholders."
The 'SLIM-Nielsen Peoples Awards', is an official entity that recognises brands and personalities that have made a profound and lasting impression in the minds of the people of Sri Lanka. Held for the 13th consecutive year, it is one of the most awaited marketing events in the corporate calendar. The nominees and awardees are selected from across a wide pool of candidates through a comprehensive nationwide research conducted by Nielsen Sri Lanka reflecting the voice of the people. The general public acts as the panel of judges and rate their favourite brands, personalities, advertisements, films, tele-dramas etc.
Commercial Credit and Finance PLC offers a wide range of products and services including Leasing, Deposits, Loans, Financial Advice, Real Estate and Land Sales, Micro Finance and Hire Purchase. The Company has long since financed many small and medium-sized business over the years and aims to empower and financially uplift vulnerable sections of the population through self-employment opportunities and entrepreneurial guidance.