OMP AGREEMENT IS FOR THE FUTURE: PM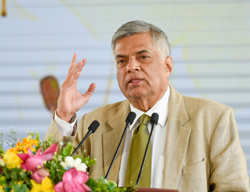 Addressing a gathering in Kurunegala recently, Prime Minister Ranil Wickremesinghe stated that the Office on Missing Persons (OMP) Act will be effective for the future and not the past.
He pointed out that the government does not need to take anybody to task internationally as the country can solve its own problems internally.
"The president and I have decided that we are not going to file cases against anybody who took part in the war; whatever the right and wrong, we can solve it. We will not break our promises and will ensure that no kidnapping will take place in the future," the PM added.