OIL INDUSTRY
THE FUTURE
Compiled by Yamini Sequeira
FUELLING THE ENGINE
Manoj Gupta assesses the impact of developments on global oil and gas
The COVID-19 global pandemic has spread rapidly; and its impact has become more apparent as economies the world over take a beating. Alongside this global challenge, the price of oil has been forced down due to volatile demand and supply dynamics.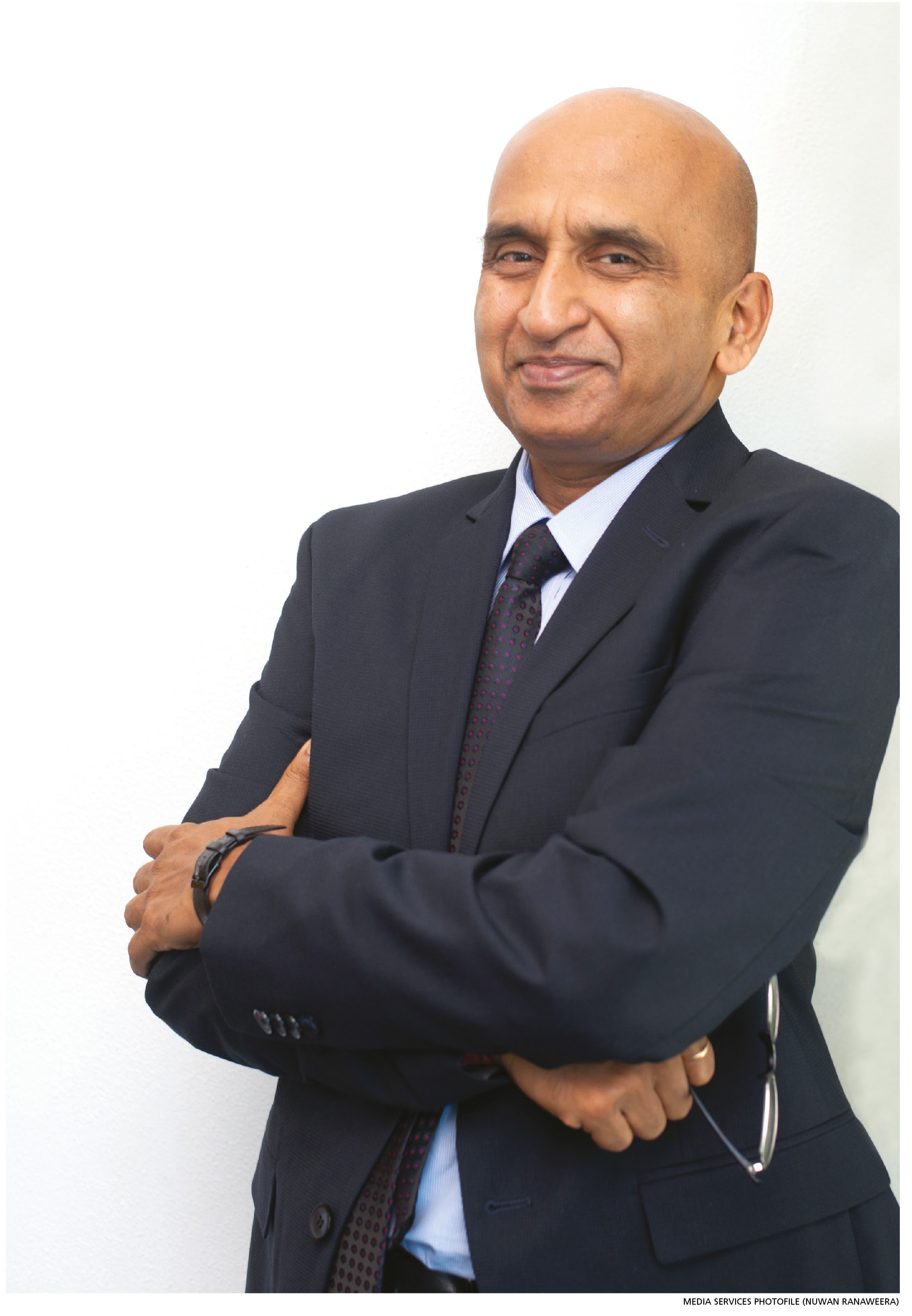 In the main, demand for crude oil and petroleum fuel declined due to the coronavirus pandemic. This arose as a result of lower demand from China where the pandemic began, causing a prolonged lockdown with the Chinese economy coming to a virtual standstill.
Against a background of collapsing global oil demand, OPEC+ producers met on 6 March to review the market situation and Russia and Saudi Arabia walked away from the table – and promptly reduced prices and boosted production.
Combined with economic worries stemming from the coronavirus and a general global oversupply of oil, the price of a barrel of black gold fell sharply from over US$ 70 a barrel to nearly as low as 22 dollars.
AGE OF DISEQUILIBRIUM The picture is grim and to make matters worse, there are no precedents from which to draw.
Elaborating further, Manoj Gupta says that what has transpired "sent financial year ended 31 March 2020 projections into disarray. While sitting on huge inventories accumulated in January and February, we were faced with prices crashing by more than half. Demand and supply were upended, sending the oil market into a strange disequilibrium."
He continues: "Although various factors were at play between Russia and Saudi Arabia, the two parties should have come to a consensus at the time, considering that the entire world was already bleeding from the impact of COVID-19 – and thereafter, the rout of global stock markets. When was the last time the world's stock markets were temporarily halted to prevent mayhem?"
Gupta believes that in our globalised economy, it's anyone's guess how things will play out, adding: "Fiscal initiatives took the price of oil up to US$ 35 at one point; but I don't see oil prices climbing to previous levels for the rest of the year."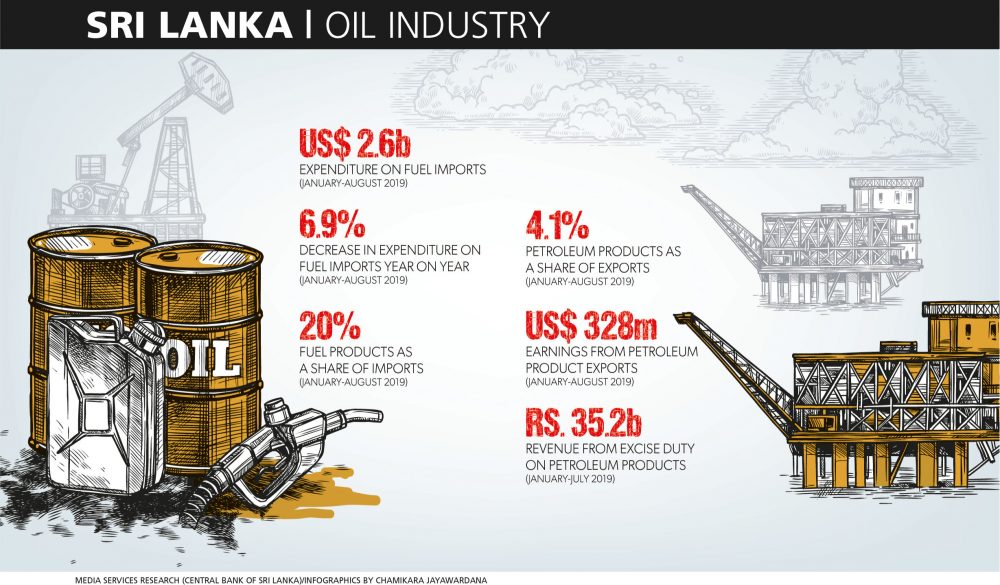 Meanwhile, Sri Lanka's bunkering sector, which provides the shipping industry with the fuel oil that vessels need, has also been impacted by the drop in foreign ships docking here. The Sri Lankan ports of Colombo and Trincomalee cater to the bunker fuel requirements of hundreds of ships.
Gupta explains: "Previously, there was a scarcity of low sulphur bunkering oil between December and January but at present, there's an adequate supply although trade has reduced. The market is entering a huge negative margin with prices dropping from US$ 650 to 320 dollars a ton."
"We have the option of holding out for higher prices and waiting for demand to rise but that could mean we'd be out of the market for the entire period. Moreover, we maintain barges, the rentals for which are substantial, but they are idling. Unfortunately, the prospects of a turnaround in the economy are bleak at this point of time," he laments.

CORONAVIRUS IMPACT Distressed by the state of affairs, Gupta professes to be even more concerned about the impact of COVID-19 on a country such as Sri Lanka, which depends on tourism.
"Tourists book in advance and cancellations will be a blow to the local industry even as the market was looking up following the presidential election. Business activity is already being impacted. Hambantota was to be fully commissioned in March this year along with the commissioning of bunkering activity but I suppose it will be deferred," he muses.
Commenting on the run on petrol and diesel witnessed during the second week of March when long lines of vehicles were seen at petrol stations, Gupta says: "Sri Lanka is very comfortable when it comes to stocks of oil and petroleum, and there was no need to panic."
"Between Lanka IOC and Ceylon Petroleum Corporation (CPC), there are adequate stocks and there'll be no short supply. I would urge people to consider local conditions and not be swayed by global developments alone," he assures.
Questioned about t

he government's decision to not reduce oil prices in line with the global decline, he affirms: "I commend the government's vision to resist passing on the price benefit in the form of reduced fuel prices; it should be noted that according to a recent World Bank report, the country's top 30 percent of society consumes an overwhelming 70 percent of fuel sold. Fuel subsidies are therefore, in effect channelled to the rich."
"Instead, I have learnt that the government is considering many alternatives by which the benefit of lower oil prices can be distributed amongst the wider population – maybe for example, through a reduction in electricity tariffs or transport costs and so on," he reveals.
STIMULUS MEASURES Gupta commends the recent changes to VAT, Nation Building Tax (NBT), Economic Service Charge (ESC) and PAYE taxes, which has created an economic stimulus: "This move benefits all industries without favouring one at the cost of another. It was a brave step."
"While it's easy to talk about cutting taxes, actually doing so comes at a cost to state coffers. Sustainable energy is another area that's being promoted and we are responding by investing in electric vehicle (EV) stations and solarising petrol sheds. EV trishaws are slated to hit the roads soon, which is another positive step to reduce emissions," he adds.
As for the economic outlook, Gupta comments: "That is the proverbial million dollar question! It will take time for normalcy to be restored in the global economy. The new travel bans imposed by the US on European nations will slow the world economy. What's more, the markets will be bearish and oil prices aren't likely to be as high as in the past."
He adds: "If not for COVID-19, the global economy was on a path of recovery. The relatively stable exchange rate in the country and favourable tax policies should keep Sri Lanka's engine running.
"In the local context, the government is making the right moves by announcing moratoriums on loan repayments for small businesses and reducing interest rates to promote liquidity in the market. Finally, good governance will turn the economy around," he concludes.
The interviewee is the Managing Director of Lanka IOC