DIPLOMATIC MISSION
Compiled by Savithri Rodrigo 
NO NATION IS ABOVE THE LAW
Dr. Zuhair M. H. Zaid says global laws must be observed at any cost
Palestine has been embroiled in geopolitical conflict ever since the UN adopted a partition plan for a two state solution in 1947, which was accepted by the Jewish leadership but rejected by Arab leaders. This led to the 1948 Arab-Israeli War and was the genesis of many challenges that the region continues to face seven decades later.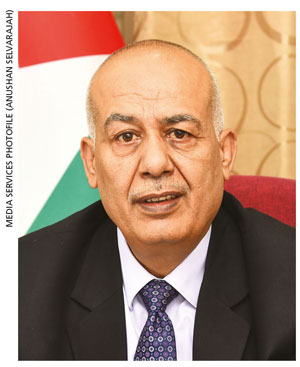 Palestine Liberation Organization (PLO) Chairman Yasser Arafat declared the establishment of the State of Palestine in 1988 and Sri Lanka established relations with the PLO in 1975, being among the first to recognise the independent state.
While its issues with Israel persist, Palestine has made progress in the diplomatic arena. It was recognised by 137 UN member states, gained membership of the Arab League and Organisation of Islamic Cooperation, and chairs the Group of 77.
Palestine's 13 million people are said to be among the warmest and most hospitable in the region. Ambassador of the State of Palestine in Sri Lanka Dr. Zuhair M. H. Zaid says his country will never forget Sri Lanka's loyalty and friendship at a time when the world remained at the crossroads regarding his homeland.
"I am keen to strengthen our friendship, as well as trade and business relations," he affirms, adding that agriculture is a crucial area where Palestinian expertise can be shared. "We're also actively promoting Sri Lanka as a tourism hotspot and your country has become a honeymoon destination for our youth," he notes.
Zaid posits that as his people possess the highest literacy rate (nearly 97%) in the Arab world, Palestine's resilience is a panacea for its sustained economic and social trajectory upward. "The global perception of Palestine is that we remain revolutionary. But over the years, the world has come to know that we're a successful people with immense talent and education," he avers.

The ambassador speaks three languages – English, Hebrew and Arabic. He notes that the primary teacher in the Arab world was a Palestinian while the first singer chosen for an NBC programme was also a fellow countryman.
"We are on the map and I want the world to provide opportunities for us to be similar to other nations. We're like everyone else on Earth. We have the right to be independent, possess our own state and practise rights on our land," he declares.

Posted to Sri Lanka in 2014, Zaid now mulls over managing multiple religions, and remarks that terrorism and fundamentalism are global phenomena.
He remarks: "These problems are faced by developed and developing nations. As a Palestinian, I feel your pain and agree wholeheartedly that terror must be defeated. It has no religion, is pure evil and becomes an instrument in the hands of those bent on disruption, instability and mayhem.
"Palestinians support Sri Lanka in the fight against terror. You must never permit external intervention but rather solve issues through debate, discussion and mature understanding," Zaid urges. And the ambassador touches on another problem facing the two countries – brain drain – although for Palestine, the phenomenon has been exacerbated by the present situation.
He explains: "We are refugees as a result of the occupation and over half our population lives outside the territory. If the people were offered opportunity – which is the state's responsibility – and projects and skill development prospects, they would stay."
"Brain drain is a problem brought on by countries attempting to control the world. By displaying their strength, they attract people from less powerful nations and therefore, prevent states such as ours from improving and developing. When sanctions are imposed on vulnerable countries, the issues become far larger than a brain drain; they even lead to extremism and human trafficking," he elaborates.
A critic of global superpowers that drive agendas designed to safeguard their own interests, Zaid says international laws must be protected and respected at any cost: "I'm not only looking at how Palestine has suffered at the hands of Western nations; but consider Iraq, Syria, Libya, Afghanistan, Mexico, Cuba and now China with the trade war."
He continues: "It's a dangerous paradigm and shouldn't be encouraged. No one has the right to determine if a country can rule itself, its abilities and sovereign status. Respect among nations is crucial because with it comes the maturity to handle international agreements in adherence to the rule of law."
"The law should be implemented equally and no one should be above it. No state has the right to do what it wants in the global arena; it can't impose its views on others and violate international laws knowing that it won't be held accountable or judged for its actions. This simply isn't good for the world," Zaid laments.
He believes that global leaders are tasked with the responsibility of directing the future,  concluding that "people can live together without division if negative political views are not continuously impressed upon them. It's not difficult but requires immense willpower by nations."