LIFE
Nathan Sivagananathan
In conversation with Ruwandi Perera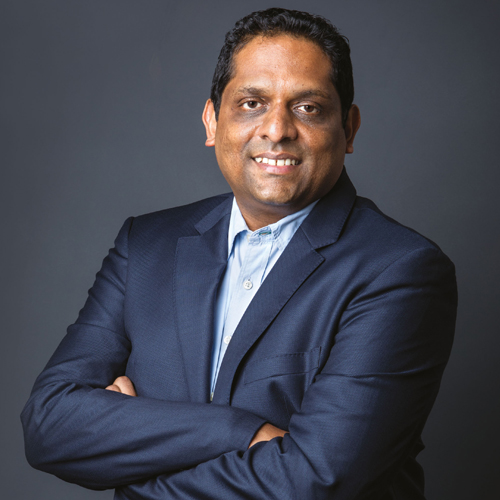 Alma mater(s)
Mostly in the UK but attended S. Thomas' Preparatory School for a short time
Family
Married with two kids (aged 10 and 7) who attend Colombo International School (CIS)
Family is
Everything I live for and what gives me a reason to come home
Wanted to be
A lawyer – but ended up marrying one!
Is
An entrepreneur and strategist
Favourite day of the week
Friday – because the weekend is around the corner
Worst days of the week
The whole of the last week of the month!
Three must-haves
Phone, amulet for protection in my wallet and religious threads
Would like to have
My father back
Mantra to unwind
Watching Manchester United play
Happy place
On a plane (where I can catch up on sleep) and London (where I love to revisit friends)
Favourite chill out
Our garden
Cook or foodie
Foodie
Favourite food
Thai (which we have every week) as well as Japanese
Favourite drink
Avocado juice
Three hobbies
Collecting art, helping entrepreneurs in Sri Lanka and working to eradicate cancer
Pet peeve
Being late
Like to play
Cricket and football – which I could have played professionally had I not injured myself severely in my late teens
Like to watch
Football and our national pastime – cricket (of course)
The glass is half full or empty
Half full – you have to fill your glass as you go
Best thing about work
Having people who will challenge you and your ideas
Most unforgettable event
Seeing my father at my graduation
Favourite local destination
Habarana
Favourite overseas destination
London – because it's home for me and now for my kids too since we visit often
Ideal romantic date or outing
Trying new restaurants and spending time at our favourite restaurant – Tintagel
Items on the bucket list for the next six months
Finish building the Karapitiya Trail Hospital, and promote and establish the HATCH Coworking Space
Items on the bucket list following retirement
Running a plantation (I come from a family of farmers on both sides)
Work or play after retirement
Work
Likely retirement destination
Sri Lanka
Most outrageous things done
Bungee jumping; climbing up to Everest Base Camp and Mount Kilimanjaro Base Camp; and walking from Matara to Jaffna and then from Point Pedro to Matara (for 'Trail')
Biggest irritation
When people say 'it can't be done'
Purpose of life
To make a difference to people's lives
Happiness
Being content with what you have and trying to help others to be happy
Favourite song
Wake Me Up Before You Go-Go
Colombo in a few words
A city that's becoming a very hip place in Asia
Sri Lanka in a few words
A land of hardworking people with some of the best minds in science and engineering – a country blessed with different facets of tourism
Favourite band
Wham!
Favourite movie
I watch movies on the plane but never remember the actors or storylines
Favourite TV sitcom
Only Fools and Horses
Favourite authors
Sir Alex Ferguson (of Manchester United fame), Sir Richard Branson and Steve Jobs
Favourite local sportspersons
Kumar Sangakkara and Mahela Jaya­wardene – because they embody the spirit of sportsmanship and humanity
Favourite international sportspersons
Stefan Edberg and Roger Federer
Favourite local civil servant
Ruwan Wijewardene – for being a professional politician
Role models
My late father and father-in-law
Most used word or phrase
"Don't drop the ball"
Yourself in a few words
Innovator and entrepreneur who always challenges the status quo
Motto in life
"Yes, it can be done"