LIFE
Nadi Dharmasiri
In conversation with Ruwandi Perera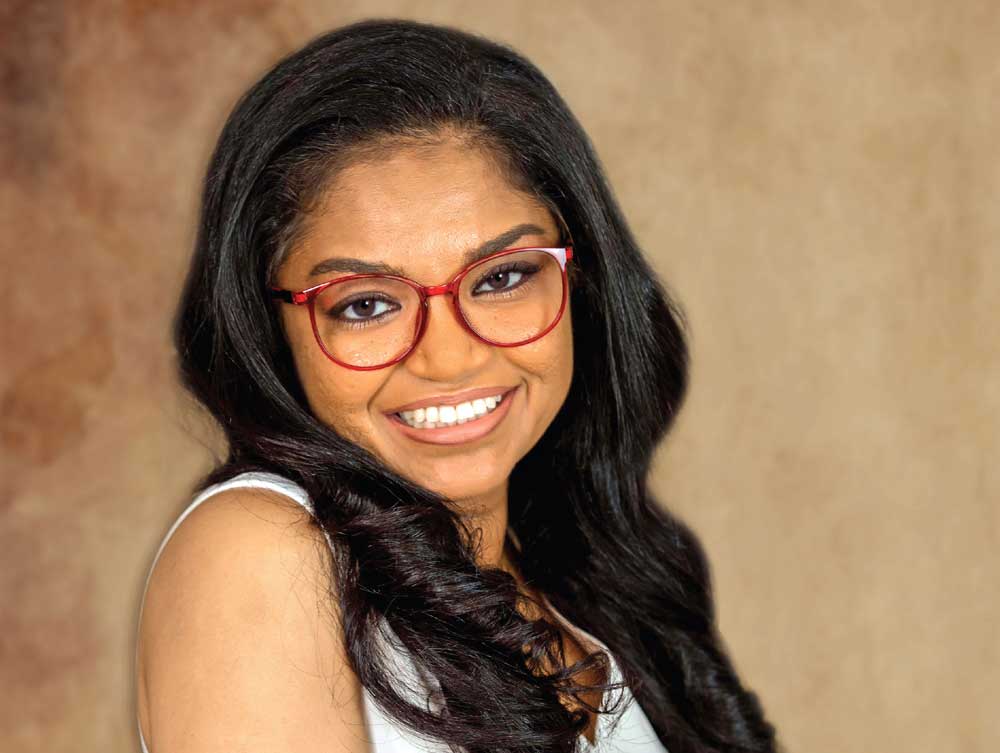 What's your favourite day of the week – and why?
Sunday – because it's not rushed and I can slot in a session at the gym. I also get to do what I like; dress casually, and spend quality time with my parents and those who matter to me. However, even for the weekend, I plan and schedule my activities to make sure that I do everything I want to.
Tell us about your family…
My parents still treat me like a 16 year old! They even wake me up in the morning. On the other hand, they're like my kids since I take care of their every need. I have a sister who's married with kids. Very soon, I will become a grandaunt.
What's your motto in life?
Be happy and do no harm to anyone intentionally.
Do you have a favourite professional?
Ajantha Seneviratne – my previous CMO at Sri Lanka Telecom – for his leadership style, people skills, problem solving, decision making and how he empowers people. More than anything, he understood people for who they were and was able to get the best out of them.
Your role model in life is…?
The late Dr. Uditha Liyanage.
What's been the best career decision you made?
Taking a major salary cut and beginning my marketing career as a Trainee Product Executive at the age of 26 after working as a qualified top-level secretary for seven years.
How do you overcome frustration?
Mostly by working out – I practise yoga, walk and lift light weights, and I visit the gym frequently. I think deeply about any problem I may have while working out and come up with solutions in my head.
Do you have a modus operandi to handle difficult people and situations?
I believe that time resolves everything – no problem will last forever. Also, prayers work since they give me time to think clearly and achieve peace of mind. I've also undertaken a psychology course to understand organisational behaviour – and I always try to understand other people's points of view. Having worked for a long time with a diverse set of people in many different places, I find that I can relate to people.
What is your 'happy place'?
The jungle – especially Wilpattu – and home.
Your favourite local destination is…?
I love visiting ancient ruins and places off the beaten track.
And your favourite overseas destination is…?
Switzerland 
Do you have any favourite songs?
There are many – I love Sinhala songs and oldies; everything from songs by Nanda Malini to Leo Sayer.
And do you dance?
I love any type of dance. I've done Kandyan dancing for nearly 19 years and Western dancing for over seven years. I even dance at home by myself!
Are you fashion conscious?
I think so. However, I don't want to be seen as someone who follows the latest trends; I want to dress in a way that suits me. My preferred style is casual wear with a touch of elegance.
What don't you enjoy doing professionally but have to?
Pulling people up – at times, it breaks my heart but I have to maintain a poker face.
Which celebrity do you most relate to?
Madonna – for her lifestyle; how she has overcome challenges and her attitude.
Is there a social cause that you feel passionate about?
Standing up to violence against women.
Could you share a lesson that life has taught you?
The most important thing is to practise patience and never seek revenge. I also strongly believe that there's a God above. What goes around comes around so we must learn to love everybody and be true to our hearts. Also, we must try to sleep knowing that we haven't consciously done anything wrong.
Who's your favourite author?
Sidney Sheldon
Are you a movie buff?
Yes; [I watch] anything with Jennifer Lopez or Julia Roberts – I love romcoms.
Given the chance, what would you tell your younger self?
"Calm down!"
If you were to change one thing about Sri Lanka, what would it be?
Corruption
Your favourite food and drink are…?
Rice and curry, and water.
Are you a cook or foodie?
Both. But I don't cook very often. I cook when there is someone who appreciates what I prepare.
Would you call yourself an animal lover?
Yes, I love animals – dogs and leopard.
What's your definition of happiness?
Peace of mind.
When leaving the house, what three essential things do you carry with you?
Mobile, mobile and mobile – since I have three mobiles!
If you could wake up and have one superpower, what would it be?
The ability to heal the sick.
Describe your ideal romantic date?
To go on a long drive, enjoy a tasty meal, visit a beautiful place with heaps of greenery, cuddle up and listen to music.
Do you believe in life after death?
Yes
If you could change one thing about yourself, what would it be?
My inability to say 'no'!
Describe yourself in one word
Crazy!
Nadi is the Head of Marketing of Sampath Bank