MSL
Facebook launches 'We Think Digital' with Sarvodaya-Fusion to build digital literacy skills in Sri Lanka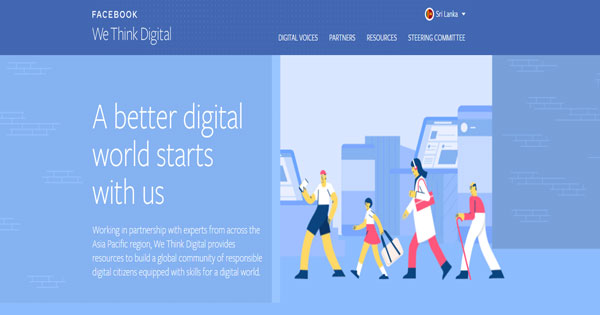 Colombo, 1 July 2020: Facebook, in partnership with Sarvodaya-Fusion and supported by the Ministry of Education and Information and Communication Technology Agency of Sri Lanka (ICTA), launched We Think Digital, a nationwide digital literacy program that aims to develop skills that enable Sri Lankans to create a positive and safe culture online. This launch follows the successful roll-out of the digital safety content under the 'IT Yahamaga' program by Sarvodaya-Fusion, in collaboration with Facebook, which trained 25,000 students and others on the safe use of Facebook, since its launch in 2018.
We Think Digital is a global digital literacy program, with resources aimed at helping people think critically and share thoughtfully online. The program's learning resources are designed to help people whether they're new to the Internet or a digital native who wants to learn more or improve their digital skills. Facebook and its partners from government, civil society groups, and communities aim to conduct training sessions for youths, students, parents and teachers through this program in Sri Lanka.
"At a time when more people are coming online and connecting with friends, families and communities, being a responsible digital citizen is more important than ever. At Facebook, we are committed to maintaining a safe and well-informed community on our family of apps through empowering people with the necessary digital literacy skills to think critically and share thoughtfully online. I am excited to continue our partnership with Sarvodaya-Fusion, to bring We Think Digital to Sri Lanka and to help create a safer internet experience for everyone." said Ankhi Das, Public Policy Director, South Asia, at Facebook.
Facebook collaborates with experts, academics and non-governmental organizations (NGOs) in the Asia Pacific to create various modules as a source of learning in this program. The program will be delivered in Sinhala and Tamil virtually, with slides in mixed languages, under We Think Digital alongside Sarvodaya-Fusion's IT Yahamaga initiative. IT Yahamaga (Good path) is an educational brand of Sarvodaya-Fusion with the support of the Ministry of Education that empowers youth to use digital technologies effectively and in a positive manner. The We Think Digital program will also be broadened and delivered via ICTA's online video conferencing platform, to reach parents and teachers.
"We are delighted to introduce the global program "We think Digital" to Sri Lanka, to widen the scope of Sarvodaya-Fusion's 'IT Yahamaga', at a much needed time. This year we hope to introduce three new program editions reaching out to Schools, Universities and Families," said Rohan Pandithakorralage, Chairman, Sarvodaya-Fusion Advisory Board. "This will equip them with necessary digital skills enabling them to walk in to the digital world to reap its benefits while being responsible."
Building on the foundation of the digital safety content under the 'IT Yahamaga' program, the training content will revisit the basics of digital literacy from the Digital Safety program with add-on modules from the We Think Digital online library of resources. Additional topics that will be covered include privacy, safety, security, digital discourse and knowing your digital footprint, organised into six modules:
What Is the Internet? An explanation of the internet and social media, how they work, and the importance of digital citizenship.
Your Digital Footprint: All you need to know about safety and security online and managing your digital footprint.
Protecting Your Digital Identity: The A-Zs of safe and secure practices to protecting personal information online.
You as a Digital Citizen: Insights into digital discourse and the differences between interacting online versus offline, your rights and responsibilities, as well as internet concepts like netiquette, being a creator, copyright and plagiarism.
Be a Critical Thinker: Helping you to discern different types of information and develop critical thinking and empathy when communicating online.
Tips for Spotting False News – Help participants make wise decisions about what they read, believe and share.
In addition to this program with Sarvodaya-Fusion, Facebook is also in discussion with the government's Vocational Training Authority (VTA), the national skills organization, to develop another upskilling program to be launched in the second half of 2020. Digital Skills Development is a key part of the new governmental vision for which VTA is the implementing authority.
For more information on We Think Digital and the available learning modules, please refer to the website here: https://wethinkdigital.fb.com/lk/en-lk/