MOTOR INDUSTRY
Compiled by Yamini Sequeira
TIME TO CHANGE GEARS
Shungo Yoshioka urges the motor industry to raise its collective bar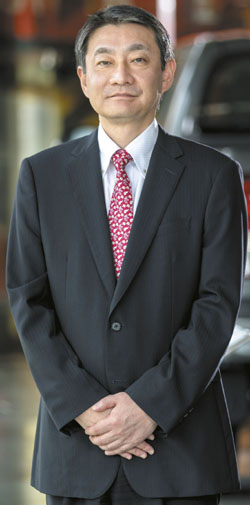 Year 2015 was an encouraging one for Sri Lanka's motor vehicle industry. A relaxation of import duties and tariffs opened a doorway for a notably higher number of vehicle imports to enter the country in comparison to other years.
It is apparent that industry players look back on this year wistfully. In 2015, registrations of brand-new cars leapfrogged to 88,142 units. But last year witnessed a drop in registrations to a low of 48,721 units, albeit higher than the 34,779 units sold in 2014. The first two months of this year however, displayed a relative pickup in registrations with 5,187 brand-new vehicles taking to the road by the end of February.
According to the Managing Director of Toyota Lanka Shungo Yoshioka, "the Sri Lankan automotive market is quite volatile but we believe that customers are used to this dynamism in the industry, which is a normal phenomenon."
"But we are very positive and look forward to a marketplace that will prove to be promising, now that key economic activities have stabilised and investments have become more distinctive," he adds.
MARKET REALIGNMENTS The positive forecast is likely to persist in the face of higher import duties.
"Year 2015 set high expectations for bulk imports of one-litre micro-market segment vehicles. Nevertheless, the duty on this category too was readjusted upwards. Vehicles with a capacity of 1.6 litres or less have seen a sharp upsurge in demand while higher engine capacity vehicles remained out of reach and a distant dream for others," Yoshioka remarks.
The Government of Sri Lanka proposed a general duty increase in the 2015 national budget that resulted in a downturn of importation with the aim of managing traffic congestion on the roads. This abrupt duty change suitably dovetailed with the government's intention to reduce the number of vehicle imports that reduced vehicle registrations last year.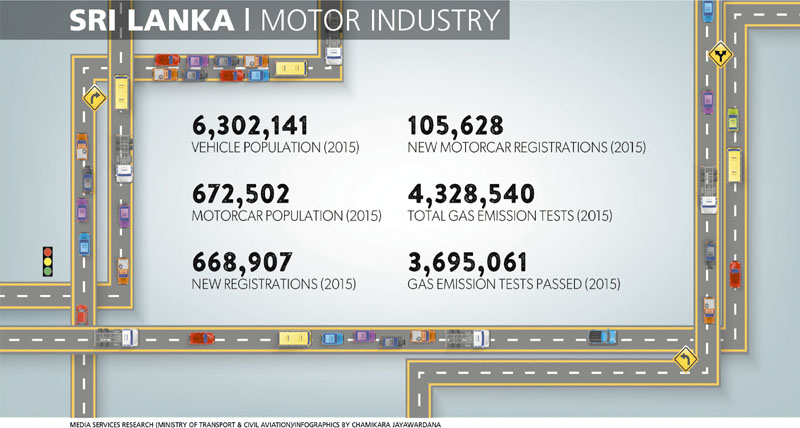 Moreover, the government expressed its intention to promote greener, environmentally healthy vehicles to reduce auto emissions that need to engage all operators in the industry to launch such crucial interventions.
Amid this evolving landscape, import duties for hybrid cars were relaxed to some extent in line with government policy on greener industry for a brief period – and hybrid vehicle sales witnessed a jump, causing the price gap between hybrids and regular vehicles to narrow.

COST CONSIDERATIONS Vehicle financing is a major business in Sri Lanka as the majority of new and used vehicle registrations are supported by leases or loans. As a result, most insurance companies report motor insurance and leasing as a lucrative segment of their business lines.
But a higher debt to equity ratio has resulted in motor vehicle buyers bearing a larger percentage of the cost of a vehicle, which has disappointed prospective customers. In the month of August 2015, 68 percent of new cars, 64 percent of used cars, 57 percent of two-wheelers and nearly 92 percent of three-wheelers were financed.
RISING CONSUMPTION Despite the drop in sales volumes, there's optimism in the industry especially given the hope that a growing middle class with higher disposable incomes will drive consumption up. In most cases, spending on a vehicle is seen as a smart investment and one of the first priorities for the upwardly mobile.
However, the rise in duties and lack of purchasing power due to uncertain economic conditions has caused disappointment among some customers since owning a vehicle is a measure of social status.
So an upgrade from a three-wheeler to a one-litre microcar is the first market entry-level segment especially in a country with a low emphasis on upgrading public transport needs particularly in Colombo and its environs. Yoshioka observes that "public transport is a key economic necessity in developed countries since it connects economic activities with mobility, reduces commuting time and increases the frequency of travel, thereby enhancing key economic activities for greater national progress."
He continues: "This greatly impacts and enhances economic activity by linking the length and breadth of the country. Greater prospects for the growth of tourism and national mobility therefore, are vital for a country such as Sri Lanka, which has a great history of hospitality."
FIERCE COMPETITION "The motor vehicle industry is fiercely contested and players are exploring innovative methods to grab emerging opportunities while carving out unique niches for themselves. The growth avenues that most serious vehicle importers should follow must be improved through after-sales service, and by offering better-quality facilities such as enhanced customer care and technical expertise," he asserts.
Yoshioka believes that these elements will "provide a platform for further growth to make up for the decline in overall industry volumes. If these elements are well-managed and controlled, companies can still drive industry growth."
He likens the 'customer-company' relationship to a 'doctor-patient' relationship: "Like patients visiting a hospital, vehicle owners also need a reliable and technically competent facility to take their vehicles to have their health checked and diagnosed."
"If companies can provide exceptional repair and professional maintenance services, customers will drive away with a smile on their face, which is a joyful sight for automobile companies such as ours," he explains.
In a hyper-service marketplace such as the automotive service sector, customer loyalty with a "heart-touching experience" is what builds lifelong relationships – and they hold the company steadfast in lean times, inspiring customers to come back for more, he notes.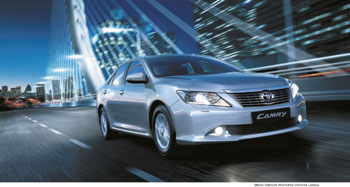 GREEN MOTORING Commenting on the advent of green initiatives, Yoshioka suggests that zero emissions should be the highest level that automotive companies must strive to achieve, by ensuring that vehicle imports have undergone mandatory and regulatory checks and balances.
Vehicles running on hydrogen fuel cells are showing the way as an ideal green motoring technology for the future as they have zero emissions.

Road safety remains a prime concern in any country. Driver training on safe driving, driving technology and scientific driving are aspects that need careful consideration. Drivers of school buses and vans especially should be trained in safe and defensive driving techniques to protect passengers.
Yoshioka concludes by expressing a wish that the motor industry as a whole collaborates to ensure that eco-friendly products, services and practices are the new order of the day – so that the industry, environment and economy benefit.
The interviewee is the Managing Director of Toyota Lanka