MOMENTS IN TIME BROUGHT TO LIFE
A 20th century architect who moved the world of architecture with his unique style of tropical modernism, Deshamanya Geoffrey Bawa is famed for his avant-garde use of light, space and materials that work in synergy with the surrounding environment. Cinnamon Bentota Beach was initially known as Bentota Beach Hotel and then Bentota Beach by Cinnamon. It happens to be one of Sri Lanka's first beach resorts and an iconic name in numerous circles. This luxury hotel, nestled between the Bentota beach and river, features expansive gardens with shady palm fronds and flowering temple trees, which lead to panoramic views of the beach on one side and the river on the other.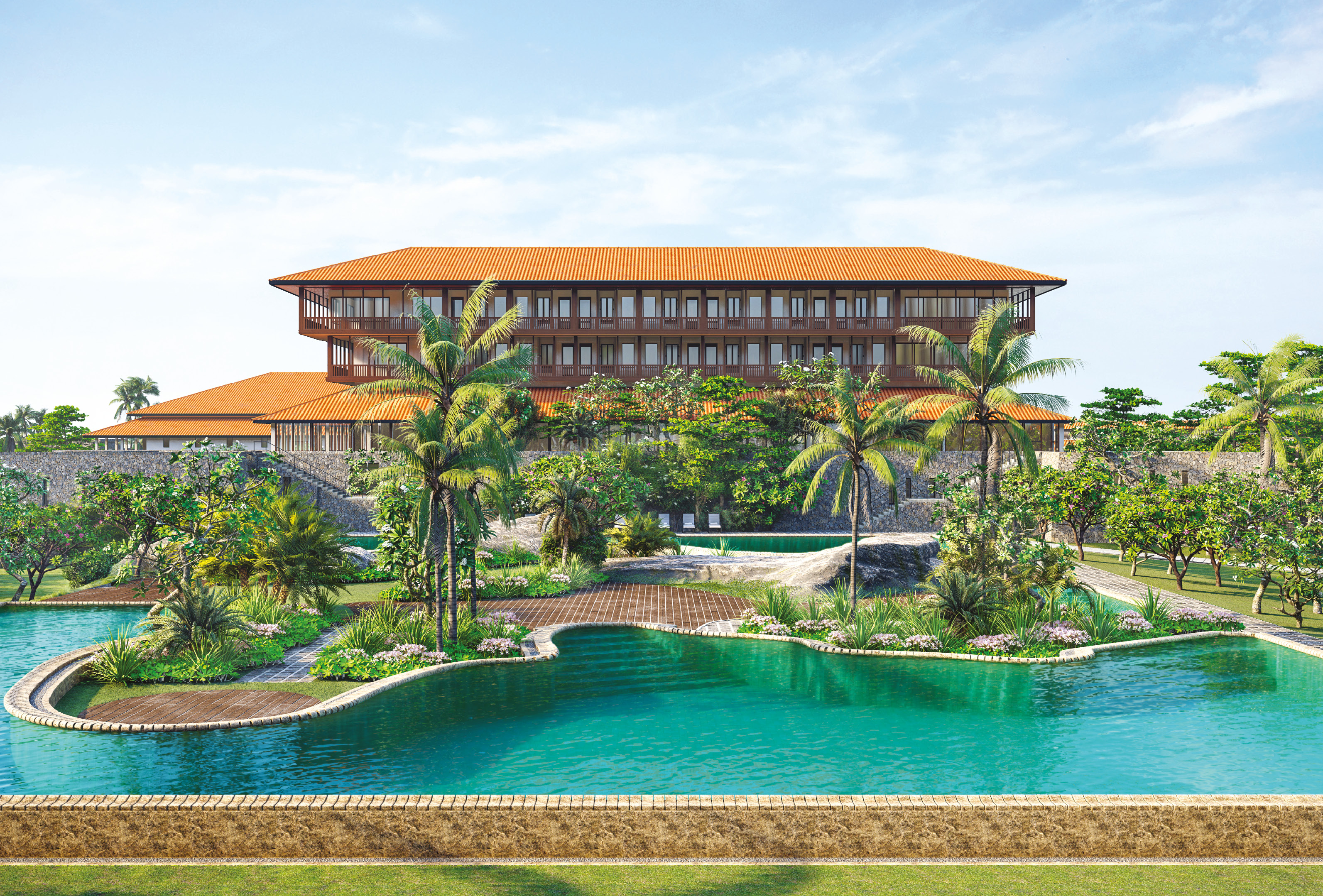 The pairing of a beautiful location and Bawa's architectural style has worked like magic, to create a popular and sought after beach resort.
BEAUTY OF THE PAST
One of Bawa's most notable works, Bentota Beach Hotel was constructed between 1967 and 1969, showcasing his exempla-ry architectural style in the 1960s. Commissioned by the Government of Sri Lanka as a project space for a national holiday resort in Bentota, it was one of the island's most popular holiday destinations at the time.
Located atop the site of a Dutch colonial fortification, all building materials for the project were locally sourced, and intended to age well with time and exposure to the humid tropical climate. Terracotta tiles, dark wood columns and balustrades, unfinished granite bastions and polished concrete floors, added an earthy palette to the building's ambience. The ceilings of the public spaces were decorated with rich batiks and hand-loomed fabrics in a range of warm colours.
Becoming a part of the John Keells Hotels group in the 1980s, the property underwent major renovations in 1998, which led to the replacement of some of the original materials and iconic Bawa designs.
NEW LOOK
Where the river meets the sea lies an iconic architectural masterpiece engulfed by heritage and culture. A creation of world-famous architect Geoffrey Bawa and adorned by Ena de Silva's beautiful batik works of art, the newly reopened resort marked the centenary anniversary of the great man himself.
Refurbished by architect Channa Daswatte, the transformed hotel spans 11 acres of land with lavish greenery and an expansive spread of coconut trees. A major upgrade for the weathered hotel, it offers endless views of the ocean and an estuary, occupying a unique location on arguably the best beach in Sri Lanka.
As a part of the monumental revamping, the Heritage Wing was opened to pay homage to the celebrated world renowned architect. This museum is home to some of the most unique and original pieces created in his time, personifying Bawa's architectural style.
Although the resort has been dismantled brick by brick, it has been restructured in its original form along with the additional lavishness of a new luxu-ry resort.
Ena de Silva – famed for her contribution to reviving and establishing Sri Lanka's batik trade – has some of her most notable work featured on the ceiling of Cinnamon Bentota Beach. One of the first major architectural commissions for batik design was for a ceiling in 1969, which created a sensa-tion in the architectural world when it opened, influencing some of the most important modern movements in tropical and monsoonal Asian architecture.
Enhancing the property's size and amenities today, the resort offers 159 rooms with meticulously blended traditional design elements that are authen-tic to the locality, enhanced with contemporary interiors and the finest finishes complete with curated 'in room' comforts. Each room guarantees an ex-ceptional view, be it of the vast Indian Ocean or surrounding gardens, expansive and rich with foliage.
Cinnamon Bentota Beach proves to be the perfect juxtaposition of art, heritage and destination, as it takes its place as an iconic architectural embod-iment of history and heritage.
ABOUT THE ARCHITECT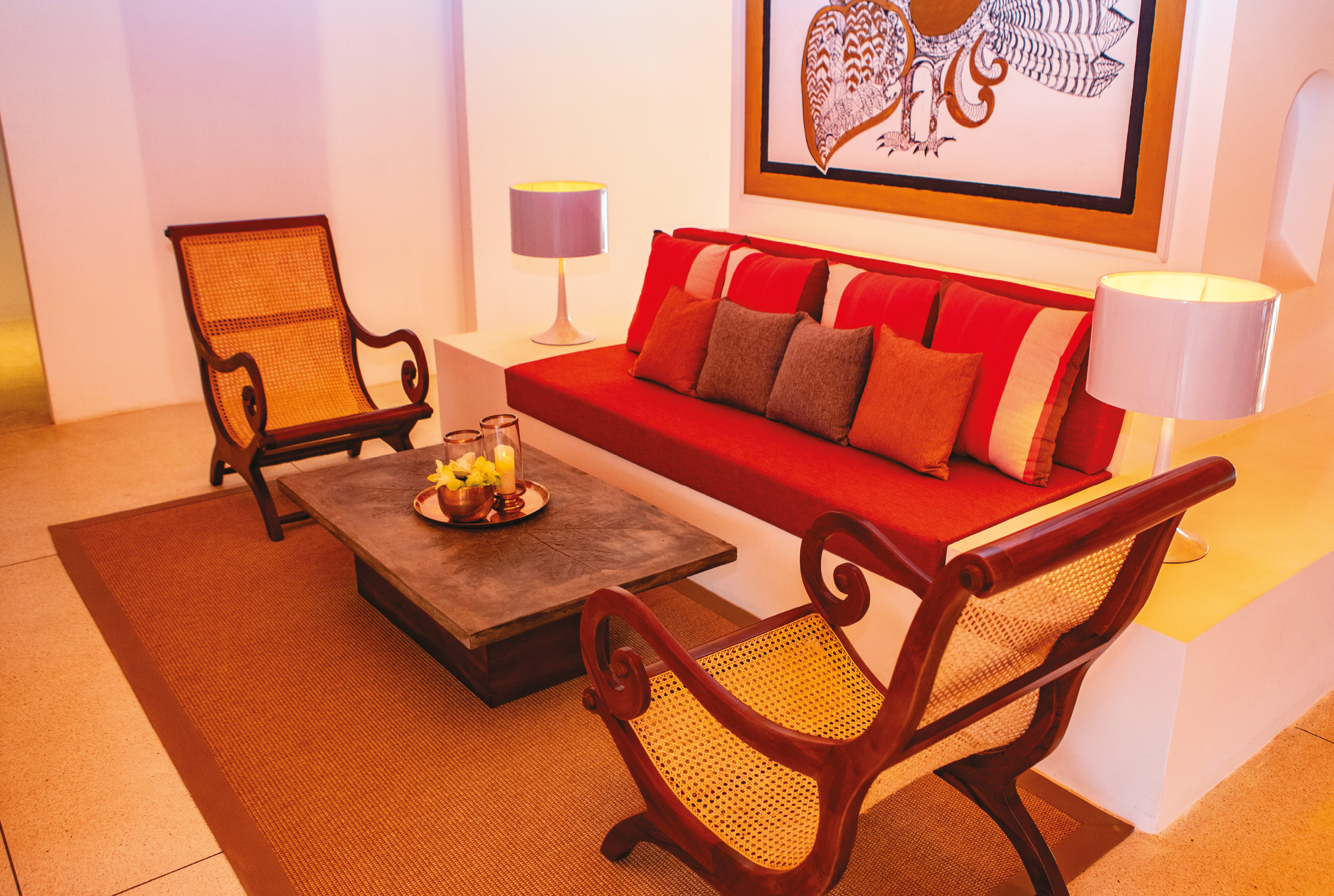 Original design The original purpose of its design was for people planning short stays in Colombo and wanting to visit the beach. At the time, travellers stopped over in Sri Lanka for a few days on their way to Australia or the Far East. By the 1950s, there was a need for something more exotic – enter Bentota Beach Hotel with only 30 rooms, known as the 'central block.' With very small rooms, it was ideal for a short break and to enjoy the beach at an exotic location. A key aspect of Bentota Beach Hotel was its arrival experience. Imagine a long ocean journey and an equally lengthy drive down Galle Road. As you enter the hotel, you drive into what appears to be an ancient fort: a dark cavernous space that in fact marks the location of what was an ancient fort built by the Portuguese and fortified by the Dutch. Step out of the vehicle and be greeted by a flight of steps canopied by a spectacular batik ceiling in a pallet of shades, reflecting a pond in the middle of the courtyard. Climb the stairs and enter the reception space to look across the reflecting pool and lounge on the other side, providing you a view of the sea. With this unique arrival to mesmerise visitors and by using local materials such as timber, half round tiles, and the local colours of samara and white, Bawa was able to recreate the essence of Sri Lanka in a building. It could be done nowhere else but here. For those who would stay for a short period, the architect was able to create an impression rooted in the island nation. Renewed ethos In the 1990s, the hotel lost some of its uniqueness following a renovation. The roof material was changed to metal and its colours altered, taking away the warmth of the building. With changing times, the architecture was considered to be mundane, and there was a need to be more international and modern, thereby taking away the key elements composed of local crafts, art and materials. With the latest refurbishment, the aim was to completely replace the core structure due to concrete cancer (rotting of concrete steel framework), which was corroding the building. All the bits and pieces that could be dismantled were taken out, and the concrete structure was replaced with new concrete in an attempt to go back to the recorded archival drawings and photographs of the Geoffrey Bawa Trust, which contacted people who stayed at the hotel in the 1960s and 1970s, gathering photographs to recreate the hotel when it opened in 1968. And years later, one can look back at what it was like to be here in 1968 with a recreation of the original arts and crafts. Ismeth Raheem, an artist and architect, was able to bring back to life his work that had disappeared from the walls. By going back to the Barefoot archives, the original batik ceiling along with its initial colours were recreated as well. Recreating a moment in the history of Sri Lankan design, international modernism was fused with local art, crafts and construction techniques to create a wonderful expression showcasing modern Sri Lanka. Respecting its heritage, the property continues to be modern and contemporary. With contemporary recreated furniture designed by Bawa for the hotel, it marks a milestone in modern Sri Lankan architecture and interior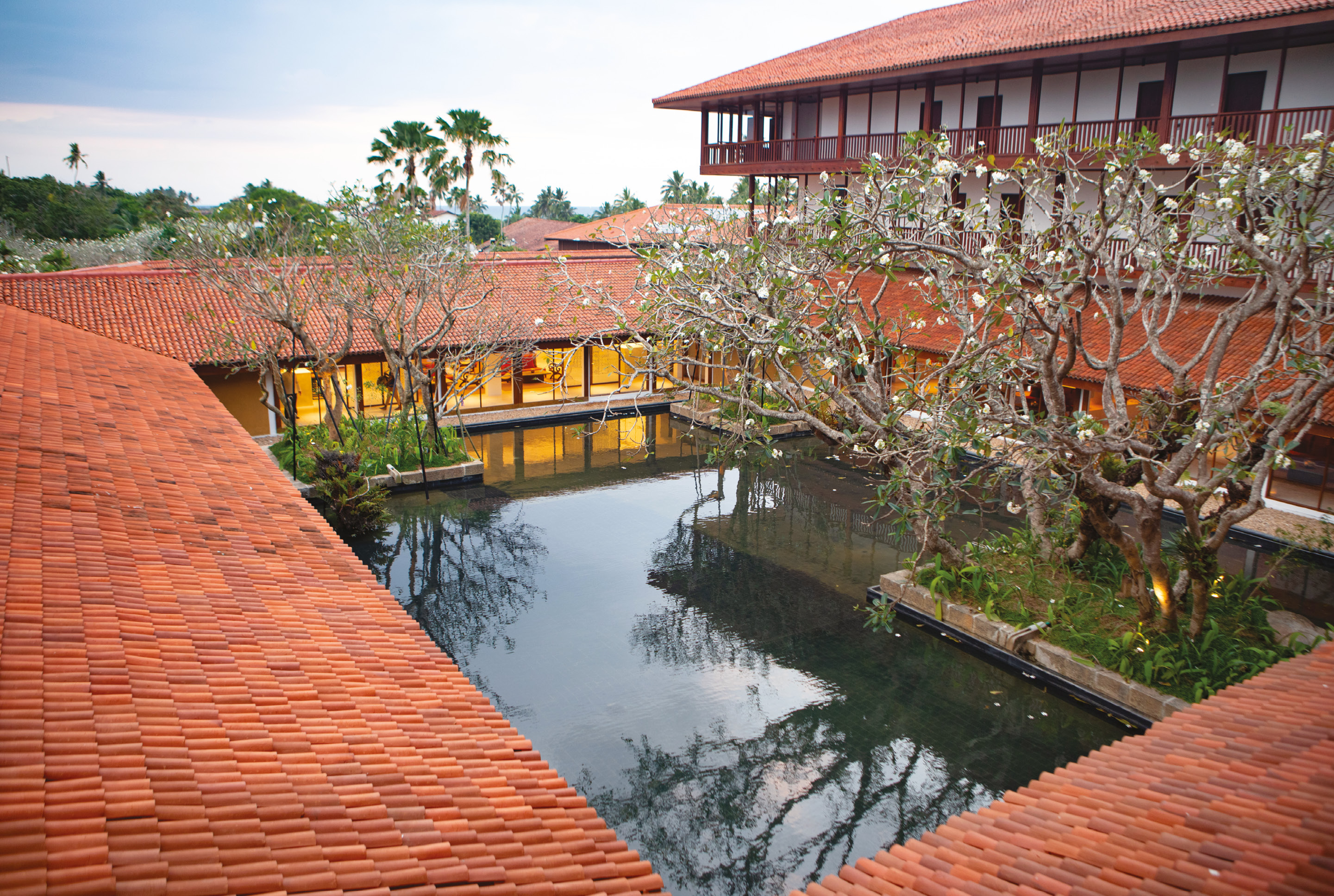 design. Incorporating Sri Lanka's modern culture, which has been forgotten over the years, the hotel brings it back to show people its value – which is contemporary in its own right. Change It was a conscious decision that only the central block – known as the Heritage Wing – would be conserved and restored because this was the original building in 1968 with 30 rooms and six suites. Now, it has been converted into 16 suites within the original geometry of rooms. The rest of the hotel has been extended with a modern and contemporary structure that will uphold the Cinnamon standard in terms of room size, as well as other amenities. The new hotel promises exciting dining and spa experiences, along with a kids' club where children can play when their parents need a break and new rooms that live up to the high Cinnamon standards. (Information based on an interview with architect Channa Daswatte)