THE BIG PICTURE
MISSING THE WOOD FOR THE TREES  
Why is the tourism industry paying lip service to an increasingly affluent local market?
This isn't the first time in Sri Lanka's chequered post-independence history that its globally acclaimed tourism industry has had to rely on local leisure seekers to prop it up when thunder and lightning strike with a vengeance.
In its nascent years, two heart-stopping insurgencies put a stop to the pioneers – of what was then a fledgling industry – investing in much more than they already had.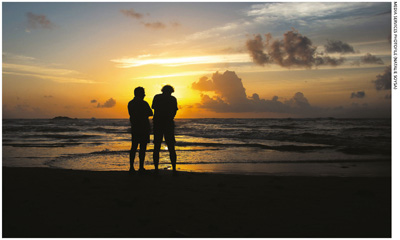 These repulsive events were followed by the despicable riots of July 1983, which sowed the seeds of a terrorist regime that held a nation to ransom by introducing suicide bombers to a stunned world's brutal armoury.
A protracted civil war ensued and it lasted for as long as 26 years.
Nearly a decade from when a seemingly unwinnable war was won, and Sri Lanka had worked its way up the ladder of nations that were deemed safe for travel, terrorism raised its ugly head once again.
As far as industry is concerned, tourism has taken the brunt of the devastating impact of the Easter Sunday attacks – this, at a time when things were looking up for an island that was hailed as the best destination to visit in 2019 by no less than the famed Lonely Planet travel guide.
What's more, Sri Lanka has welcomed a string of international hotel brands in recent years, which together with the island's high end hotel chains, have upped the ante in the context of offering a tourism product that is gaining ground on established destinations in the Asian region.

But of course, desperate times call for desperate measures. So Sri Lanka's hoteliers have fallen back on plan B as they've done in the past, which is to woo local tourists with massive discounts on room rates to counter the lull.
Notwithstanding the obvious lure of the dollar so to speak (because Sri Lanka continues to demand higher room rates from foreign tourists), one wonders why a target market of some 21 million people isn't deemed to be worth embracing – especially in the light of the pool of prospective travellers growing in numbers along with gradually increasing disposable incomes.
In addition, there's also a burgeoning local market of affluent travellers who demand luxury and convenience. They're spending a fortune travelling regularly to destinations in Southeast Asia and beyond.
There's also a growing expat community right here in Sri Lanka; a community that by and large enjoys being here, and has a thirst to explore an island that offers untold diversity.
So why is it that so many leisure seekers take off from a country that is promoting tourism as vigorously as it is?
For starters, it can't be a matter of money because while Sri Lanka's hotel rates aren't a lot lower than other destinations in the region even for locals, there's the ever increasing cost of flying to and back to one's chosen destination.
It is the experience therefore, that entices Sri Lankans to take off to foreign lands for their holidays because they offer something for everyone – be it food, shopping, nightlife, gaming, amusement parks, wildlife, adventure and much more. In short, they offer value for money.
Indeed, Sri Lanka offers a mixture of such travellers' delights but some of it continues to be restricted to the commercial capital, which could perhaps be why local travellers demand heavily discounted room rates if they're to travel around the island more frequently. And in Colombo too, there's a glaring lack of entertainment in comparison to cities like Kuala Lumpur.
As for the outstations, compare a destination such as Bali with Sri Lanka's popular southern coast and the difference in what's on offer is clear.
It may be time therefore, for our hoteliers to focus on the needs of Sri Lankans and promote local tourism on a more holistic scale, rather than relying on offering rock-bottom rates to fill the vacant rooms when there's a crisis.
Local tourism can and should be far more sustainable than it is.
– Editor-in-Chief