METROPOLITAN
Metropolitan Group celebrates 60 years with commemorative stamp
The Metropolitan Group celebrates 60 years of bringing advanced technology and services to workplaces across Sri Lanka with the issue of a commemorative stamp showcasing the corporate head office signifying the growth and the values that had been the pillars of Metropolitan's growth : Trust and Excellence.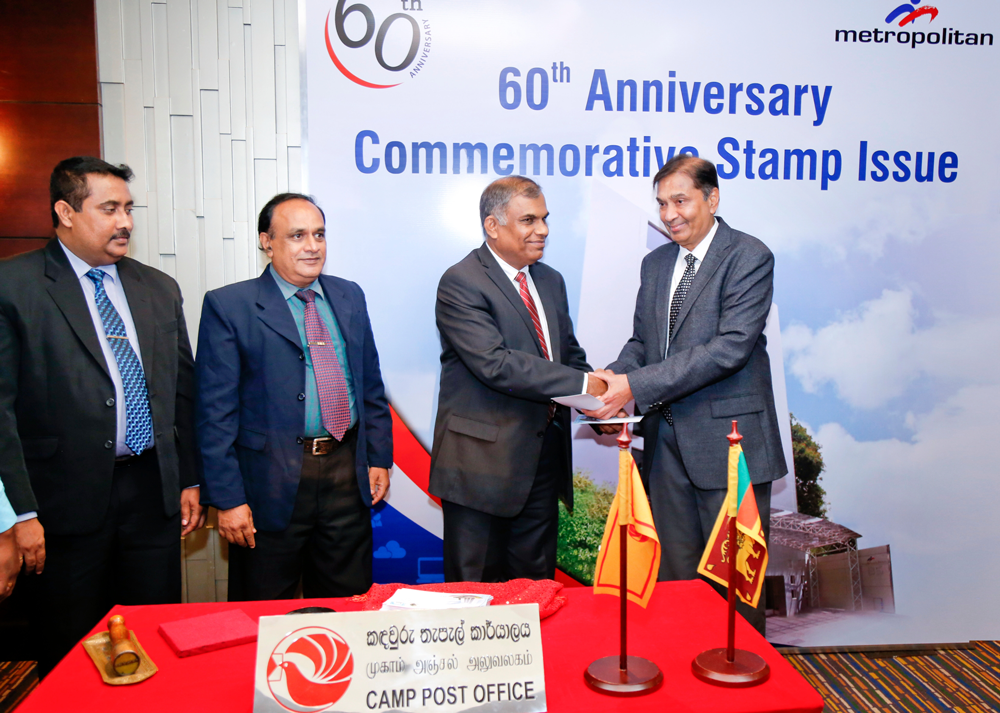 This commemorative stamp is issued in recognition of the companies achievements over the past 60 years.
The Post Master General Mr.Ranjith Ariyarathne issued the commemorative first stamps to the Chairman of Metropolitan Mr.J J Ambani and the Hon Minister of Postal Services M H A Haleem, in the presence of senior Ministry and postal department officials, media and the Directors of Metropolitan group.
"It is truly a proud moment for Metropolitan, a company which began as a office equipment supplies company to have grown into a diversified, engineering and workplace solutions group over the last 6 decades. This stamp could not have been more timely and it represents the values and confidence that customers, partners have attributed to Metropolitan which are Trust and Excellence," said Mr.J J Ambani.
Metropolitan commenced its business in 1958 by the late Mr. J S Ambani, with its primary focus on Office Machines and Supplies. To date, it remains a closely controlled entity.
Many reputed companies in Sri Lanka including blue chips were in the same business. However, with due focus and the realizations of its potential enabled Metropolitan to establish its dominant position in this space within a relatively short period of time.
With the advancement of electronics in this field and more over the liberalization that took place in 1977, Metropolitan adapted to the changes and challenges and maintained its dominant position inter alia in the field of Office and Banking Machines, Telecommunications and IT products and solutions.
One of the key factors that could be attributed to Metropolitan's success is its partnership with the very best of international organizations in their respective fields. For example, Canon Inc. Japan, Johnson Controls, USA, Ericsson AB of Sweden, Acer Inc., ROC.  Further, its emphasis on the importance of trust and dependability in so far as the customer is concerned has also been a contributory factor.
Presently the organization has diversified into workplace solutions, imaging and printing products, engineering solutions, power and energy solutions, elevators and escalators, communications and IT, building management, Air Conditioning & Refrigeration, technology infrastructure and photography.
The Group also specialize in public private partnerships in technology projects and have also been entrusted with the production for smart card driving license for the Department of Motor Traffic for the past 10 years which can be regarded as one of the best public/private sector partnerships in the country, and been printing the national budget for almost 10 years.
Its activity is prevalent island wide throughout a network of branches and retail outlets covering both products and services, with trained and dedicated teams of engineers, technicians and a 24 hour call center.
"As for the future, we are committed in providing services on a national scale in areas such as Power, IT and Aviation," Mr. Ambani said.